GARTNER ANALYST REPORT
Avoid Ransomware Disasters with a Better Backup and Recovery Strategy
As per Gartner, "the potential complexity, unknown variants, and growing sophistication of ransomware attacks against corporate data centers challenges the readiness of data protection teams to recover from an attack. The number of attacks continues to grow, driven by the changing agendas of attackers."
I&O teams need to architect the backup infrastructure to improve readiness to recover from a ransomware attack.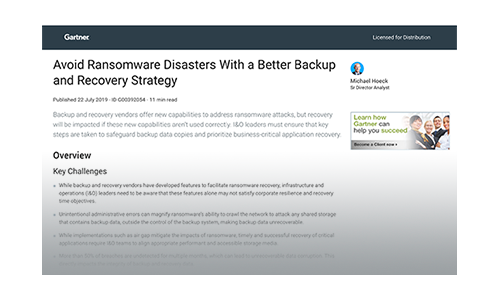 This research focuses on improving infrastructure and operations teams' awareness of backup and recovery solution features to manage ransomware activity. Additionally, best practices are reviewed to improve backup and recovery environments' resilience and how to best manage recovery objectives of the business.