Benefits
Eliminate Complexity. Automate Workflows at Scale.
Extend Rubrik's RESTful APIs into your configuration management tool of choice with minimal number of calls. Simplify orchestration of daily data management tasks across your entire infrastructure. Align technology to business needs with a single policy engine that automates SLAs for all your virtual workloads. Create backups on-demand at the desired point-in-time for compliance testing.
Infinite Scale
Manage thousands of apps with a few lines of code. Automate end-to-end workflows at scale.
Policy-based Automation
Assign SLA protection policies for all your workloads with one policy engine.
Align with Business SLAs
Automate compliance to adhere to strict business requirements.
Get Work Done Faster. Free Up Your Time for Innovation.
Easily deploy new configurations in minutes across all your workloads. Accelerate the delivery and operations of infrastructure with your orchestration tool of choice. With Rubrik, complete critical data protection requests at scale, reliably. No more manual updates.
One of our key drivers in choosing Rubrik was its API-first architecture. It was a perfect fit for our automation-centric approach.
IDC ANALYST REPORT
The Data-Forward Enterprise: How to Maximize Data Leverage for Better Business Outcomes
Did you know that data-driven organizations achieve 8x the growth over their peers? Download the report to find out how you can achieve greater productivity and faster time to market by modernizing data management.
How It Works
How Rubrik & Configuration Management Tools Work Together
Leverage Rubrik's custom pre-built modules with your orchestration tool of choice to deliver critical data management functions from day one. Rubrik auto-assigns associated data protection policies when new workloads are provisioned. Every operation between the Rubrik cluster and configuration management tool is powered by Rubrik's RESTful APIs.
Automate SLA protection policies
Orchestrate custom lifecycle management workflows
Migrate apps to cloud
Ensure SLA compliance at scale
Rubrik APIs
API-Driven Development
Easily integrate our simple, extensible APIs that are battle-tested for scale and built for high availability. Rubrik offers an API-first architecture— even its HTML5 interface consumes RESTful API endpoints. Customize workflows to meet your business policies.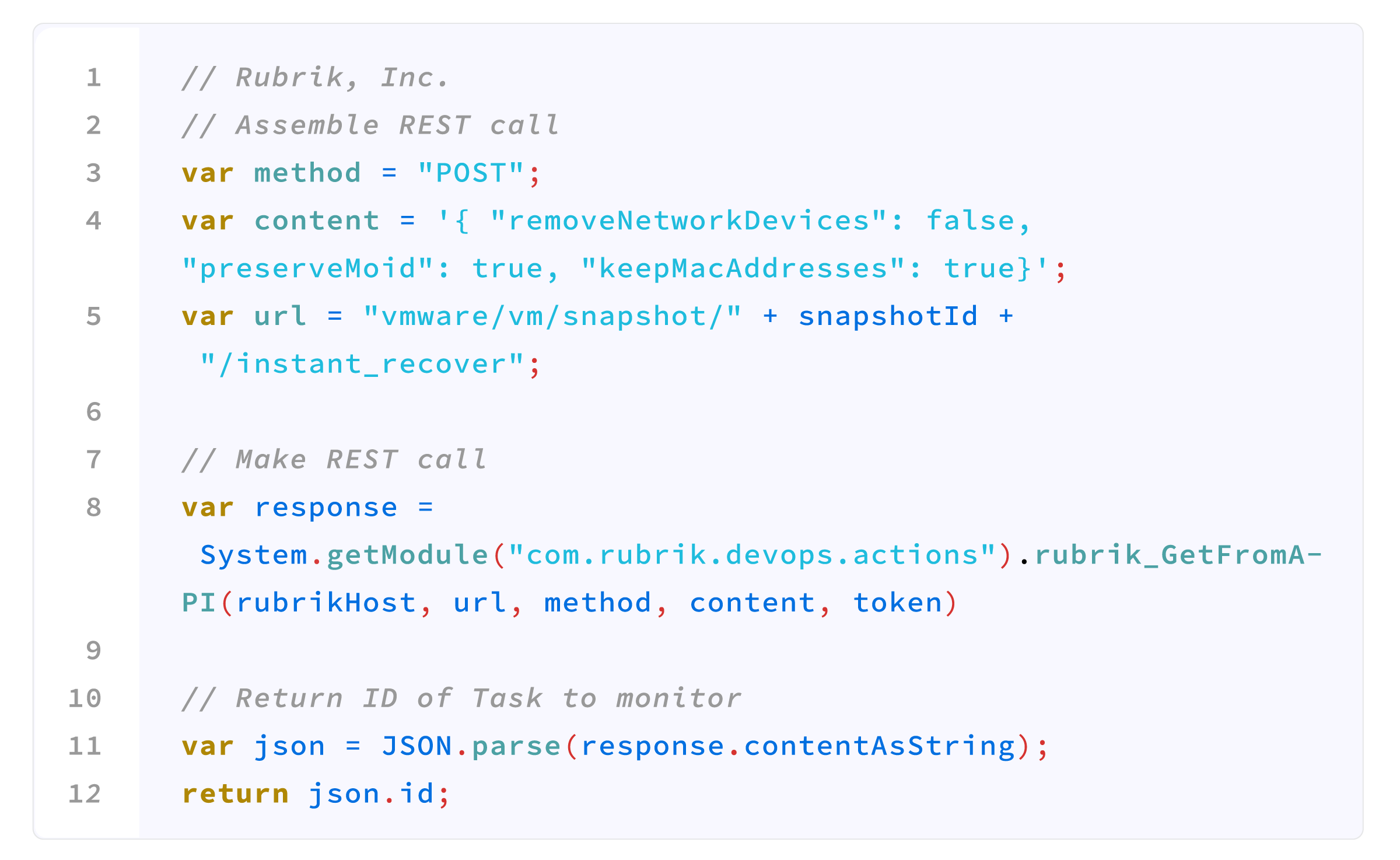 Native
Query, configure, and control any operation available in the UI through the Rubrik REST API.
User-Centric
Generate code in your language of choice (PowerShell, Python, etc) using our pre-built modules. Zero REST API knowledge needed.
Simple
From design (RESTful) to documentation (professional-grade). Easy to learn, integrate, and test.
Future-Proof
Versioned, non-breaking, battle-tested APIs lets you upgrade without any surprises. We test, not you.
---
Resources
Featured Content
RESTful APIs for Simple Service Delivery
Chris Wahl, Chief Technologist at Rubrik, explains the tops 3 advantages of Rubrik's APIs.
---
Rubrik REST API Architecture
Rubrik Software Engineer Di Peng shows how to leverage Rubrik's API-first architecture in this technical overview. 

貴社のデータが持つ価値をさらに引き出し、ビジネスの成果を最大化するためにRubrikがどうお役に立てるのかについて、営業担当者がご案内いたします。
データ活用支援チームが事例を交えてご紹介
概要説明とデモの日程を調整
特定の機能やソリューションについての詳しいご案内など、お気軽になんでもお問い合わせ可能
Rubrikへの連絡先
1-844-4RUBRIK