BENEFITS
Speed, Mobility, and Economy
Rubrik combines cluster-consistent MongoDB backup with automation and deduplication to deliver benefits other solutions cannot.
Speed & Simplicity
Apply a backup policy with a few clicks. Cluster-consistent backup, parallel streaming and orchestrated, repair-free recovery let you start using your application during recovery.
Cloud Mobility
Move data from on-premises to any cloud and back. Restore data from large production MongoDB databases to smaller test databases.
Storage Economy
Rubrik semantic deduplication reduces MongoDB replica sets to a single always-consistent copy, amplified by incremental-forever so you can achieve significant storage savings.
IDC ANALYST REPORT
The Data-Forward Enterprise: How to Maximize Data Leverage for Better Business Outcomes
Did you know that data-driven organizations achieve 8x the growth over their peers? Download the report to find out how you can achieve greater productivity and faster time to market by modernizing data management.
HOW IT WORKS
Rubrik Mosaic Reference Architecture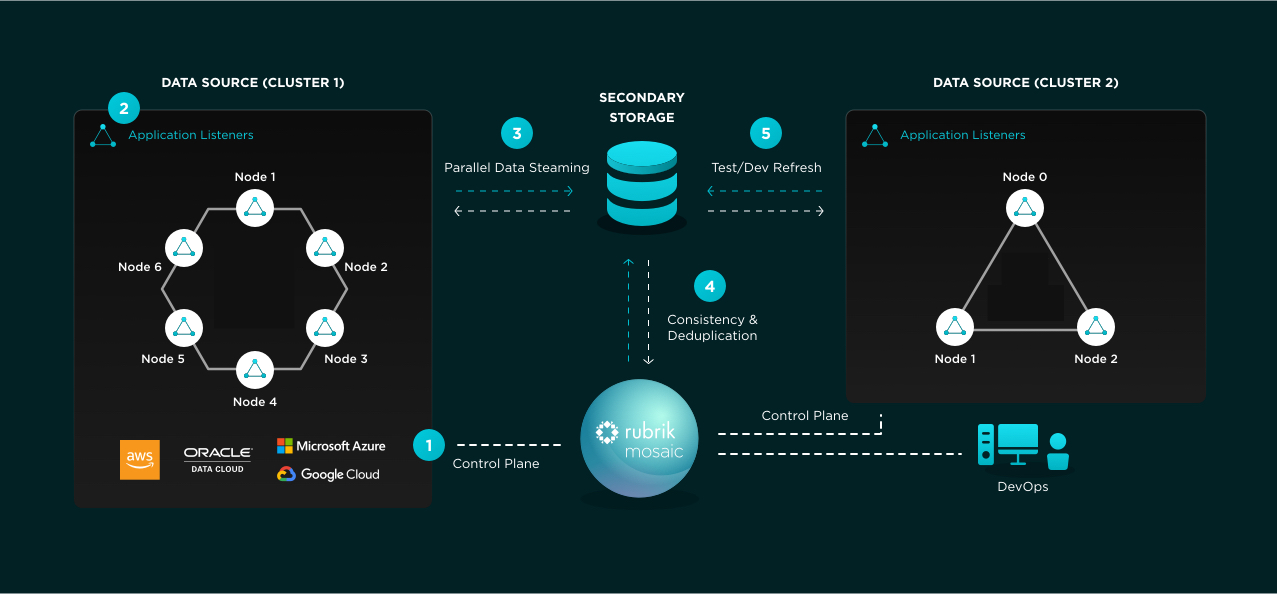 Protect MongoDB databases with Mosaic, a software-defined data management control plane. Integrate with MongoDB via well-defined MongoDB APIs and leverage an intelligent SLA policy engine.
Stream data in parallel to secondary backup storage by using lightweight Application Listeners deployed on each node. No quiescing of the database. Achieve consistency for sharded and unsharded database configurations.
Restore data in parallel from/to MongoDB, resulting in reduced RPOs and RTOs. Deliver incremental forever backups from any or multiple nodes and in native MongoDB formats. Orchestrate restore operations.
Achieve hard savings by avoiding media servers, additional MongoDB licensing costs for secondary instances, and operational costs of hand-rolled scripts and native solutions.
Automate test/dev refresh with collection level granularity and cross-cloud mobility. Any-to-any topology restore delivers data from and to alternate topology MongoDB clusters.
Customer Spotlight
Why Enterprises Use Rubrik Mosaic
貴社のデータが持つ価値をさらに引き出し、ビジネスの成果を最大化するためにRubrikがどうお役に立てるのかについて、営業担当者がご案内いたします。
データ活用支援チームが事例を交えてご紹介
概要説明とデモの日程を調整
特定の機能やソリューションについての詳しいご案内など、お気軽になんでもお問い合わせ可能
Rubrikへの連絡先
1-844-4RUBRIK