CHALLENGES
Challenges with NAS Backup Alternatives
Traditional NAS backup methods with scale-out appliances and NDMP enforce vendor lock-in, lower performance, and higher TCO.
NDMP: Backup Performance at Scale
Backup window is too long due to periodic full backup requirements, increasing RPO SLA failure rates.
NDMP: Index and Recovery Performance
Slow indexing creates bottlenecks on the infrastructure; without indexing and granular restores, recovery time is lengthy.
Scale-Out Backup Appliances: Higher TCO
Being locked in with storage provided by scale-out backup appliances results in higher TCO.
Our Unique Approach
A Modern, Vendor-Agnostic Approach to NAS
Our non-NDMP design is the foundation of our vendor-agnostic approach to NAS
Rubrik protects NAS data in a generic format, enabling cross-platform archival and recovery anywhere across public or private cloud. Migrate your NAS data to any storage tier of choice to avoid vendor lock-in or drive storage savings for long-term retention.

Being able to manage our NAS archives within Rubrik's intuitive environment provides better and more transparent protection for our growing NAS environments and allows us to reap the benefits of scalability and cost efficiencies in the cloud.
eguide
The Buyer's Guide to Backup & Recovery
A comprehensive, vendor-neutral backup & recovery buyer's guide to help you think through the strengths and weaknesses of backup & recovery solutions available today.
BENEFITS
Benefits with the Rubrik Approach
Cloud Mobility
Orchestrate petabytes of NAS data – such as animation, video, and design files - across on-prem and cloud with Rubrik's NAS Direct Archive.
Instant Access
Autodiscover NAS data for quick setup. Indexed metadata enables fast search across on-prem and cloud with granular, file-level recovery.
Lower TCO
Minimize storage and egress costs with incremental-forever backups. Rubrik only stores metadata while sending files directly to your archival location.
How It Works
NAS Solution at a Glance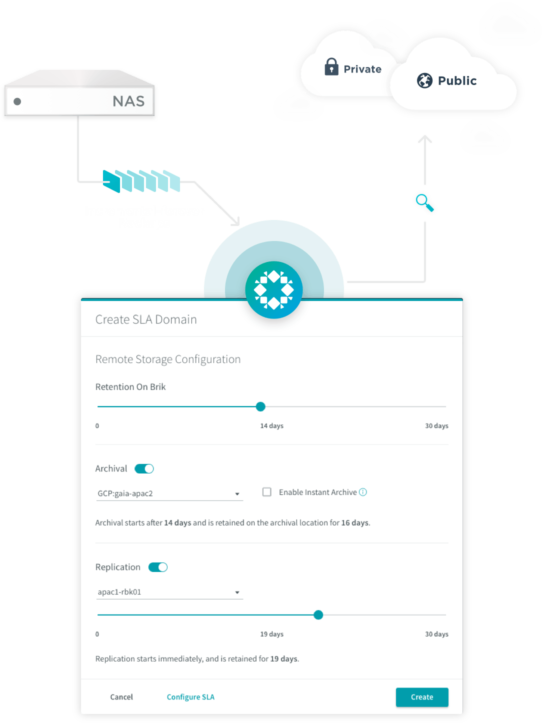 Mount NAS volumes directly onto Rubrik – no proxies required. All data is captured in its native format.
Rubrik leverages vendor-native snapshot and file change APIs (e.g. Isilon ChangeList and NetApp SnapDiff) for point-in-time consistency and up to 10x faster file system scans.
Rubrik delivers parallel ingest and incremental-forever snapshots for fast backup performance.
Automate backup and archival schedules via one SLA policy engine. Assign SLAs at the fileset level.
Instantly discover data with predictive search. Unlock cloud for cost effective long-term retention.
Restore files in-place or to an alternate NAS platform to avoid vendor-lock in.
貴社のデータが持つ価値をさらに引き出し、ビジネスの成果を最大化するためにRubrikがどうお役に立てるのかについて、営業担当者がご案内いたします。
データ活用支援チームが事例を交えてご紹介
概要説明とデモの日程を調整
特定の機能やソリューションについての詳しいご案内など、お気軽になんでもお問い合わせ可能
Rubrikへの連絡先
1-844-4RUBRIK