BENEFITS
Launch Your GDPR Compliance
Rubrik collapses a complex landscape of point solutions into one platform to deliver data management on-premises and in the cloud. With a few clicks, automate data protection policies and expiration. A single pane of glass provides transparency into where your data resides and how policy compliance is met across your entire infrastructure.
Unified Management
Centralize backup, disaster recovery, search, archival, and analytics across all environments.
Fast Recovery
Use Google-like global search for quick recovery at the file or application level.
Policy-Driven Automation
Easily assign SLA policies to your application data that map to data use cases.
Features
Rubrik Cloud Data Management for GDPR Compliance
Rubrik accelerates GDPR compliance in a centralized platform that protects, manages, and monitors data across all environments. Avoid fines of up to €20 million or 4% of annual global revenue with a secure software-defined solution.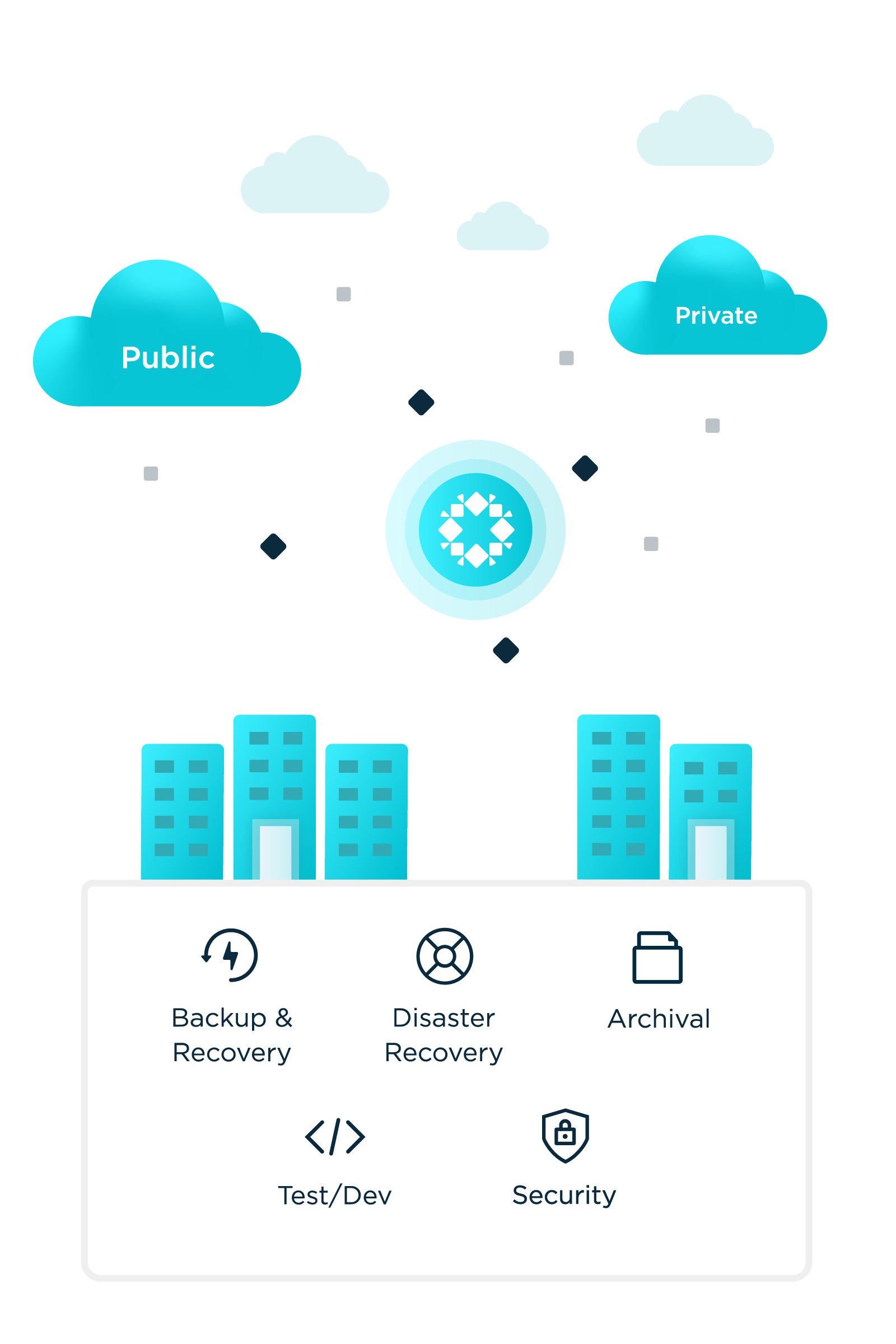 Test/Dev
Ensure your security measures are effective. Use the Live Mount feature to test your disaster recovery plan without impacting production workloads.
Archival
GDPR mandates that data retention and deletion policies match business use cases. Simplify the process by automating retention and archival policies.
Security
From the ground up, data protection was designed into our platform. Rubrik secures all data with end-to-end encryption from creation to expiration, regardless of location.
Instant data access is a major focus of GDPR. Rubrik offers global predictive search that makes data instantly available and recoverable across our entire infrastructure.
HOW IT WORKS
Secure by Design
End-to-End Encryption: Enforce data security with encryption at-rest and in-transit regardless of where your data resides. World-class security ensures data is protected even in the event of a breach.
Role-Based Multilayered Security: Exercise granular control of data on-premises and in the cloud. Ensure privacy and integrity of protected data by limiting access to only those who need it.
Native Immutable Snapshots: Deliver incremental-forever, immutable snapshots for quick recovery without data loss and no downtime. Resume operations within minutes of an attack.
Management Simplicity for All Your App Data
API-First Architecture
Orchestrate custom lifecycle management workflows that integrate with third-party services.
Extend to the Edge
Deploy Edge, a software appliance, to protect virtualized and physical ROBO environments.
Compliance Reporting
Use Rubrik Envision to track whether backups are meeting defined SLAs.
Rubrik Product Compliance
At Rubrik, we continue to invest in ensuring that our Cloud Data Management and Polaris Platforms are in compliance with and support key compliance standards and frameworks to build a strong foundation for cloud data management and simplify how you manage and protect data in the cloud. This ensures that the use of our Platforms will not negatively impact our customers' security compliance. 
貴社のデータが持つ価値をさらに引き出し、ビジネスの成果を最大化するためにRubrikがどうお役に立てるのかについて、営業担当者がご案内いたします。
データ活用支援チームが事例を交えてご紹介
概要説明とデモの日程を調整
特定の機能やソリューションについての詳しいご案内など、お気軽になんでもお問い合わせ可能
Rubrikへの連絡先
1-844-4RUBRIK