BENEFITS
Search Anything. Recover Instantly. Convert VM to Cloud.
Protect and manage any virtual environment with consumer-grade simplicity and policy-driven SLA compliance. Drive your RPOs down to minutes by eliminating VM stun effects for mission-critical apps. Instantly search for VMs and files with global real-time search, on-prem to cloud. Unlock fast, actionable insights across a multi-hypervisor, multi-cloud environment.
Instant Recovery
Deliver near-zero RTOs by mounting directly onto Rubrik. No rehydration required. Instantly provision clones for test/dev too.
Policy-Driven Intelligence
One policy engine to create and automate SLA policy compliance with just a few clicks. No more manual-intensive backup jobs.
Freedom of Choice
Multi-hypervisor support for vSphere (ESXi), Hyper-V, and AHV. Migrate VMs to the cloud for test/dev and DR.
eguide
The Buyer's Guide to Backup & Recovery
A comprehensive, vendor-neutral backup & recovery buyer's guide to help you think through the strengths and weaknesses of backup & recovery solutions available today.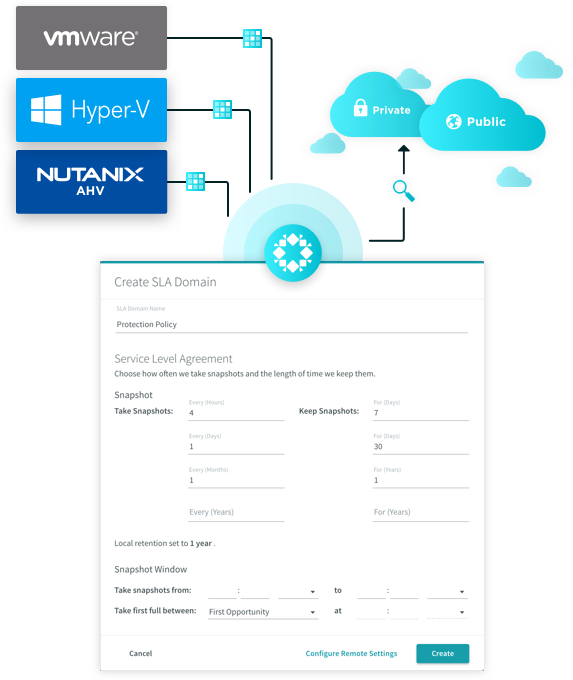 Auto-discover your virtualized environments.
Flash-optimized, parallel ingest accelerates snapshots and eliminates stun. Content-aware dedupe across one global namespace.
Automate SLA policy compliance for backup, replication, and archival. Policy-driven intelligence = effortless management.
Mount your VMs directly on Rubrik for near-zero RTOs. Provision clones on-demand for test/dev.
Instantly search all your VMs and files.
Use the cloud for long-term retention (while retaining instant access), test/dev, and DR.
CUSTOMER SPOTLIGHT
Trusted by the World's Leading Companies
Resources
Featured Content
Rubrik and Nutanix Reference Architecture
Rubrik provides end-to-end data management for all applications running on Nutanix.
---
Rubrik and Microsoft Hyper-V
Rubrik delivers WMI-based backups for Hyper-V. Leverage instant recovery, search, and other core capabilities for your Hyper-V workloads.
Get in touch
Contact Sales
Speak with one of our sales representatives to learn how Rubrik can help you drive more value from your data and maximize your business outcomes.
We'll connect you with the local sales team
Our reps will help set up a meeting for an overview and demo
Leverage our team to learn about specific features or solutions
Call Our Sales Team
1-844-4RUBRIK