It's been a busy couple of weeks for the Rubrik team. We've experienced the bright lights and excitement of Las Vegas and the historic architecture and rich culture of Barcelona. While VMworld US and VMworld Europe may have had different backdrops, and over 9,000 km of distance between them, their atmosphere was equally as inspiring.
As VMware has been integral to our solution from the get go, VMworld is always an exciting time for us. This year was no exception.
There were surprise announcements, thought provoking keynote speeches, intriguing breakout sessions, and unforgettable parties. VMworld 2017 has been a stage of innovation for the cloud generation, from its essential role in digital transformation to the technologies that make it secure.
An unavoidable theme this year was 'change'. We're in a digital period of accelerated transformation, which is – as far as anyone can guess – set to continue. From the very first keynote speech in Las Vegas to the closing sessions in Barcelona, themes of cloud, mobility, networking, and security reigned supreme. After all, they are the topics reshaping all industries at the moment.
The opening keynotes, in both Las Vegas and Barcelona, addressed this overarching theme of change, referencing technology's ever-increasing role within human society and culture. Tech has become an integral part of everyone's lives. It's accessible by design and because of that we've become digitally reliant without even realizing it.
We use technology at work and at play, to entertain ourselves and to communicate with each other. Even its role within business has changed dramatically over the last 10 years. The digital environment is no longer the sole-territory of back office IT support teams.
Within this increasingly digital landscape, cloud's role is also changing. At this year's VMworld, it became clearer than ever that we are now in a multi-cloud era, with VMware announcing that customers can now run their virtualized infrastructure on Amazon Web Services (AWS). Businesses want a solution that works across public, private and hybrid cloud ecosystems.
This partnership alludes to a bigger trend in today's cloud marketplace as more companies realize they need to collaborate to satisfy the needs of their digitally-aware customers. As the industry's big players move towards open models and focus on consumable APIs within their platforms, a community of sharing and collaboration is being formed.
In line with these themes, we made a couple of our own collaborations…
At VMworld US, we announced NBA champion and accomplished entrepreneur Kevin Durant is joining the Rubrik team. Kevin joined us in Las Vegas, where we ran a free-throw competition in support of the Kevin Durant Charity Foundation. With $2 donated in return for each successful basket, we raised $15,000 for at-risk youth.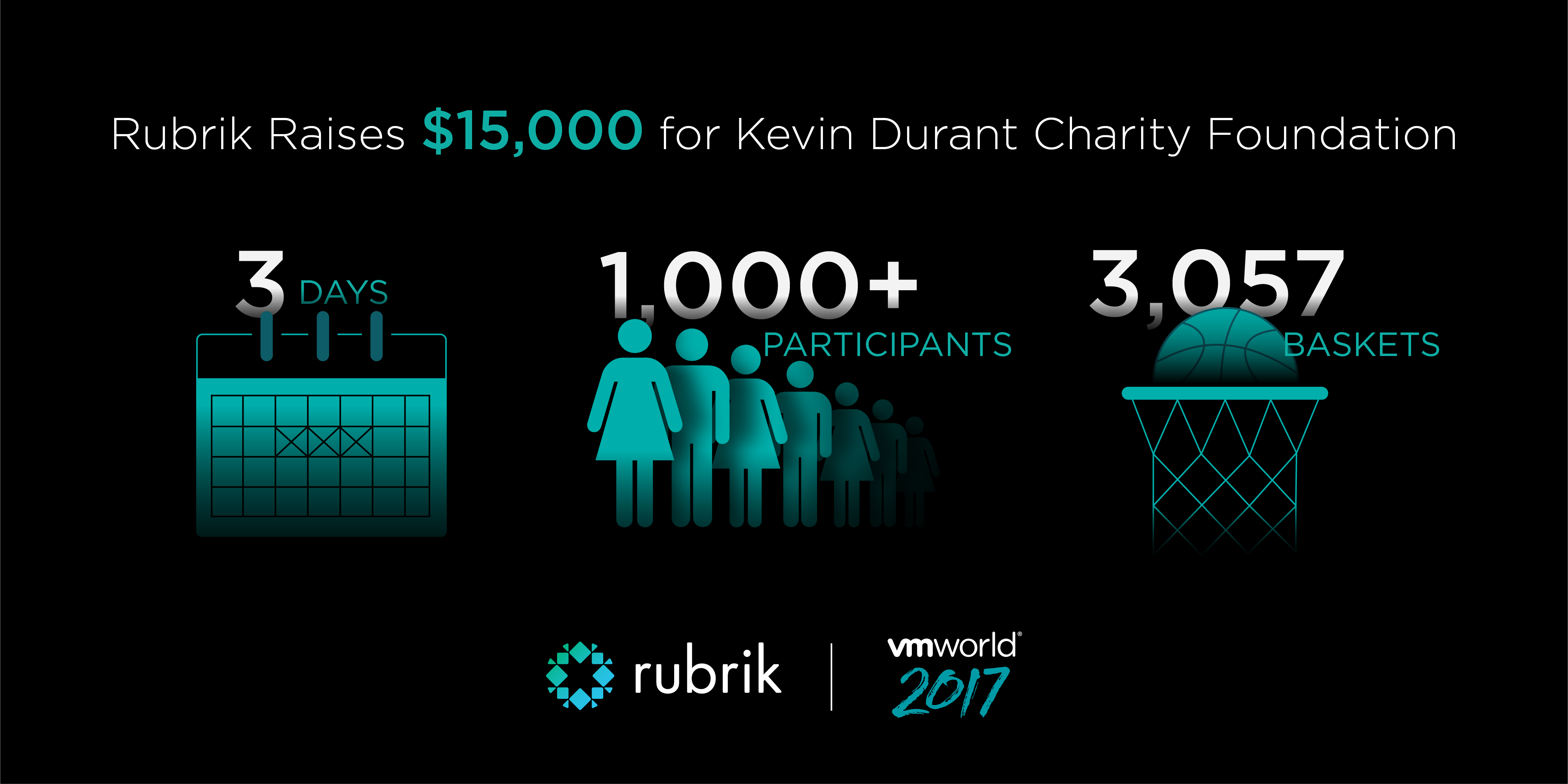 Our community is very important to us; while at VMworld US, we immortalized some of our closest Rubrik friends and influencers – including Kyle Ruddy, Kim Delgado, and Melissa Palmer to name a few – in a "vAllStars" trading card deck.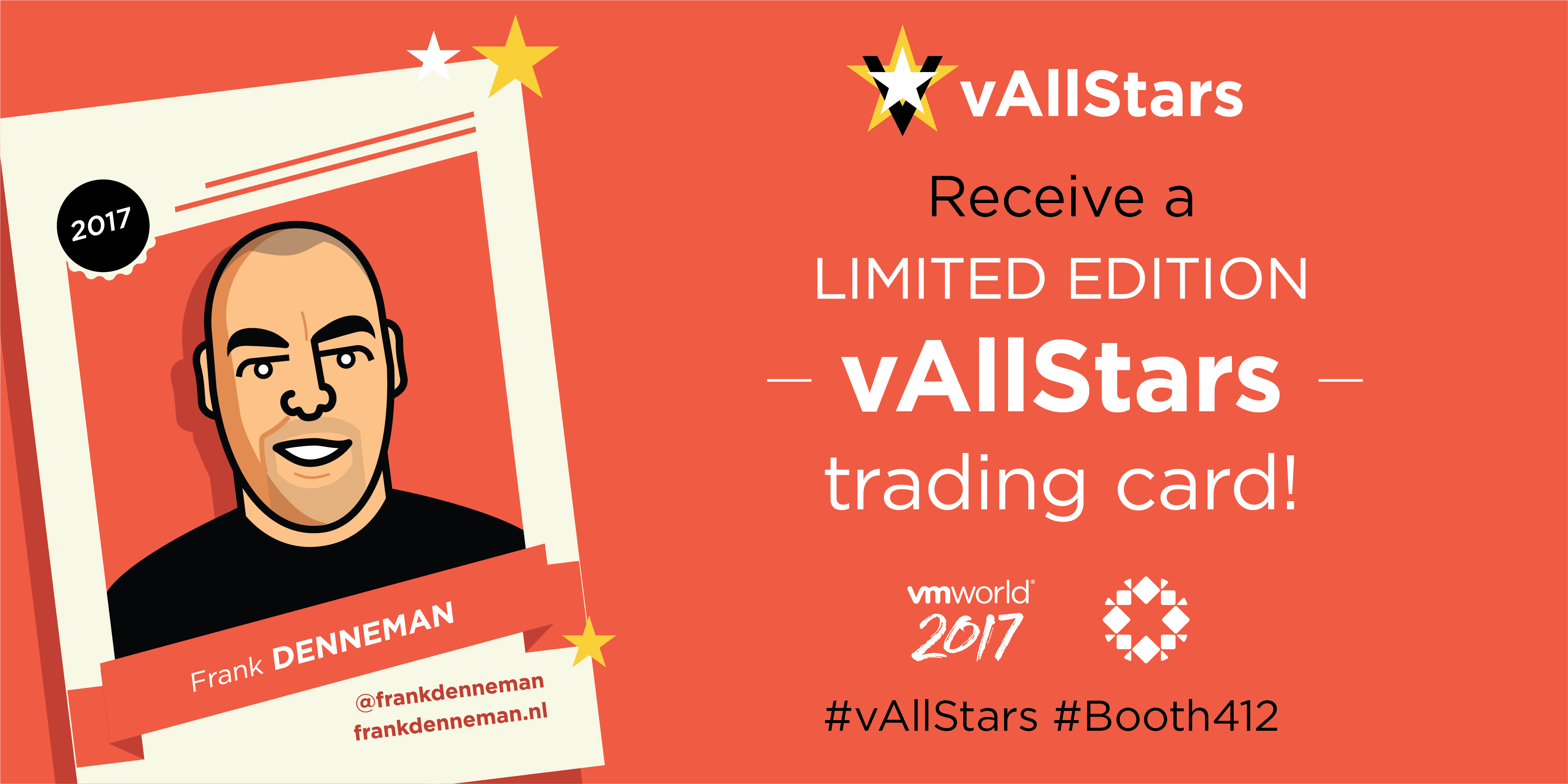 At VMworld Europe, we announced our new partnership with Mercedes-AMG Petronas Motorsport, complete with a team F1 racing car on stand. These announcements reflect a very exciting time for us in terms of our future. We are humbled by our network's growth.
VMworld was also a time of celebration, where we were awarded two Best of VMworld 2017 US awards: the Gold Award for Data Protection (for Rubrik Alta) and Best of Show. As the awards recognize the most innovative new products, this was a huge achievement for us. We celebrated at our Barcelona Nights party and with Ice Cube in Las Vegas!
VMWorld 2017 was thought provoking and inspiring, encouraging all attendees to take stock of what is around them and to look forward to a multi-cloud, collaborative world. See a 90-second recap below!
By viewing this video, you are providing your express consent that your viewing history has been captured and may be shared with our affiliates or third-party providers that may also combine with other data they collect about you, e.g. your use of their services. We and our third-party providers may use this information to present you with offers, promotions, or other marketing that we think you'll find relevant.