MICROSOFT 365
Safeguard Microsoft 365 Data
Secure your critical Microsoft 365 data from cyber attacks and accidental deletion. Rapidly recover data across Exchange Online, OneDrive, SharePoint, and Teams.
benefits
Secure Your Microsoft 365 Data
Secure your Microsoft 365 application data with air-gapped, immutable backups automated protection and Sensitive Data Monitoring, and rapid recovery.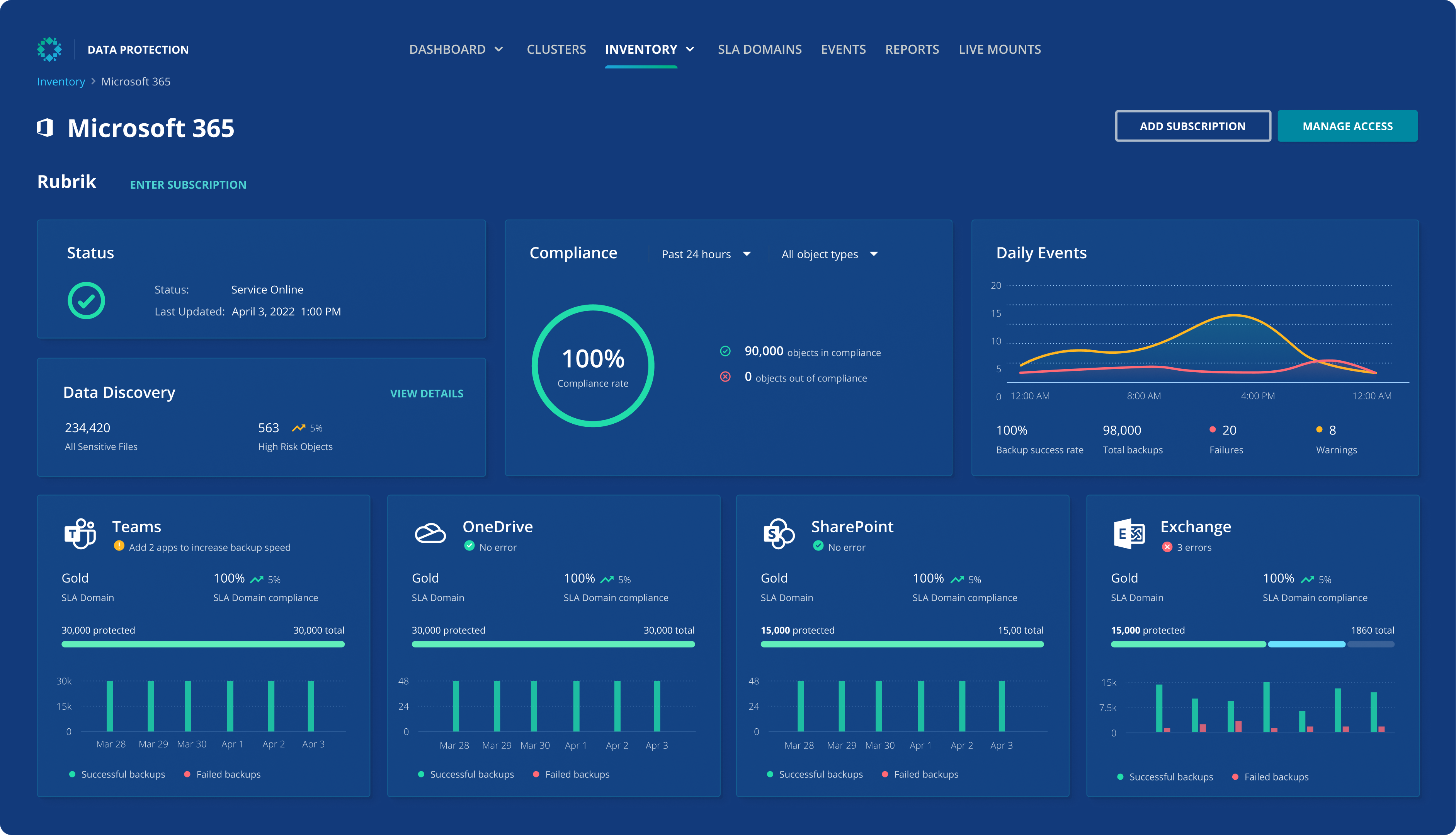 Withstand Cyber Attack
Protect mission-critical Microsoft 365 data with immutability and an air gap. Keep backups secure even if hackers manipulate Microsoft security tools like Retention Policies to delete your production data.
Automate Protection and Manage Sensitive Data Risk
Automate policy assignment and job scheduling for large-scale Microsoft 365 environments. Avoid security gaps by protecting new data automatically. Proactively mitigate attack impact and help comply with industry and government regulations with Sensitive Data Monitoring to make sure sensitive data exists only where it should.
Recover Rapidly
Find and recover the data you need with fast search and restore. Help expedite remediation efforts by knowing whether SharePoint sites or files and folders in OneDrive impacted in an attack contain sensitive data With flexible recovery options, select data for granular or bulk recovery.
EBOOK
Zero Trust Data Security for M365 with Rubrik and Microsoft
Addressing cyber attacks and other challenges require two shifts in approach. Download ebook to read more.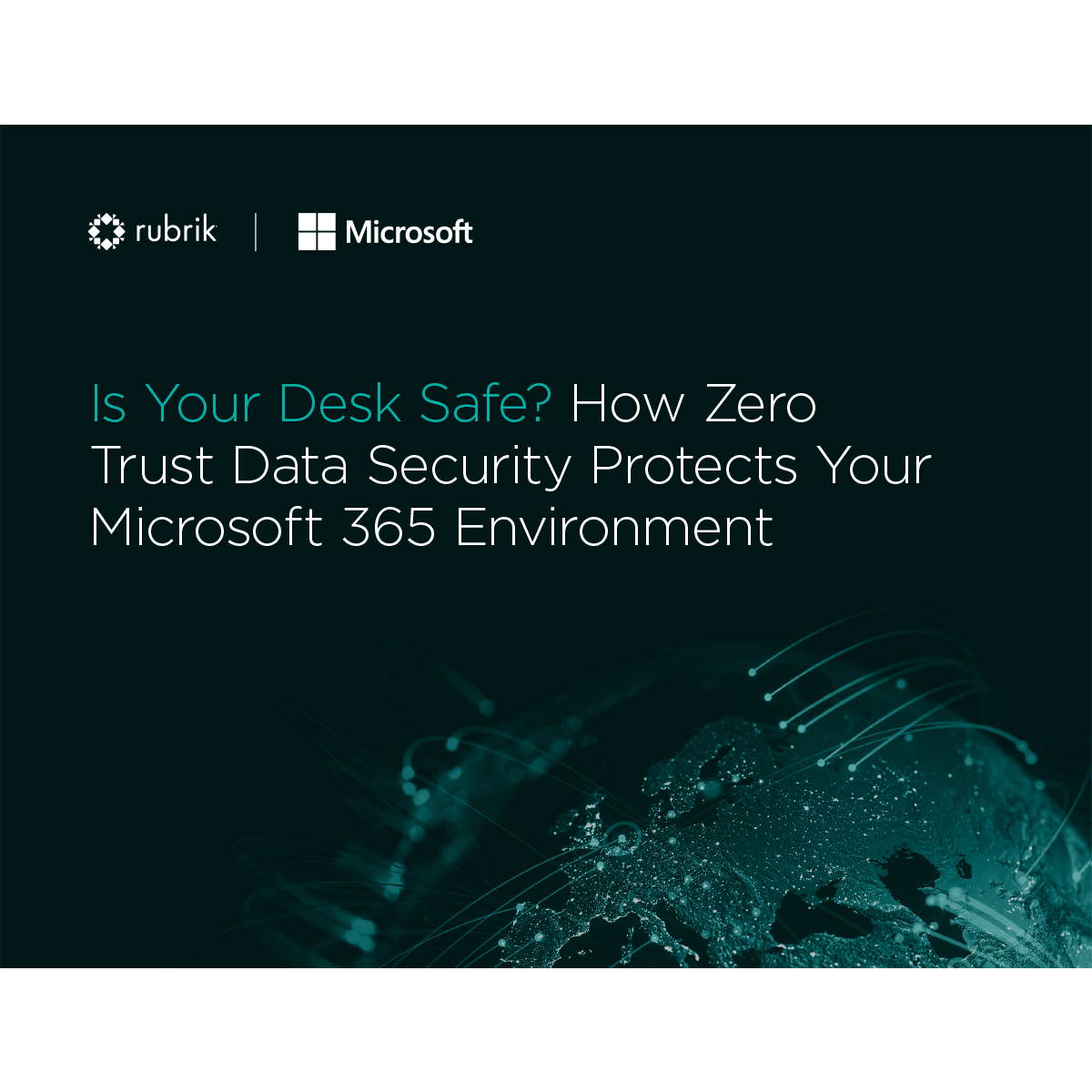 CYBER PREPAREDNESS
Withstand Cyber Attack
Together, Microsoft and Rubrik give you complete data protection. Microsoft provides perimeter security, detection, and preservation for eDiscovery, with Rubrik accelerates ransomware recovery across hundreds or even thousands of users and provides insights into what sensitive data was compromised in an attack and where it lives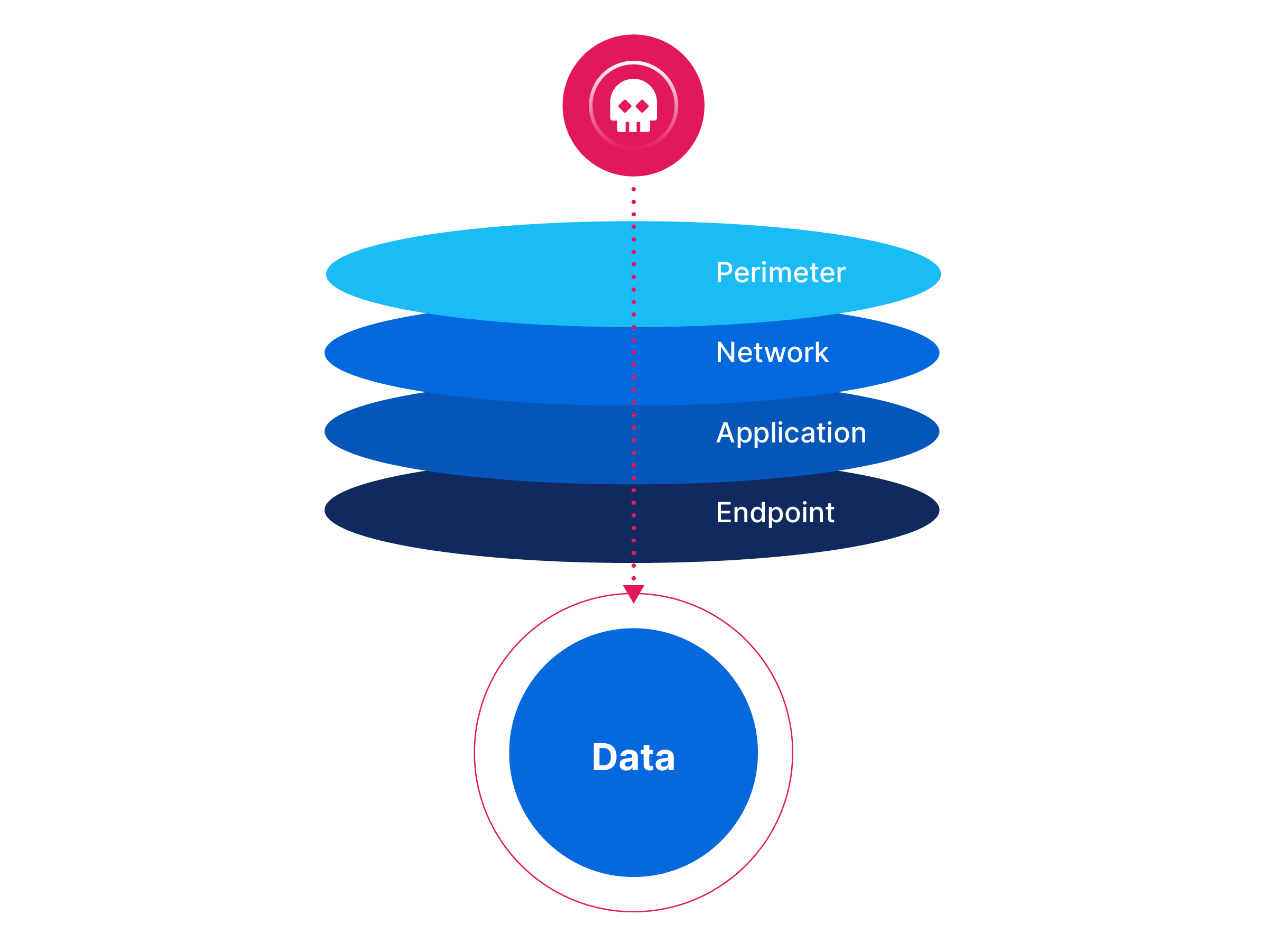 Secure with an Air Gap
Keep your backup data isolated, separate from the Microsoft 365 tenant and solution.
Grant Secure Access and Keep Attackers Out
Maintain least privilege principles. Prevent unauthorized access with Role-Based Access Control (RBAC) and Multi-factor Authentication (MFA) - even if Microsoft 365 admin credentials are compromised.

Reduce Sensitive Data Risk
Proactively identify and classify sensitive data within OneDrive or SharePoint by scanning backups - with minimal production impact. Facilitate compliance with GDPR, PCI-DSS, HIPAA, and GLBA regulations. Gain insight into what regulatory bodies may need to be notified if certain type(s) of data are impacted in an attack.
 
CENTRALIZE MANAGEMENT AND VISIBILITY
Automate Protection and Manage Sensitive Data Risk
Centralize management and reporting for Microsoft 365 plus other workloads you need to backup. Eliminate manual job scheduling in a single SaaS application with one policy across environments. Get sensitive data policy violation alerts based on pre-built or custom analyzers and schedule reports for audits.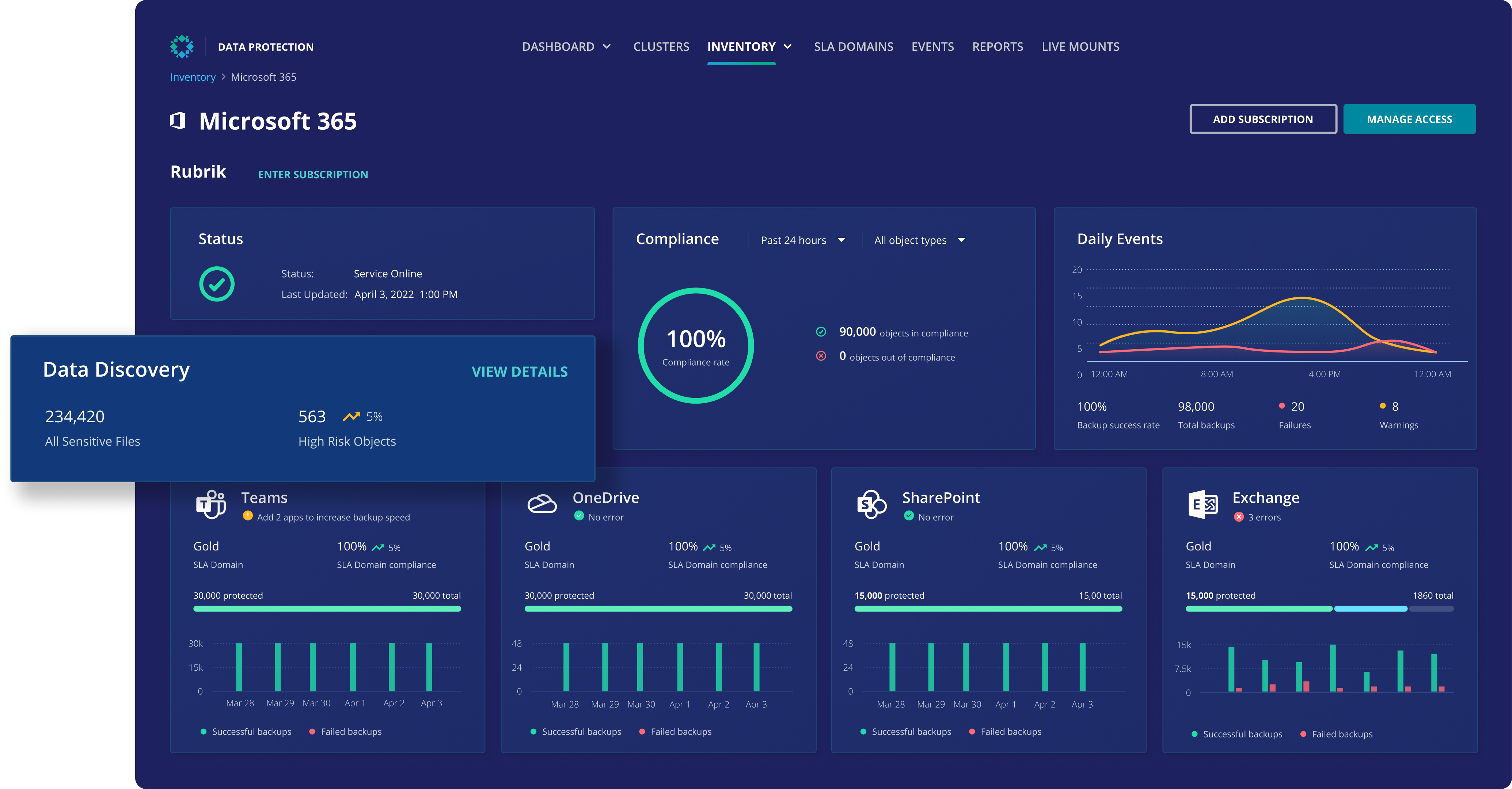 Automatically Protect New Users, Sites, or Mailboxes
Automatically discover new data and assign policies at the application level or according to Microsoft Entra ID (Azure AD) Groups. Override group SLAs for granular protection.
Ensure Backups are Running
Check compliance, SLA audits, recovery tasks with reports on demand on protection status and how sensitive data is classified and flagged.
Handle API Failures and Detect Outages
Rely on a fully automated retry mechanism and switching among available Microsoft APIs. Simplify troubleshooting with a health check to determine outages based on a Microsoft Service API specific to your environment.
RECOVER FROM HUMAN ERROR
Recover Rapidly
Find and restore data fast. Help ensure files are still retrievable 60, 90 days and beyond without relying on eDiscovery and Litigation Hold, or the Recycle Bin and versioning to revert changes.
Quickly Locate the Data You Need
Search for files based on details like email subject or author. Recover individual files or emails, shared mailboxes or entire OneDrive folders.
Restore Data Where You Want
Restore to the original user or another user. Rubrik instances in Azure Blob Storage make API calls to recover to your preferred location.
Perform Fast Backups and Restores
Rubrik stands up separate containers for every backup job, where Azure Kubernetes Service (AKS) orchestrates provisioning and deprovisioning. Nodes scale automatically based on workload demands.
Video
Are You Ready to Recover Your M365 Data from Cyber Threats?
Rubrik and Microsoft security experts explain why targeted Microsoft 365 data requires external backups.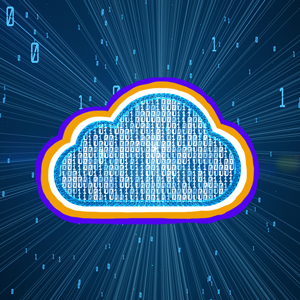 Ready to get started?
Get a personalized demo of the Rubrik Zero Trust Data Security platform.
Safe Harbor
Any unreleased services or features referenced on this page are not currently available and may not be made generally available on time or at all, as may be determined in our sole discretion. Any such referenced services or features do not represent promises to deliver, commitments, or obligations of Rubrik, Inc. and may not be incorporated into any contract. Customers should make their purchase decisions based upon services and features that are currently generally available.