AI-POWERED CYBER RECOVERY - COMING SOON
Accelerate Cyber Recovery Using the Power of AI
Minimize data loss and reduce downtime from cyber attacks through generative AI recommendations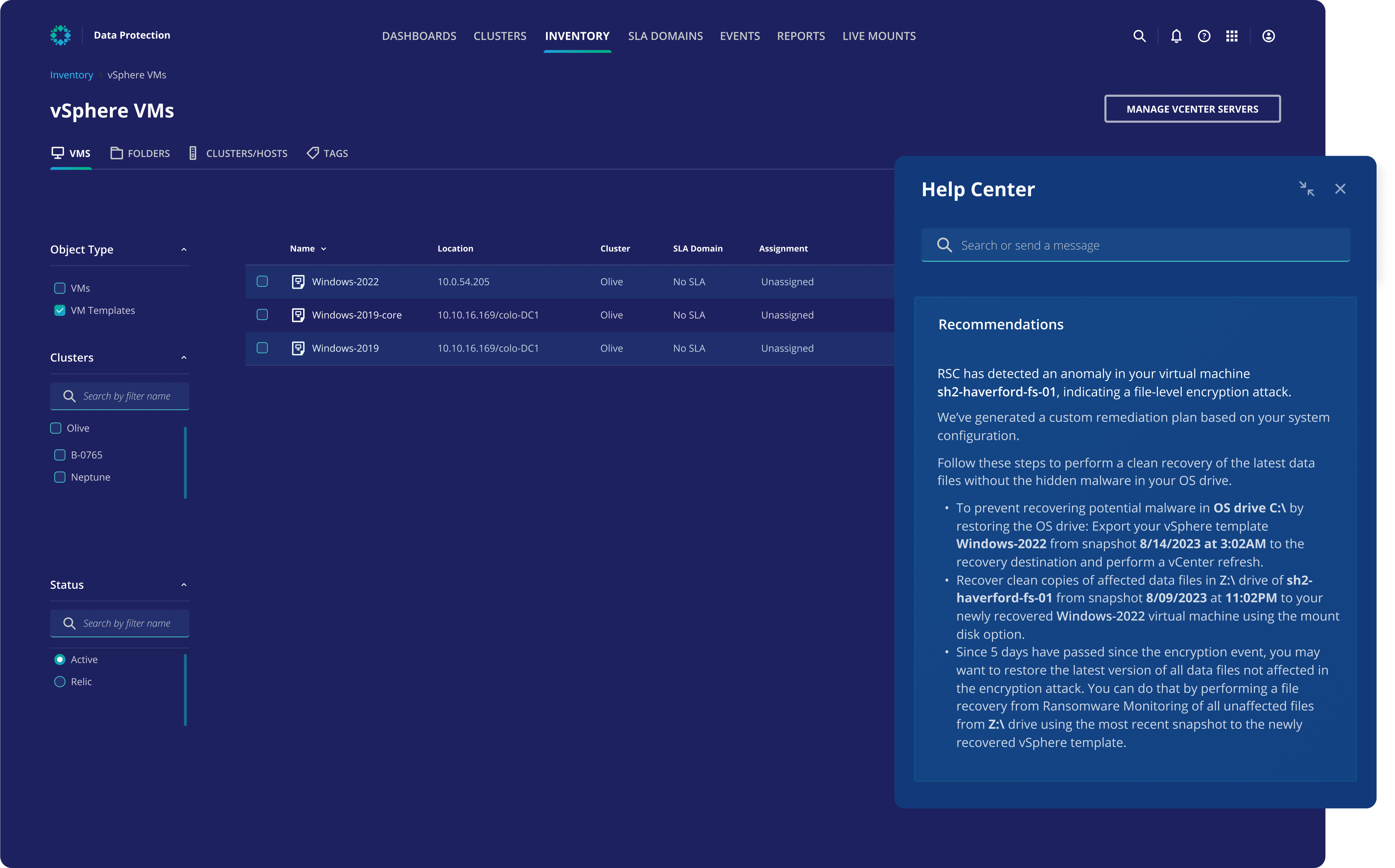 BENEFITS
Navigate Complex Cyber Recovery With Ease
Rubrik AI-Powered Cyber Recovery is designed to help organizations speed up their time to recover from a cyber attack through AI-generated task lists and guided workflows. This helps IT teams streamline decision-making during a cyber incident and respond faster to emerging threats.
Access custom remediation plans
Streamline recoveries with AI-generated task lists tailored to different recovery scenarios
Enhance recovery point objective (RPO)
Get recommendations on which snapshots or files to select for recovery using the most recent data available
Ensure clean recovery
Recover using trusted gold VM templates to prevent malware reinfection from the operating system
Analyst Report
Rubrik: Four times a Leader and four times furthest in vision
For the 4th consecutive time, Rubrik has been named a Leader and the furthest in vision in the 2023 Gartner® Magic Quadrant™ for Enterprise Backup and Recovery Software Solutions.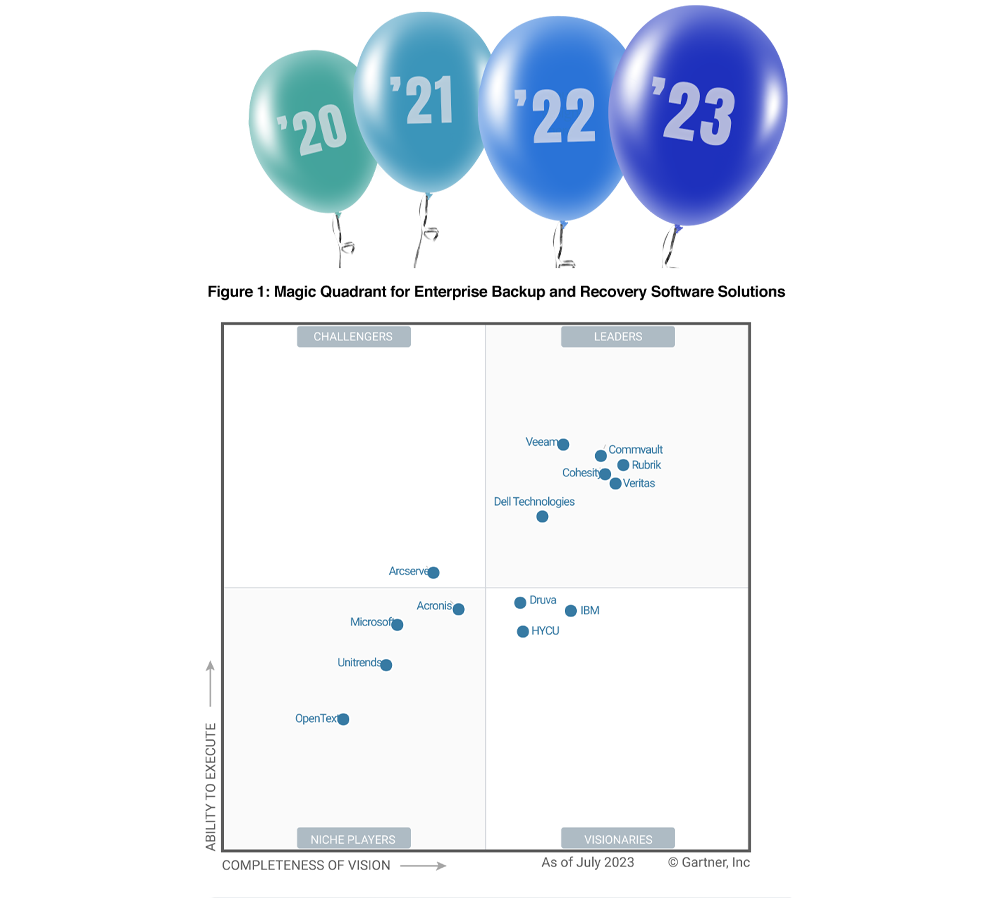 OPEN-AI INTEGRATION
Streamline recovery using AI-driven intelligence
Receive step-by-step recommendations tailored to your recovery scenario through Rubrik's data threat analytics and integration with Azure OpenAI.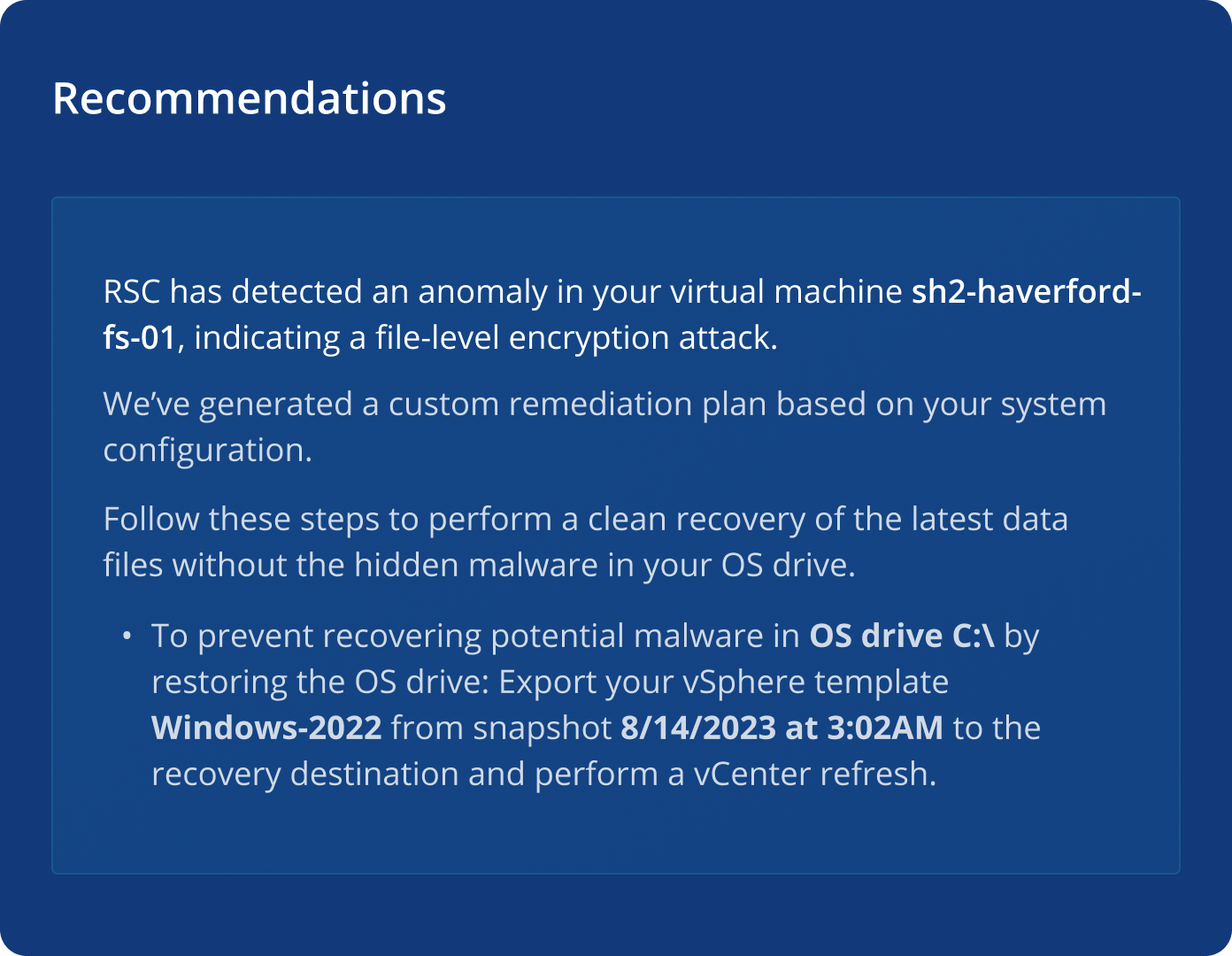 AVOID MALWARE REINFECTION
Protect VM templates for safer recoveries
Identify and protect gold master vSphere templates for secure virtual machine recovery and prevention of malware reinfection from the operating system when a cyber incident occurs.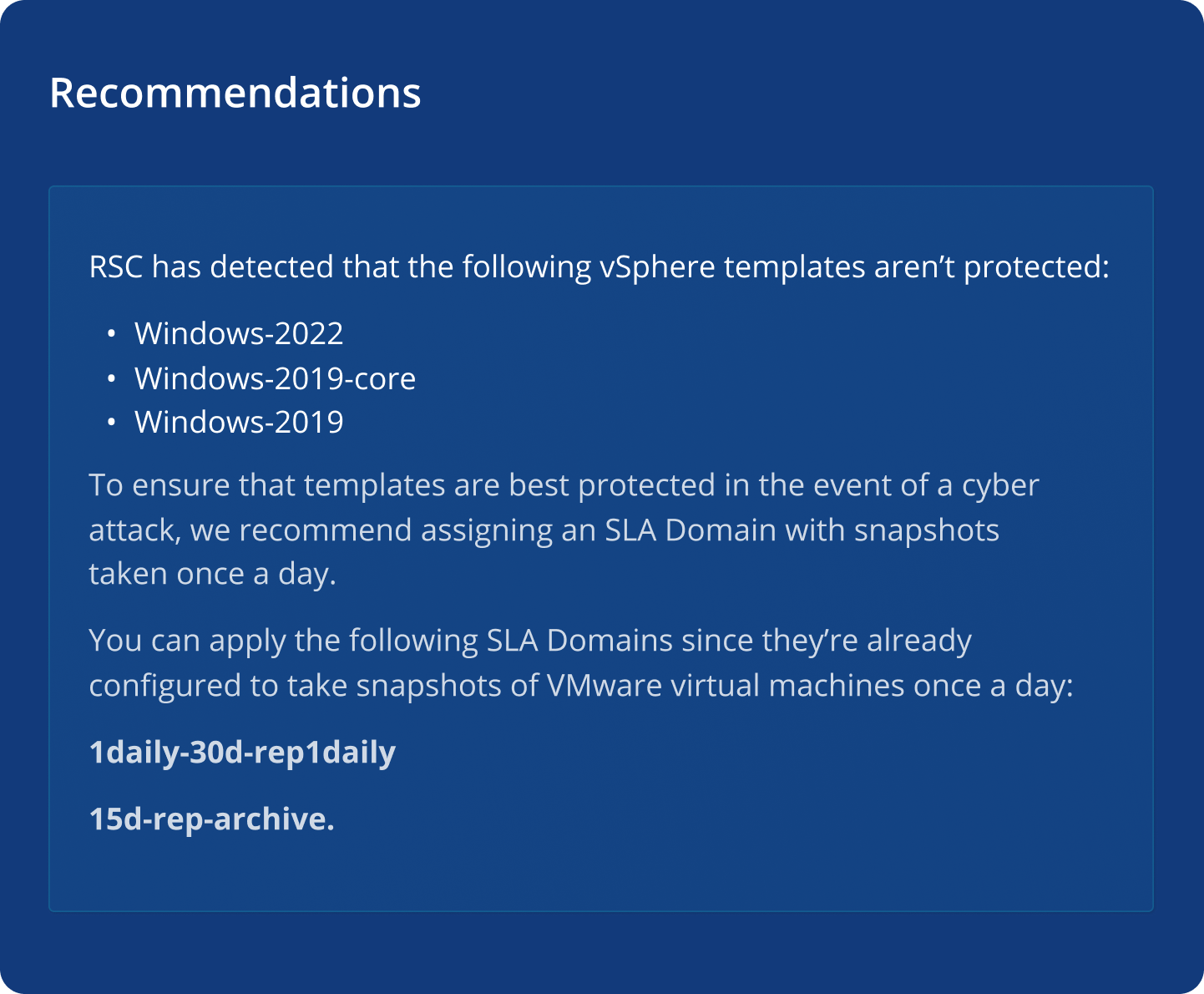 SMART RECOVERY
Recover the cleanest, most recent data
Get guidance to perform clean recoveries tailored to the situation, including restore of clean OS, and stitching together data from multiple snapshots to minimize RPO.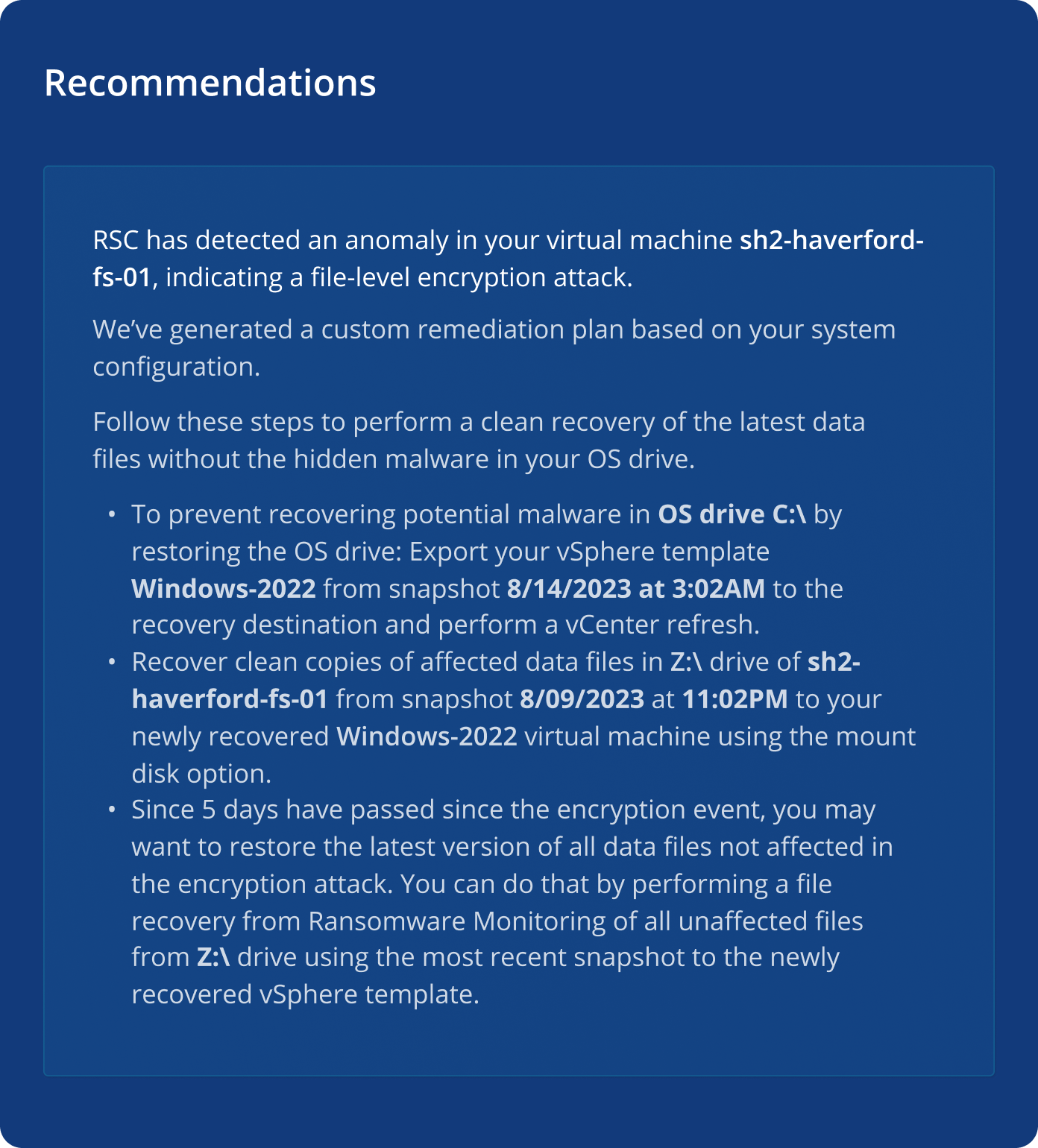 white paper
Prepare & Recover from Ransomware with Rubrik
This guide explains Rubrik Zero Trust Data Security and how its built-in capabilities make protected data immune to ransomware. You'll also learn about deployment best practices that make it even tougher for cyber criminals to attack.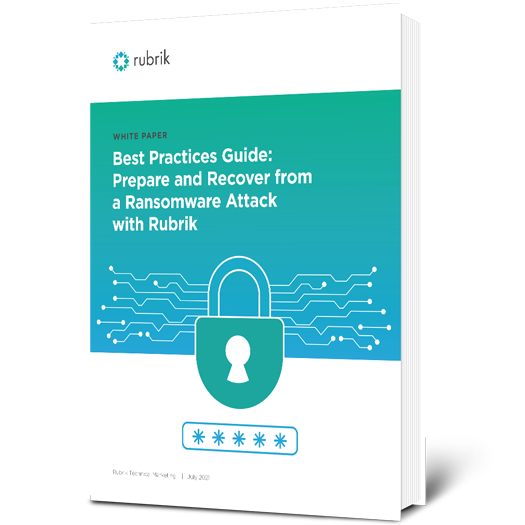 Ready to get started?
Get a personalized demo of the Rubrik Zero Trust Data Security platform.