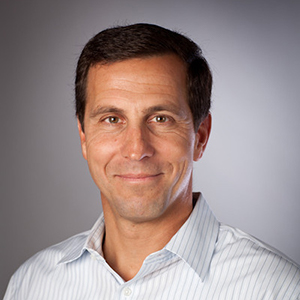 Bertrand Yansouni recently joined us as VP of Worldwide Channel to lead the vision and strategy for Rubrik's channel partners. He brings 25 years of experience building go-to-market strategies at enterprise tech companies, including his most recent role as Google Cloud's VP of Global Partner Sales & Strategic Partnerships.
I had the chance to chat with Bertrand about building high-performing channel organizations and leveraging Rubrik's platform to create market opportunities for its partners.
You're an industry veteran who has driven the channel strategy at tech leaders such as Google Cloud, VMware, and Cloudera. What has been your most valuable lesson about building high-performing channel partnerships?
I certainly feel that I've learned a lot of lessons throughout my career and that the learning process is never over! When it comes to building high-performing channel partnerships, the most valuable lesson I've learned is that there simply are no shortcuts. Building high-performing channel partnerships takes a lot of hard work, requires a lot of "intellectual honesty," and most of all, it takes unbending integrity.
What do you mean by "intellectual honesty"?
What I mean is that as a technology vendor, it's very easy – at a simplistic level – to think about how great it would be to have channel partners selling on your behalf. After all, who wouldn't want to have lots of partners, with relationships in tens of thousands of end-user accounts, resell your product for you and give you instant scale? But of course, the reality of building a channel is anything but easy, and many vendors fail to objectively assess how their solution and value proposition will actually be viewed through partners' eyes.
As a vendor, you need to ask yourself, "Is the solution I'm bringing to market attractive to partners? And is it more attractive than all of the other things they can spend their time selling? Will it help partners differentiate themselves with their customers and build a profitable business? Does the sales cycle for my solution fit how the partner actually sells?"
Many technology vendors take an overly optimistic view of these things and then are surprised when they don't get the traction with the channel that they were hoping for. So, being intellectually honest with yourself about how your solution is assessed by partners, and what you can do to improve that standing, is very important.
The other critical component is to always operate with complete integrity. Many companies make promises to partners that they fail to deliver on or are inconsistent in their behavior. When building a high-performance partnership, there has to be a foundation of trust, transparency, and a high code of ethics. When that exists, then the small mistakes that happen with partners are nothing more than tiny bumps in the road, and everyone is able to stay focused on the bigger goal.
You also have extensive experience working at startups. What are the challenges of building a channel strategy for a young company?
When a young company like Rubrik experiences hyper growth, the overall infrastructure can get strained. Whether it's trying to hire fast enough while maintaining a high bar, developing the right partner tools and programs, or updating your partner technical training fast enough to keep up with the technological changes and innovations.
These are all things that put a tremendous amount of strain on the organization. That said, I personally look at these challenges as real privileges because they are all a result of hyper growth, which is a great situation to be in!
Rubrik leverages a 100% channel driven go-to-market strategy. What are the benefits of being entirely channel driven?
The biggest benefit of being 100% channel driven is that it brings total clarity and alignment across our field and our overall organization. There is no confusion about how a deal will be transacted, or whether a partner should be brought into a deal. We're 100% channel — pure and simple — and everyone across the company gets it. There is real beauty in simplicity!
The second biggest advantage is the strong message it sends to our partners about how serious the entire company is about being a channel company. It gives our partners the confidence to lean forward and invest in training, marketing, complimentary solutions, and so on because they see the incredible combination of our fast growth and our 100% channel strategy.
Why did you choose to join Rubrik?
I did a lot of due diligence, and there were many reasons I wanted to join Rubrik. But, for brevity's sake, I'll just focus on the top few.

First, as a salesperson, I'm a huge believer that success starts with an outstanding product. It became clear to me during my process that Rubrik has a deep culture of engineering excellence and innovation, both of which I believe are the hallmarks of great enterprise software companies.

The second reason was because of the amazing market opportunity and product fit. Rubrik and its partners are bringing welcomed disruption to a huge market that has suffered from a dearth of innovation for decades. I have never seen revenue and customer growth at Rubrik's level, which speaks to how well the product works and scales, the value it brings to customers, and the strong fit for both market and the channel.

And finally, the quality of the team here, across all functions, is second to none. It's not just that people here are smart, which they are. It's that they are highly ethical, are fun to work with, and think BIG. When you combine engineering excellence and innovation with the highest-quality teams, the opportunities to bring huge value to customers and partners are effectively endless.

What opportunities do you see Rubrik providing to its partners?
The opportunity for partners with Rubrik is, in my opinion, as good as it gets. First of all, it's a horizontal solution–every mid-market and enterprise across the globe is a potential customer for Rubrik's solution. For a partner, this means that literally every company in their portfolio, and every new company they want to go after, is a good Rubrik target, so the potential is massive.
In my experience, partners care most about their customer relationships, so any technology they bring to them must be proven and robust, but also enable them to save money and innovate faster. Rubrik's solution delivers on all this by combining simplicity with TCO savings, while helping customers on-ramp to the cloud. The API-first architecture is a huge benefit since it enables partners to provide value-added services around orchestration and integration into customers' existing environments. And finally, Rubrik provides drag for other solutions that our partners represent, such as Pure Storage, ServiceNow, cloud providers, and many others. In short, Rubrik meets all the criteria for customers, but also helps partners build a differentiated and profitable business.
What was your favorite book in 2017?
When I have free time to read, I enjoy reading fiction because I find it allows me to take a break and recharge. The book I enjoyed the most recently was His Bloody Project by Graeme Macrae Burnet, which was shortlisted for the Man Booker Prize. It's a fascinating novel that takes place during the 1800s in the Scottish Highlands. The historical setting and intriguing but untrustworthy narrator makes for a really interesting read.
What is something that you're passionate about outside of work?
First and foremost, I'm a family person, so when I'm not working, I spend as much time as possible with my wife and our three children. With the little time I have left, I do my best to get some exercise and stay in shape. In particular, I love to ski and try to make it up to the mountains as often as possible. I organize a yearly ski trip to Utah with about 50 people, and that week is one of the highlights for me each year. There is just nothing better than a day of skiing deep powder in the trees. Except for being at Rubrik of course!
Want more executive insights on Rubrik's vision and strategy? Explore our Leadership Lab series.