Come join us as we accelerate on a rare opportunity to innovate and develop next-generation backup and recovery products for cloud native applications and NoSQL databases.
March 14, 2018 wrapped up month 1 of Rubrik Datos IO! The last many months have been a whirlwind of new energy with new beginnings at Rubrik. Lots of thank yous, congratulations, and goodbyes. As we bid a fond farewell to our old offices, we were received by a host of new faces and fresh oxygen at Rubrik, where everyone has been super warm and welcoming. Most importantly, working with the Rubrik teams has been very seamless, as we share a common vision to disrupt the data management industry.
Rubrik's culture is rooted in simple, yet very impactful, execution principles of war level, operating at max potential and, above all, transparency that drives infectious 24×7 energy. The Rubrik way is truly world class. Rubrik is building an industry-leading Cloud Data Management company and over the last 4 years has approached a $300M global bookings run rate, cementing Rubrik's place as one of the fastest growing enterprise infrastructure software companies in history.
With Rubrik Datos IO, our team is on a mission to develop application-centric data management products for cloud native applications deployed and built on distributed and shared-nothing architectures such as NoSQL databases (MongoDB, CouchBase, Cassandra, and others), Big Data file systems (Cloudera, Hortonworks, others), and cloud databases (Amazon DynamoDB, Microsoft CosmosDB, et al). Rubrik Datos IO has been labelled the "Tesla of the Backup World" and was a finalist for TechTarget's Product of the Year award in the backup category twice in a row. Gartner has included Rubrik Datos IO for the second straight year in two different Hype Cycles, which is a testament to the fact that Rubrik Datos IO owns and dominates the fast-growing cloud data backup market with our flagship product RecoverX.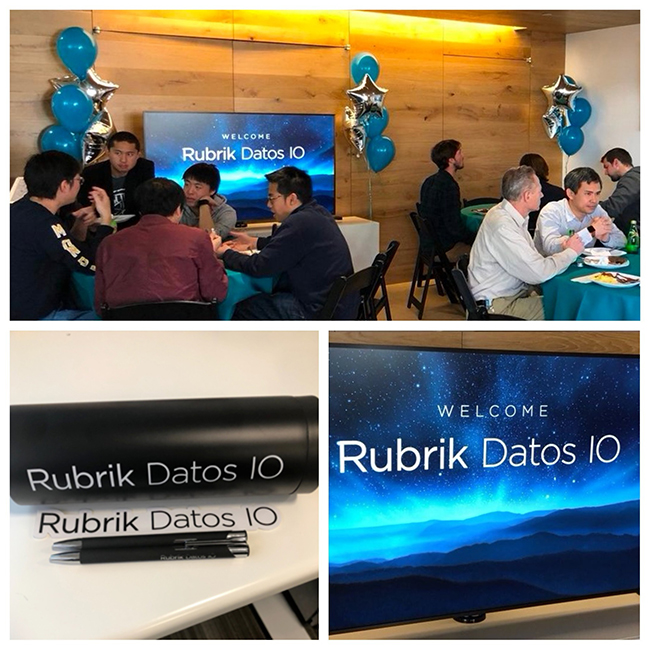 We want the Rubrik Datos IO business unit (BU) to be at the forefront of our customers' need for cloud-native data protection, data management and data mobility. We want to expand our products to support the ever-burgeoning needs of enterprise customers across all verticals and industries, continue to develop richer application-centric data management services, and rapidly branch into newer cloud-native environments. That's why we're looking for top talent to join our team.
You will be joining a team of doers who have been hard at work since day one of the company, interface directly with our growing list of enterprise customers, and work alongside the product management and sales teams to achieve our goal of being the dominant data management player for cloud native applications. Here's a quick summary of our open positions:
Sr. Product Manager: You are responsible for maintaining and driving the "customer-centric" model of product development. Responsibilities will include a full end-to-end product discipline of understanding customer needs, fine-tuning the product to accelerate adoption, pricing strategies, developing sales enablement content, developing product feature messaging, and identifying new market opportunities in cloud-native architectures. You will interact with Engineering to define product releases and also work with Sales and GTM teams to get feedback on customer expectations and share the product roadmap.
Director of Engineering: You are responsible for hiring and cultivating a world-class engineering team, delivering high-quality products that both amazes customers and allows and allows the Sales and GTM teams to penetrate deeper and wider into enterprise organizations. You are also responsible for mentoring and growing junior employees to their fullest potential in the organization, and grooming the next-set of technical leaders.
Senior Staff Engineers: You are responsible for leading a team of young engineers in architecting, designing and implementing new products and new product features — all in the spirit of accelerating customer adoptions and to support new market segments. You will also use your hands-on product building experience to guide design and implementation decisions as well as adopt healthy engineering practices that result in solid code quality, robust documentation, and product development processes.
Enterprise Account Executive and Sales Engineers: The most fun role! You will be chartered to build new region / territories and grow existing regions — all with the goal of accelerating customer adoption and bookings growth. Immediate openings in West, Northeast, Southeast, and Central regions. You will be working hand-in-hand with GTM teams, Sales Engineers, Product Management, and Engineering to win customer hearts and minds. You will also use hands-on enterprise sales experience to open/drive new customer conversations and apply proven and rich selling processes to guide customers from first call to second call to POCs to driving new deals in the hottest data management market of our times!
As you can see there's something for everyone! So, if you are interested and would like to have a chat, drop a note to tarun DOT thakur at rubrik DOT com or just simply visit our career page. Thank you!