I first got involved with VMworld in 2015, and every year brings something new both in the depth of learning and the unique community activities. And, of course, I've been able to meet some great people I now call my friends.
VMworld is quickly approaching, but this time, I have a different seat to watch and participate from. This is the first year I get to go as a Rubrik Technical Marketing Engineer, and to say I'm excited is a major understatement. The team has many activities planned that are sure to help anyone attending.
We hope to see you at our sessions, booths, and legendary VMworld party with performances by The Roots and Run-DMC. So you don't miss anything, here's a quick rundown of what to expect from Rubrik at VMworld 2018:
Special Events
We have A LOT planned at Rubrik booths #1334 and #1474 this year. In addition to the events listed below, stop by for some fresh swag and the chance to win our daily raffle. Follow us @rubrikinc to stay up to date on all of our activities and sessions.
Book Signing with Duncan Epping, Niels Hagoort, and Frank Denneman
Monday, Aug 27, 5:00-6:00 pm, booth #1334

Back by popular demand, Rubrik is providing complimentary copies of an excellent VMware resource. This year's book of choice is vSphere 6.7 Clustering Deep Dive. To learn more, check out this webinar with the authors. Join us to meet them in person and grab your signed copy!
Basketball Fundraiser
August 26 to 29, Booth #1474
Last year, we raised $15,000 for the Kevin Durant Charity Foundation with our basketball court. Well, the court is back, and we're excited for the chance to support another amazing organization! We'll be open every day during Expo hours.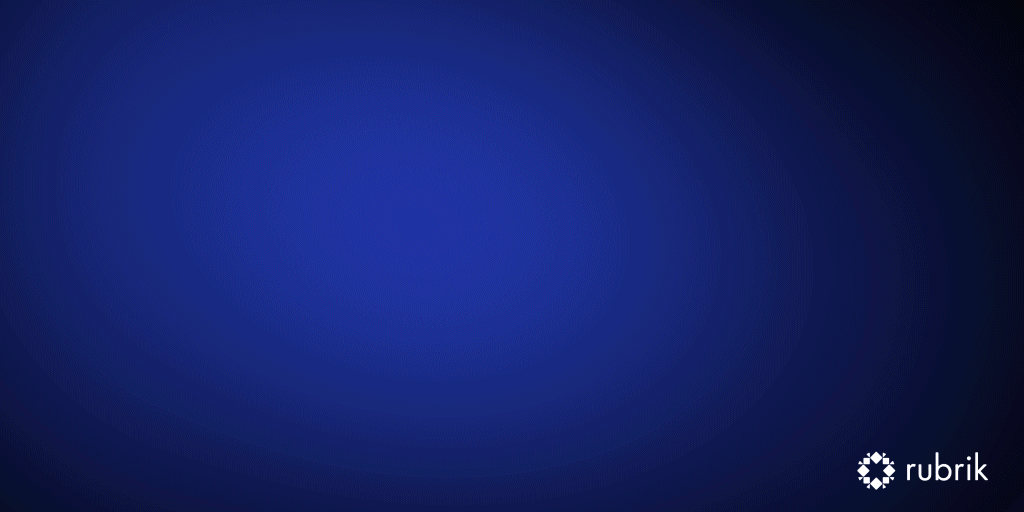 vAllStars Trading Card Meetup
Monday, August 27, 4:00-5:00pm, Booth #1334
As promised, #vAllStar trading cards have returned (get a recap of last year here). This year highlights more amazing bloggers and vExperts (somehow I didn't make the list…#NextYear). Congratulations to those that made the cut, and I'm sure this won't be the last year they are produced. Who knows, there may be a market for these someday.
AWS and Rubrik's 2018 VMworld Party
Monday, August 27, 9:00 pm-1:00 am at Hakkasan Nightclub
Don't miss Rubrik's party of the year! The 2017 Rubrik party with Ice Cube is a hard act to follow, but I think we did it. We're thrilled to announce performances by RUN-DMC and THE ROOTS! This will easily be one of the hottest parties at VMworld. Make sure you show up early since this one will fill up fast. We also want to thank our wonderful partners AWS, Nutanix, Pure Storage, and Fortinet for co-sponsorship.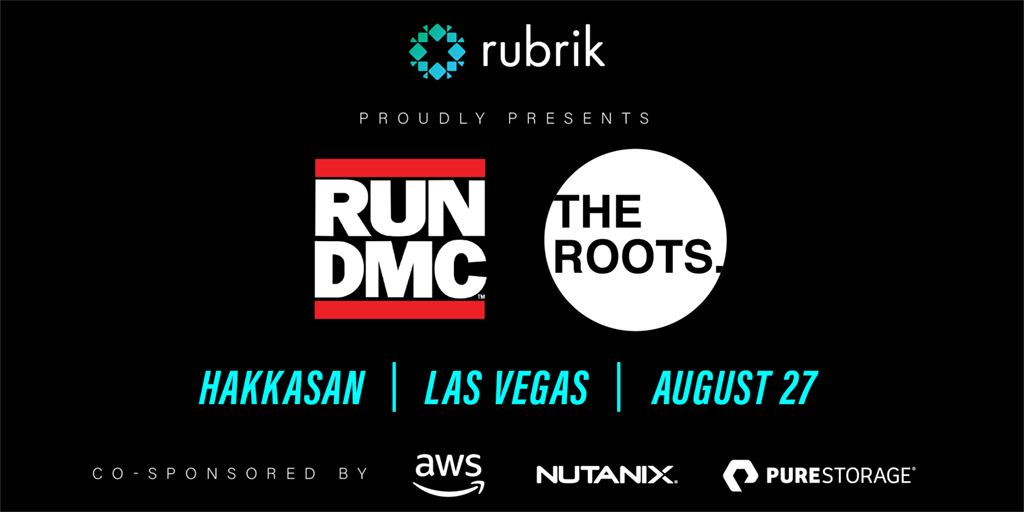 VMworld Sessions
Here are all the sessions in which the Rubrik team is taking part:
Sunday, August 26th
2018 Skills for IT Engineers / Architects / Executives [VMUnderground Opening Acts]
1:00 pm – 4:00 pm, panel includes Rebecca Fitzhugh, AJ Kuftic, Sean Massey, and Keith Townsend

Some notable people on this panel will have an open dialogue regarding the skills and information needed to adequately compete in the future. It builds on VMUnderground's mission: "We feel that subject matter experts having open discussions about technology and community provides a great learning opportunity, and an opportunity for professional networking."
Monday, August 27th
A Tale of CI/CD, Infrastructure as Code, and Data Protection [MGT3711BUS]
11:30 am – 12:30 pm, presented by Rebecca Fitzhugh and Bill Gurling
This session explores the concepts of continuous integration, continuous development, and infrastructure as code. The presenters will show how code can be used to quickly spin up a new environment and give a LIVE demo on using Rubrik's RESTful APIs to protect that environment.
Accelerating Application Development Through Infrastructure as Code [LDT1433PU]
1:00 pm – 2:00 pm, panel includes Chris Wahl

This will be a interesting discussion on infrastructure, how to become more agile, and removing barriers that would prevent growth in the workplace. We'll share some success stories, as well as lessons learned.
Magically Simplify & Scale Data Management with Rubrik & Pure Storage
2:00 pm – 2:15 pm, Booth #1120, presented by Mike Wilson
Learn more about how Rubrik & Pure are better together. We'll also be raffling off tickets to our VMworld party!
Rubrik has an amazing UI – Let's learn how to NOT use it! [VMTN5620U]
2:15 pm – 2:30 pm, presented by Mike Preston
While Rubrik's UI is beautiful, Mike will take you on a journey on how to use Rubrik's API to automate your tasks. This session will also demonstrate the power and simplicity of using the API.

vSphere Performance Troubleshooting and Root Cause Analysis (Compute) [VIN1372BU]
5:00 pm – 6:00 pm presented by Rebecca Fitzhugh and Brett Guarino

A 2-part presentation on how to properly use ESXTOP and the vSphere Web Client to analyze and discover problems involving your virtual environment. This session will focus on troubleshooting memory and CPU.
Tuesday, August 28th
vSphere Performance Troubleshooting and Root Cause Analysis (IO) [VIN1373BU]
2:00 pm – 3:00 pm, presented by Rebecca Fitzhugh and Brett Guarino

This second half of the 2-part presentation walks through I/O resources (disk and network) and how to determine if storage issues are inside or outside of your ESXi host.
Hero or Villain? Secrets of a 21st Century Backup Administrator [VMTN5621U]
2:15 pm – 2:30 pm, presented by Demetrius Malbrough

Demetrius will show secrets and tricks he has picked up through his experience as a backup administrator.
The Golden Hammer – Hacking Your Brain to Learn (IT Stuff) Faster [VMUG Community Theater]
4:00 pm – 4:30 pm, presented by Andrew Miller
Ever heard that IT is constantly changing? Or that we all need to be constantly learning? What if you could hack your brain to learn faster? We'll discuss how mental models can help you comprehend more quickly, explore some common ones, and illustrate them with IT stories.
Wednesday, August 29th
Journey to vCenter Server Availability and Recoverability [VIN2405BU]
8:00 am – 9:00 am, presented by Rebecca Fitzhugh and Emad Younis

Two amazing speakers are combining forces to show how to properly protect your VMware vCenter from different types of failures. Among tools discussed will be replication, node placement, vCenter High Availability and more. I wouldn't want to miss this!
Ransomware Threat Recovery Using Rubrik Polaris [SAI3712BUS]
1:00 pm – 2:00 pm, presented by Andrew Miller and Jason Nash

Rubrik Polaris, Rubrik's SaaS platform, is a unified system of record that deals with cloud data fragmentation. I'm personally looking forward to this demo on how you can recover from a Ransomware attack fast with Radar.
Thursday, August 30th
Architecting at the Tactical Edge with VMware vSAN and vRealize [HCI1691BU]
12:00 pm – 1:00 pm, presented by Chris Gurley and Jeremy Martin

If you're still in Vegas on Thursday, that's awesome! Chris and Jeremy will show off a hyperconverged solution that is powered by a number of new technologies including Rubrik, vSAN, and vRealize to deliver a worthy appliance for disaster relief and military applications.
There will be many other exciting things at VMworld 2018, and we hope to see you there!