Two months ago, we announced the Early Access program for Rubrik Firefly, a major release that extended data management from virtual to physical workloads, across clouds, and to edge environments. Rubrik Edge, a software appliance built for remote and branch offices (ROBO), now stretches Cloud Data Management capabilities—like automated backup, replication to headquarters, cloud archival—to the far-flung corners of our customers' businesses. While lightweight in form factor, Edge represents a significant step towards our vision of a single, software fabric that spans across clouds, is packed with rich data services, and delivers "applications" across the entire data lifecycle.
Edge quickly deploys as a software appliance within a virtualized environment. It's easy to manage, using the same consumer-grade HTML5-based interface that powers our r300/r500 appliance series. If a VM fails or a file is lost, you can deliver quick recoveries expedited by our global real-time search. Furthermore, we incorporate capabilities to save you time and money:
Policy-based Management: Quickly assign SLA policies to your VMs with just a click. Create your own SLA policies by selecting desired snapshot capture frequency, retention duration, and data policy (store on-site, to a central site, or in the cloud). It takes just a simple swipe to start your replication or archival policy schedules.
Compliance Reporting and Alerts: Track SLA compliance, data protection tasks (backup, replication, archival), and system capacity. Get notified early on areas to troubleshoot.
Archival to Cloud: Intelligently archive your data to public cloud, object storage, and NFS. We support AWS, Azure, Cleversafe, Cloudian, Scality, among others. Even if you've parked your data elsewhere, you can still pull it up instantly with our predictive search.
Network and Storage Savings: Reduce transfer and storage costs by sending deduplicated data for replicating back to the central data center.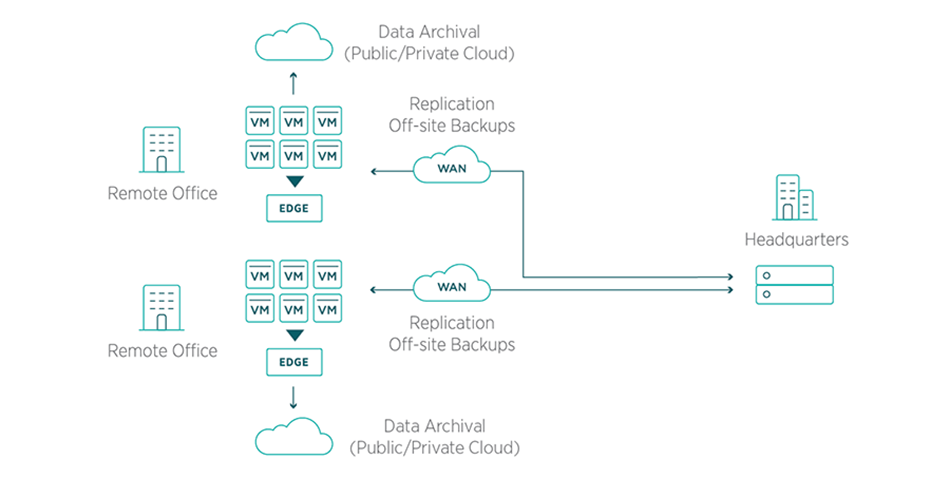 Deploy Rubrik Edge as a software appliance at remote and branch office locations.
Aside from the usual ROBO use cases (retailer with multiple stores, hospital with a handful of clinics, a distributed network of sites like ships or oil rigs), Edge pairs well with Managed Service Providers (MSPs) looking to provide data management services. For example, a MSP can deploy Edge on their customers' existing hardware (or bundle it up with a hardware package), protect and manage on-site at the client location, and then serve disaster recovery and archival services at the MSP site. For MSPs (and non-MSPs), we offer pay-as-you-go licensing models that help minimize the upfront investment required in scaling out infrastructure while scaling up the client base.
Looking for more information? Check out the Rubrik Edge data sheet.
Looking for more to read? Get SSG's report on Cloud-Based Backup and Recovery.
Going to VMworld Barcelona? We'll be there next week at Booth G413 and don't forget to sign-up for our sessions.