What do you get when you combine a scale-out Rubrik Cloud Data Management (CDM) platform with a scale-out Pure Storage FlashBlade? The result is web-scale uploads, rapid restores, and instant access to granular data across a far wider timeframe and in a substantially smaller form-factor than legacy solutions. This is a joint solution that will provide your data center with 50x faster restores at blazing throughput because every minute counts during recovery.
You can no longer afford to wait to modernize your legacy Backup and Recovery environment, as time is of the essence. Today, there are many priorities that are top of mind for CIOs; the proliferation of data, rising malicious threats, and the digital transformation in which technology converges into our everyday lives. Rubrik and Pure Storage have aligned with those priorities by offering an architecturally-matched solution for copy data since Rubrik integrates with Pure Storage FlashBlade as a scale-out archival tier via NFS (with S3 coming soon).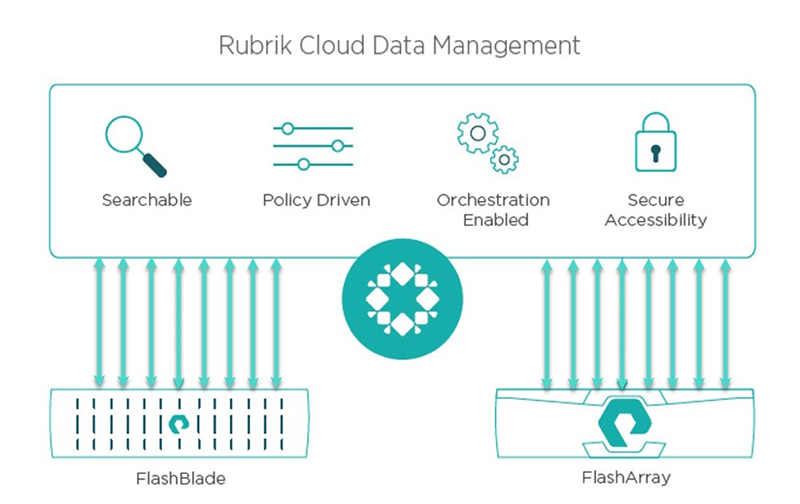 Rubrik CDM will ingest your data with parallel streams across multiple nodes, taking advantage of its scale-out architecture and performance. This capability delivers superior Recovery Point Objectives (RPOs) for simple, automated workflows. The intelligent policy engine is built to make use of parallel data streams to achieve optimal throughput while adaptively controlling its impact on production.
FlashBlade leverages its scale-out, all-flash architecture to create distributed NFS volumes. When this distributed NFS volume sits behind Rubrik scale-out nodes, you get an archival tier that creates parallel data streams even during uploads. Simply setup FlashBlade as an archival location of type NFS by entering your hostname, export directory, destination folder, and authentication type. After the connection is established between Rubrik and FlashBlade, you are ready to upload and restore your data rapidly and effortlessly.
Rubrik uploads multiple VMs simultaneously to gain peak performance based on your available network bandwidth. With FlashBlade, which can deliver sustained throughput of nearly 5 GB/sec, you can open Rubrik CDM to upload backups into FlashBlade via all its nodes. The performance increases linearly as you add more and more Rubrik nodes to meet the demand.
Now being able to archive the data rapidly is great, but what about the recovery? Rubrik and FlashBlade provide recovery at scale with the capability to recover objects simultaneously through its easy-to-use UI or rich RESTful APIs. In the event of a disaster human error or ransomware attack, Rubrik and FlashBlade provide the ability to rapidly restore entire machines in bulk or your entire data center with minimal effort. This is where the power of automation is leveraged via Powershell to recover a handful or thousands of VMs in parallel. The burden of uncertainty shall be lifted as your recovery plan runs seamlessly without doubt or worry.
If you want to restore individual files or directories and are not sure of the exact file or directory name, simply use Rubrik's predictive search to locate files — even those sitting on the FlashBlade. After you have quickly located your snapshot, just download a copy to the local Rubrik cluster so that it's available for additional local actions. You can browse the entire contents of the snapshot and choose which file or directories you would like to recover. The combination of Rubrik and Pure Storage FlashBlade enhances operational recoveries by providing your data promptly from your on-premises archival tier customized and delivered at optimal performance.
As the world continues to create data with numerous personal and corporate devices, protecting and securing that data with backup and archive will only become more complex. IT administrators already have enough on their plates, and adding lengthy recovery times through legacy siloed recovery solutions to the equation just causes more pain. If you would like to eliminate your data management pain by being able to rapidly recover your data, then Rubrik and Pure Storage FlashBlade: Rapid Restore is your answer.
Learn more about the Rubrik and Pure Storage joint solution here.
[VIDEO] Pure Storage and Rubrik Deliver Performance and Availability at TTX