Last week, we announced Rubrik Alta, our ninth and most significant product release. Alta brings many cool, innovative additions. One of the items that I'm most excited about is support for Nutanix Acropolis Hypervisor (AHV) virtual machines. Rubrik now provides end-to-end data management for Nutanix. So, users can securely access data instantly, automate protection policies, and manage their AHV workloads.
Rubrik has long supported VMware vSphere on the Nutanix platform. But Rubrik is excited to extend its partnership with Nutanix to be one of the first platforms to support native AHV backup and recovery. Alta's support for AHV, as well as Microsoft Hyper-V and VMware, enables customers to orchestrate application data across multi-hypervisor and multi-cloud environments.
Here's how it works: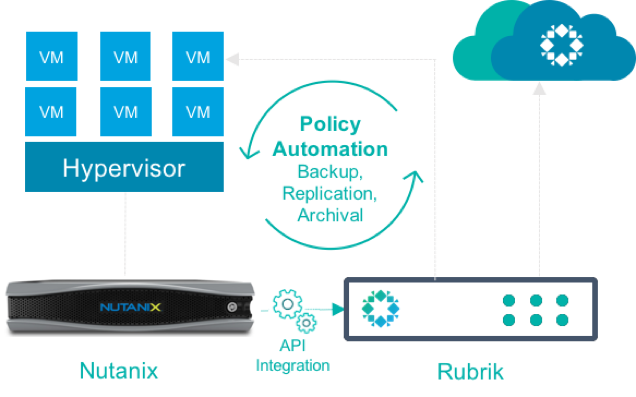 Rubrik capitalizes on enhancements to Acropolis Block Services (ABS), such as Challenge-Handshake Authentication Protocol (CHAP) support. As you probably know, we're all about the APIs. Rubrik leverages Nutanix's new-and-improved REST 3.0 API to interact with Nutanix Changed Region Tracking (CRT) and query the changed metadata regions given any two snapshots of a virtual disk or VM. This approach is indispensable for taking incremental backups because of its efficiency. It's also useful for taking full backups since the API identifies regions that are zeroed, therefore saving on read operations.
Additionally, the integration leverages Nutanix VSS snapshots with Nutanix Guest Tools (NGT) to quiesce virtual machines as a part of the snapshot. This is important because NGT-based VSS snapshots do not VM stun. The application will be temporarily quiesced within the operating system to flush data.
The architecture and configuration between Rubrik and Nutanix is straightforward, yet powerful. This aligns with our focus on simplicity — we always strive to make even the most complex architectures easy.
Some of the main benefits of the Rubrik and Nutanix AHV integration include:
automated protection & restore workflow
secure replication or archival to other sites
Rubrik Core Capabilities like global search, erasure coding, and on-demand reporting
scale-as-you-go architecture
Nutanix and Rubrik are truly complementary technologies. Both use a web scale-out platform that eliminates the complexities of a traditional architecture, allowing you to deliver a simple, easy-to-use solution that meets the demands of your business.
If you want to learn more, join Rubrik at the Nutanix .NEXT conference. Chris Wahl and I will dive deeper into the integration and give a live demo of it in action.
Can't make it to .NEXT? Attend our upcoming webinar: Rubrik and Nutanix AHV Integration.
Learn more about our backup process with Nutanix AHV in the video below:
By viewing this video, you are providing your express consent that your viewing history has been captured and may be shared with our affiliates or third-party providers that may also combine with other data they collect about you, e.g. your use of their services. We and our third-party providers may use this information to present you with offers, promotions, or other marketing that we think you'll find relevant.