Rubrik has always been a software-focused company. We have successfully converged multiple hardware and software components of the traditional world into a very simple and elegant software-based Cloud Data Management solution. Rubrik unifies backup, instant recovery, replication, search, analytics, archival, compliance, and copy data management into one secure fabric across the data center and public cloud.
When we got started, our early customers wanted a turn-key solution, which we fulfilled by shipping industry-standard appliances. Rubrik has now entered the next phase in its journey towards building a robust ecosystem of partners on multiple fronts. One of these fronts is our hardware partners consisting of both server and storage vendors.
As we move deeper into the enterprise, customers have made their choice to standardize on a server platform. Our goal is to embrace and extend that by making both these server and storage vendors strategic to our success. Our flexible approach allows customers to deploy our software-defined, scale-out solution on any industry standard hardware, as well as store that data on any cost-effective deep storage. This flexibility also lends itself to hybrid cloud infrastructure as a service offering. Delivering as software-only provides multiple deployment and service options to fit the needs of various entities who prefer CAPEX, OPEX, or various term-based models.
Hardware refresh cycles can now happen independently of our software, giving maximum flexibility to our customers. Large enterprises, service providers, and public clouds can deliver flexible services as a result. It also makes it easy for us to pursue various go-to market strategies with all our platform vendors.
Our server platform vendors constitute the top Cloud providers Amazon and Microsoft, as well as top server vendors such as Cisco and HPE to give our customers ultimate choice.

On this front, we introduce Rubrik Cloud Data Management on Cisco's UCS rack servers. Rubrik-on-UCS provides a highly-scalable data management platform, which lets you grow your data center seamlessly with one UCS server at a time.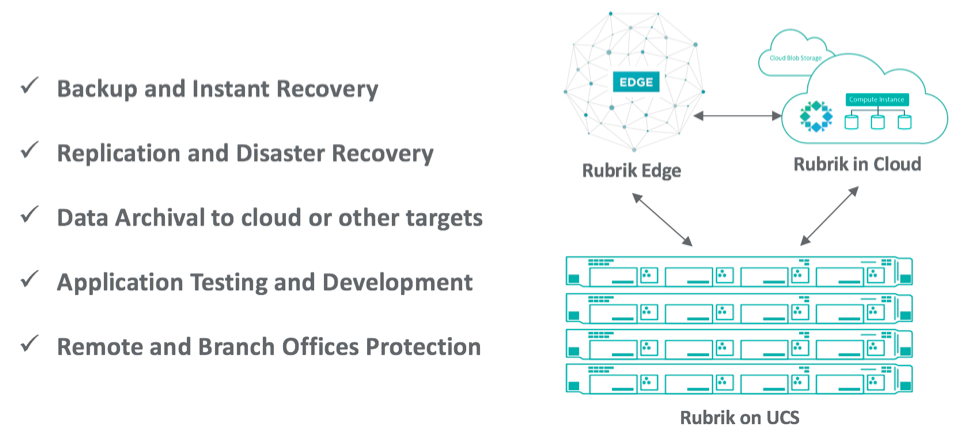 With Rubrik software running on Cisco's UCS on-premises, Rubrik Edge in the remote and branch offices, and Rubrik Cluster in the cloud of your choice, you get end-to-end data protection and mobility across your entire data center footprint.
Want to learn more about Rubrik-on-UCS? Visit our webpage.
[DATA SHEET] Cloud-Scale Data Protection Runs on Cisco UCS