In my first post, I'd like to share some of the cool use cases for using Rubrik with Zerto. For the uninitiated, Zerto provides hypervisor-based replication and recovery automation across hypervisors and clouds. The solution delivers RPOs of seconds and RTOs of minutes. Zerto is the logical evolution of storage-based replication/CDP with separate orchestration solutions. Similarly, Rubrik is the logical evolution of data protection and management software that frees your data from underlying infrastructure.
If your primary use case is replacing SAN replication and SRM, then Zerto can help simplify and future proof your environment. Likewise, if your primary use case is replacing legacy backup hardware and software, then Rubrik is a no brainer to simplify and future proof. Now that we have established that these are complimentary solutions, here are my top 3 use cases for using them together:
1. Simplify End-to-end Data Protection
The first thing users love about both Rubrik and Zerto is that they simplify the complex, enterprise-class backup and replication technologies. In a nutshell, this means that mere mortals with no professional services can achieve the highest levels of data protection assurance with ease.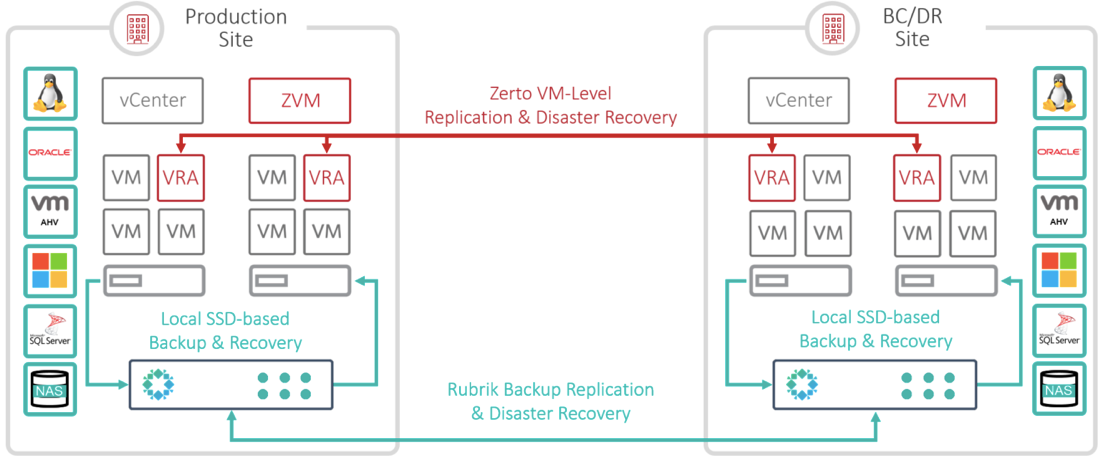 Rubrik delivers the best converged backup solution on the market. It can start ingesting your data to flash with inline dedupe and compression in just 30 minutes. Similarly, with Zerto, deploy your Zerto Virtual Manager (ZVM) and Virtual Replication Appliances (VRAs) in 30 minutes to start replicating your VMs between hypervisors. Put the two together, and you've revolutionized both your backup and replication technologies in 1 hour flat!
2. Utilize the Cloud or Replicate On-premises
With both Rubrik and Zerto, you can leverage cloud economies of scale to save money or continue to utilize a secondary data center as a replica target. Like Rubrik, Zerto replicates across data centers and cloud.
Rubrik delivers local deduplicated backups with the speed of flash for both ingest and instant recovery. For long-term retention, leverage cheap cloud object storage. Manage all of your data, regardless of location, with a single policy engine. Simply drag the slider to dictate how much data you keep locally and how much you push up into the cloud. Additionally, metadata, compression, and deduplication are maintained.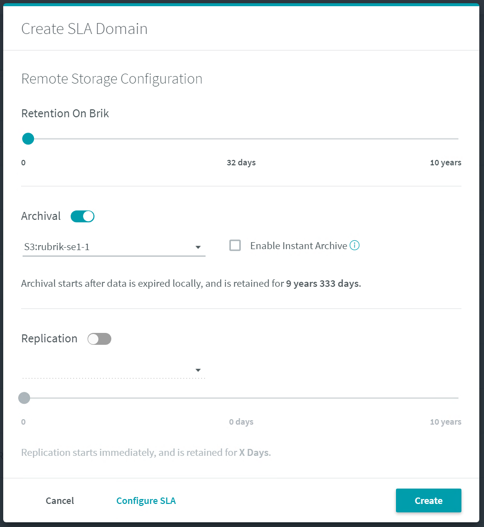 3. REST API Automation
Both Rubrik and Zerto provide REST APIs to enable seamless automation of your backup and replication. Combined, this means that from the same script or workflow, you can backup a VM with Rubrik and replicate it with Zerto without ever having to touch either of the HTML5 interfaces.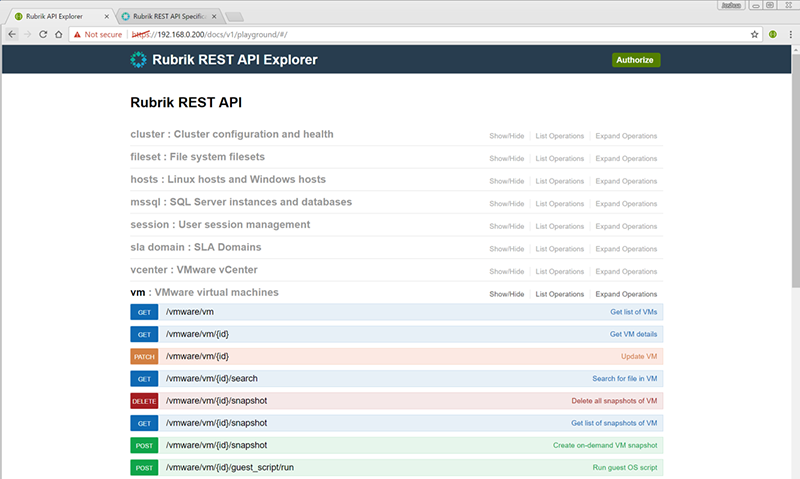 Use cases aren't limited to protection. Using REST APIs, you can simultaneously report on both Rubrik and Zerto to see the current protection status along with a list of unprotected VMs–to name just a couple of many examples. Try doing that between legacy solutions!
Want to explore more Rubrik API capabilities?