At Rubrik, we believe in liberating data from infrastructure so that it can be instantly accessed at anytime, anywhere. This is becoming increasingly important as companies undergo digital transformation, and we painstakingly make sure that we support the full life cycle of data even as the underlying infrastructure changes.
With our customers' needs in mind, we developed a simple, but very powerful, feature designed to deliver true data mobility – VM linking. The VM linking feature ensures that as VMs are moved between vCenter servers, the Rubrik system is able to correlate the different "identities" of the VMs across these servers. This allows Rubrik to provide consistent protection for VMs and easy access to the VMs historical snapshots, regardless of the vCenter server from where they were taken.
VM linking solves some of the biggest pain points our customers have experienced when managing historical backup data in a changing infrastructure. To illustrate, I'll walk through a few examples of how customers benefit from this new capability.
Swing Migration to a Greenfield vCenter Deployment
With the new releases of vSphere, along with the ending of support for older vSphere versions approaching, many customers are planning upgrades as part of their data center modernization efforts. Many users are using this as an opportunity to start with a fresh slate and build a new environment in accordance with modern architectural best practices and enterprise data management needs. In these cases, customers must "swing" over their VMs from the old environment to the new environment with as little disruption as possible.
Rubrik's VM linking capability enables users to seamlessly execute these swing migrations by deploying a new vSphere environment alongside their existing setup. They can then share the primary VM storage to both the existing and new deployments, which provides the new vSphere environment access to the VM data without requiring a data migration to take place. As customers migrate VMs to the new environment and register them with the new vCenter deployment, the Rubrik system automatically links the VMs to their previous identities across vCenter boundaries. This linking lets Rubrik preserve the historical snapshot information and any SLA domains directly assigned to their VM, minimizing operational disruption.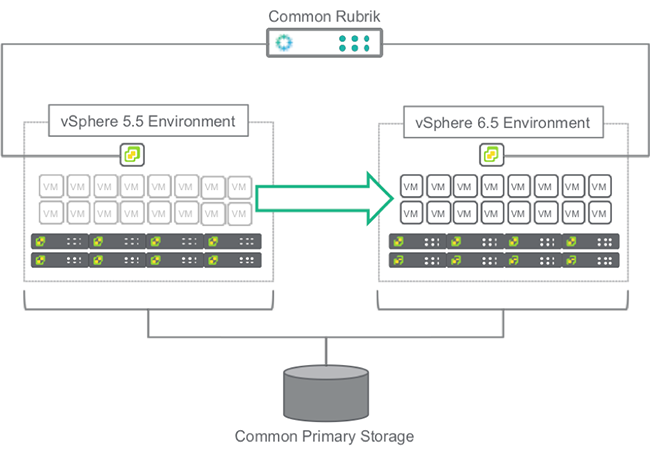 Seamless VM Portability Across vCenters
Some of our large enterprise customers are using multiple vCenter servers to improve management scalability and fault isolation, often separating workload domains as they would with a VMware Cloud Foundation deployment. With the use of cross-vCenter vMotion, customers are able to move their VMs between vCenter deployments. Rubrik's VM linking feature will ensure that SLA domains assigned directly to the VM travel with it when migrated. In addition, the snapshot history is retained and linked to the VM in its new location.
Instantly Recover a VM Without Losing History
In addition to solving the top migration challenges, VM linking also provides some great out-of-the box capabilities when working directly with individual VMs.
In the case of a VM being deleted from the vSphere inventory, Rubrik provides ready access to quickly recover that VM and restore it back to vSphere. With VM linking, the newly recovered VM is also linked to all of its historical snapshot information, and subsequent Rubrik snapshots are efficiently added to this linked VM chain going forward.
Summary
The new VM linking capability solves the biggest challenge of keeping VMs protected as they are migrated or recovered across different environments. We're excited to see how customers leverage this new feature to truly liberate data and transform their data centers. Learn more about Rubrik's support of virtualized environments.
By viewing this video, you are providing your express consent that your viewing history has been captured and may be shared with our affiliates or third-party providers that may also combine with other data they collect about you, e.g. your use of their services. We and our third-party providers may use this information to present you with offers, promotions, or other marketing that we think you'll find relevant.