In any new release, there are the major features–the items you mention when asked for a 30-second version of "what's new." Rubrik Alta 4.2 is no exception, and we've talked a lot about the high-level themes and larger features.
Perhaps it's my IT Operations background, but while I get excited about the banner features, I also find the "smaller" items fascinating. I still remember reading release notes as a customer and seeing a feature or feature improvement that, while minor to many, was hugely impactful and an indication of development maturity. If developer cycles aren't also put towards improvement to existing features or "minor additions," that's not healthy and is especially challenging for current customers.
Given that, I'd like to take a few minutes to focus on a few less notable, but still important, 4.2 features. Let's call them "In the Eye of the Beholder" features.
Edge on AHV & Hyper-V
I've spent a lot of time with customers who have extensive Remote Office / Branch Office (ROBO) architectures. Backup and recovery in these environments can be painful–lack of physical space, tape rotation, budget challenges, performance, and more. While Rubrik in the data center traditionally has a 3 or 4 node minimum, Rubrik Edge was specifically made for ROBO environments by a offering single node virtual appliance that is the same code base. It's literally the same Rubrik experience as in your data center but scaled down for a ROBO environment.
Rubrik has supported Nutanix AHV and Microsoft Hyper-V in the data center since the Alta 4.0 release, and now customers can run the Edge appliance on those hypervisors as well. For customers running AHV and Hyper-V both in the data center and smaller environments, they can enjoy same Rubrik benefits regardless of location.
Capabilities of Edge on AHV and Hyper-V match those of Edge on vSphere; there are no feature differences, and it continues to be the same code base. Similarly, the hardware requirements are identical—2 vCPUs and 12 GB memory. Licensing and maximums continue to be the same as well.
Network Throttling
While many organizations have appliances dedicated to network throttling and traffic prioritization, Alta 4.2 introduces similar built-in capabilities for all of our customers. This allows them to configure the amount of bandwidth used by archival and replication traffic.
Network throttling provides the ability to independently configure bandwidth settings for replication and archival outbound traffic. With this, there are several settings that can be configured by the global admin:
No throttling – no bandwidth limits. Rubrik will use as much bandwidth as is available. This can be set for replication, archival, or both. Use this setting if you already have bandwidth throttling or QoS in your network.
Default throttling – set independently. Example = Replication bandwidth limit can be set to 3 Mbps at all times.
Scheduled throttling – overrides default throttling. Multiple scheduled configurations can be set. Example = Archival bandwidth limit can be set to 1 Mbps from 4PM to 5PM on Mondays.

SNMP
Is snmpwalk your best friend? If so, this might be your favorite Rubrik release ever with support for SNMPv2c (i.e. Community-based Simple Network Management Protocol Version 2 as defined in RFC 1901, RFC 1905, and RFC 1906). There's also MIB-2 support.
If not familiar with SNMP, SNMPv2c is the community string-based administrative framework for SNMPv2. It is an update of the protocol operations and data types of party-based Simple Network Management Protocol Version 2 (SNMPv2p) and uses the community-based security model of SNMPv1.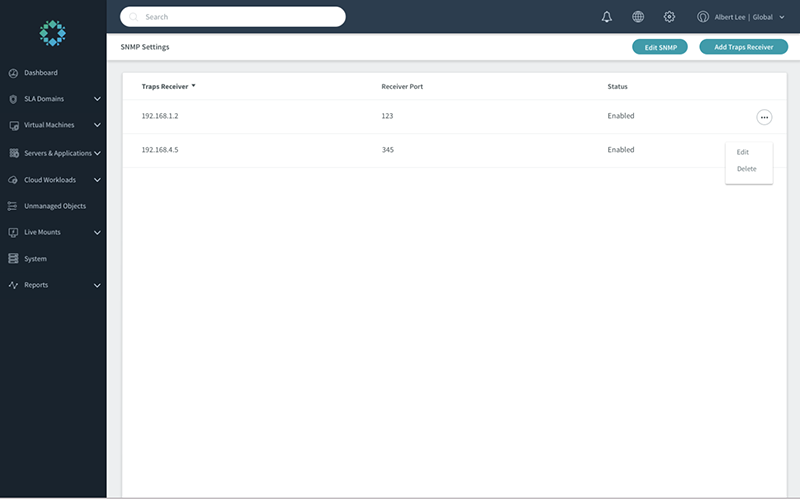 Multi-File Restore
Regardless of the data type, you can now restore multiple files from a specific backup in a single recovery operation. This feature is focused on operational efficiency, further increasing the power of Rubrik's search-based restore capabilities.
Customers can now select a set of files or folders within a snapshot to be restored, downloaded, or exported. The file selection process works across different folders within a backup. Once the files are selected, they can be downloaded or exported in the same way as any other restore. All files will have only one target location for download, export, and restore to a different directory.
Customers can easily search for files or folders recursively within a specific view.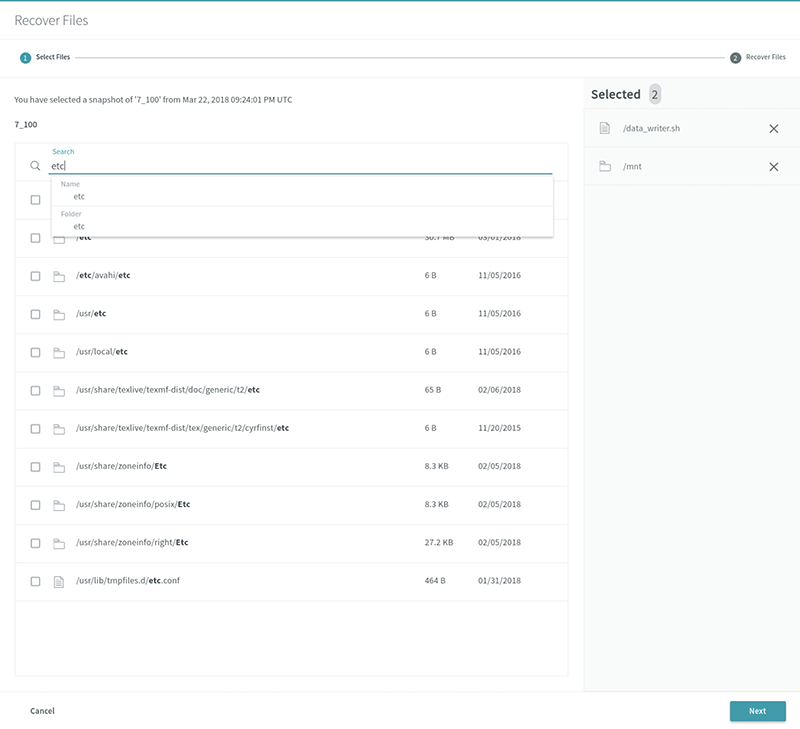 If you've ever been a backup admin with daily restore responsibilities, this capability resonates very quickly.
Want to Hear More?
If you'd like to hear more about these and other features, check out these resources: