Enterprises are undergoing a dizzying pace of digital transformation. For many organizations, real-time analytics and insights are critical to the success of their transformation, and SAP HANA has become their database of choice, making their protection a must. While SAP HANA provides a rich ecosystem of native backup and recovery tools to specialist DBAs, they are often not accessible by the backup and infrastructure teams. If these tools are accessible, generalists are often not comfortable using them, leaving users with a feeling of wanting more visibility and control.
From the beginning, Rubrik focuses on delivering innovation that brings customers simplicity through automation, enterprise performance, and unified management across on-premises and the cloud. As part of Rubrik's upcoming Summer Release, we are excited to announce that Rubrik has modernized SAP HANA backups, bringing the power of our SLA-policy engine to your SAP HANA databases on-premises and in the cloud. Customers can now automatically discover databases as they are created and keep them protected with inherited SLAs that configure backup frequency, retention, archival, and replication. Rubrik SLA policies also support full, incremental, and differential backups.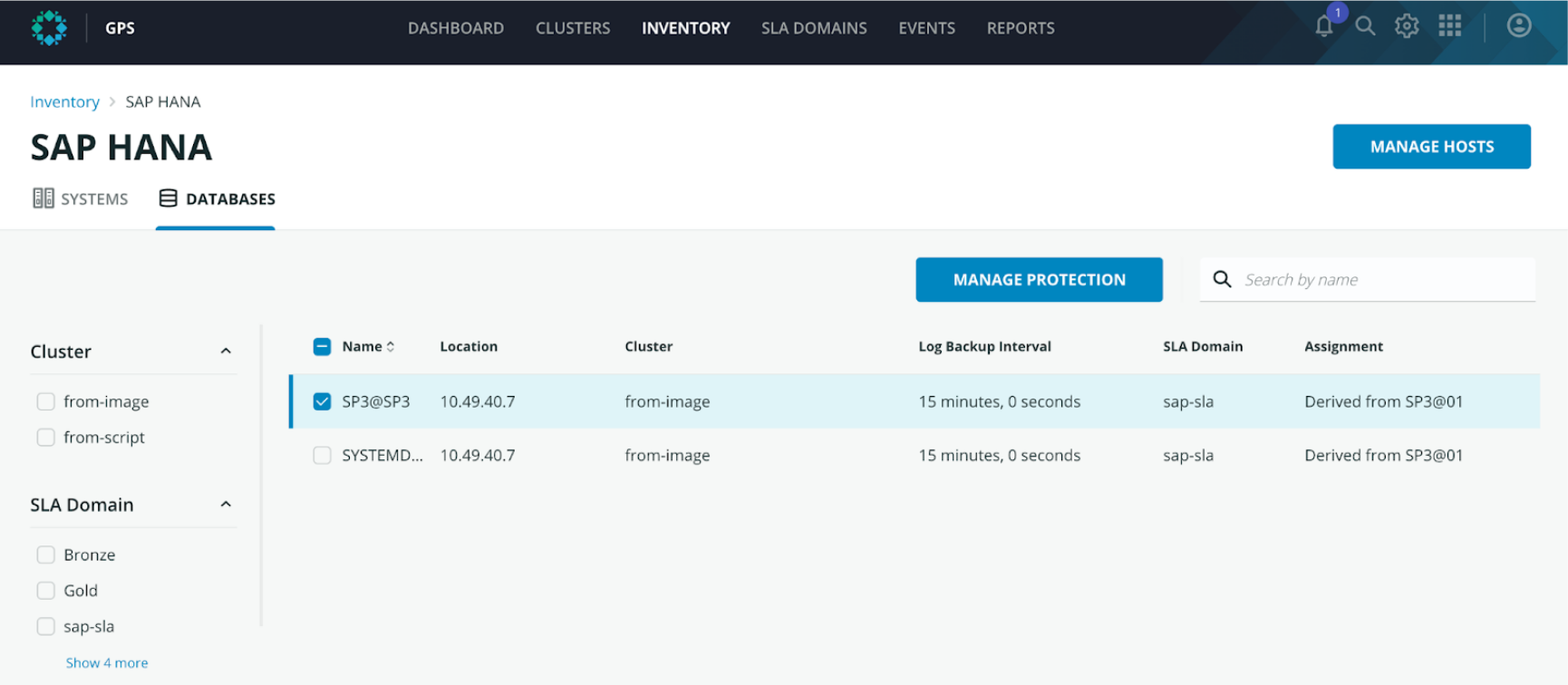 This release also brings customers the ability to manage and configure their SAP HANA protection from Rubrik Polaris, unifying protection across on-premises and the cloud. Through Rubrik Polaris, backup and IT admin teams will be able to view the status of data and log backups from a centralized activities dashboard. They can also view summary backup information, identify the latest recovery points, and even quickly identify which backups have failed across the environment.
Rubrik for SAP HANA empowers backup administrators and infrastructure teams by delivering a single software solution that automates and unifies the protection of their SAP HANA environments across on-premises and the cloud. And they can do all of this without affecting the ability of SAP Admins to perform on-demand backups and restore operations using native tools such as SAP HANA Cockpit and SAP HANA Studio.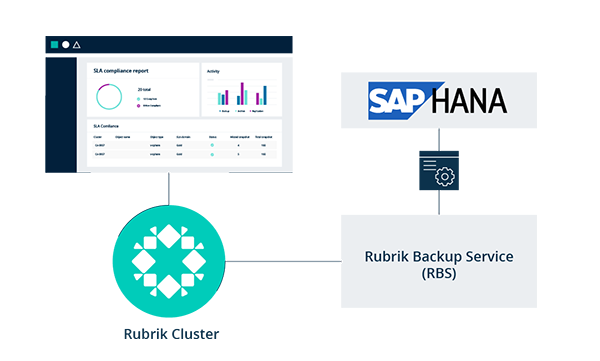 Rubrik delivers its trademark policy automation by directly integrating with the SAP HANA certified backint interface under the hood. All you have to do is deploy the Rubrik Backup Service (RBS) and add your SAP HANA Host or System to Rubrik to discover all of the SAP Hana databases in your environment. Once discovered, you assign a Rubrik SLA Policy of your choice.
Here are some of the other key highlights of our integration:
Native Integration: Admins use SAP tools for most of their day-to-day activities, and data protection is an integral part of SAP HANA administration. Considering this, Rubrik for SAP HANA includes catalog integration so customers can continue to use either SAP HANA Studio or SAP HANA Cockpit to trigger their restores. Even if the backup or IT admins configured the backups, DBAs would still be able to restore using their tools.

Hassle-Free Connector: In large-scale deployments of SAP HANA, manual management of connectors is unscalable and a significant pain point, delaying upgrades and consuming admin time. The Rubrik Backup Service (RBS) is a self-managing connector with a lifecycle managed by the Rubrik cluster. There are no required manual steps on the SAP HANA host other than deploying the RBS Agent. From there, RBS will seamlessly take care of any required SAP HANA backint configurations.

Point-in-time Granularity: Testing and development are always a work-in-progress for SAP HANA environments, and admins get frequent requests for roll back to an earlier stable version. Rubrik delivers point-in-time recovery for SAP HANA by leveraging data and log backups. By rolling forward log backups on top of data backup, Rubrik enables admins to pick from many granular points to restore an SAP HANA database.

Public and Private Cloud Flexibility: Whether customers are looking to deploy SAP HANA in their own data centers or leverage the public cloud, data protection is crucial. Rubrik offers flexibility to customers, allowing them to protect SAP HANA, regardless of where deployed.
Rubrik for SAP HANA delivers the automated and unified protection enterprises need. To learn more, check out our Forward sessions. We hope to see you there!