What do data protection and the perfect vodka martini have in common?
Quite a bit. For one thing, they're both comforting to have around when things go wrong.
More importantly, they're both made up of multiple ingredients and need premium products to work well together. It doesn't matter how much flair you bring to serving that cocktail – without high-quality products and the right technique, you're essentially serving a few ounces of vodka and vermouth.
The same idea applies to data management. There are countless data management solutions on the market, and enterprises keep throwing them into the mix hoping they'll go down smoothly. But without a strategy and complementary tools, these data protection products burn their users when they need them most.
Enterprises keep tossing solutions into their data protection mix
After a long week, some people will settle for any cocktail whether they find those high-quality ingredients or not. Similarly, some CIOs settle for an indigestible blend of enterprise solutions, because the business and IT needs have grown to overwhelming proportions. Today, a CIO must keep up with an ever-growing list of business challenges including:
managing data located in multiple places including different clouds, on-premises, and using legacy applications

obtaining total visibility over all enterprise data, no matter where it's located, in order to ensure compliance with a wide range of regulations

securing every possible data entry point and ensuring there aren't any pockets of data sitting outside of current security protocols

capturing all data in their routine backup processes

achieving data portability so that data is analyzed and operationalized rather than isolated in silos
Over the past four years, the number of software applications used by organizations worldwide shot up by 68 percent. What's more, an estimated 10 percent of businesses now use over 200 applications.
All these new cloud services and applications generate tons of data. By 2025, the total volume of worldwide data is expected to hit 175 zettabytes. Translation: It's only going to get more overwhelming from here, so enterprises need a smarter, scalable way to manage their data.
The data management hierarchy to formulate your strategy
Where do companies start? Compliance? Governance? Creating a unified strategy for big data management can feel like a colossal task looming over day-to-day business demands. Fortunately, there is a way to prioritize the steps within your data management strategy.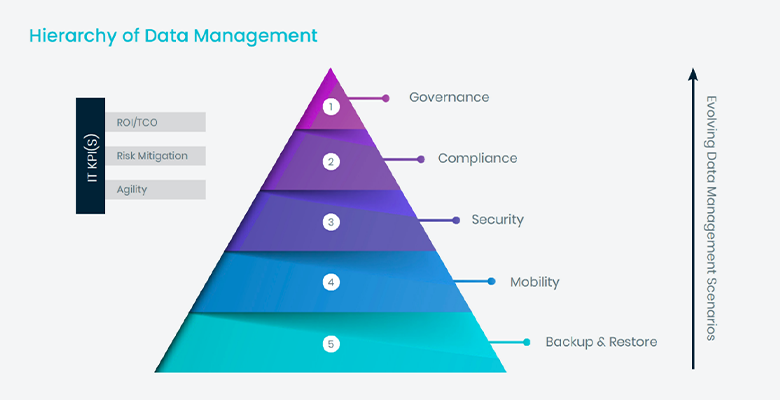 Figure 1: The hierarchy of data management helps CIOs prioritize their enterprise data efforts
The first step is ensuring your organization can reliably backup and restore enterprise data. This is the foundation upon which enterprises build a comprehensive data management strategy. Businesses generate significant amounts of data every day, and they need this data – customer interactions, financial transactions, product designs, and more – to operate.
When you can confidently protect your enterprise data, you can proceed with developing a mobile workforce, securing your enterprise, ensuring compliance, and implementing proper governance procedures.
To become reliable and effective, enterprises must evolve their current backup and restore approaches beyond traditional methods. Decades-old methods like "backup to tape" can no longer keep up with today's exponential data growth. Instead, modern organizations need a unified system that allows them to:
manage large data sets and ensure SLA-driven availability in a cost-efficient way

use open APIs for easy storage and management of data across multiple clouds

access and view a unified picture of data generated from a dispersed IT environment

organize and operationalize enterprise data quickly and easily with a user-friendly interface and purpose-built applications

simplify the processes of governance, auditing, searching, and compliance

ensure the security and cyber-resiliency of their data management
Rubrik and NetApp create the perfect data management cocktail
Rubrik and NetApp help companies develop comprehensive, next-generation data management strategies by serving as the perfect blend of data management solutions. Together, Rubrik and NetApp products facilitate data mobility between the data center and the cloud, and accelerate the time-to-market rate for new projects.
Rubrik delivers a user-friendly software-as-a-service platform that consolidates metadata from a variety of sources and provides purpose-built applications, so business users can generate maximum value from their enterprise data. NetApp supports these end-user capabilities with enterprise-grade object storage that integrates with multiple data storage sources. Altogether, Rubrik and NetApp use powerful policy engines to help enterprises extract value from the entire data lifecycle.
Download our free eBook, Data Storage and Data Protection – Your New Competitive Advantage: Recipes for Success, to learn how to craft the perfect data management cocktail with Rubrik and NetApp.
Still looking to learn more? Check out the Rubrik & NetApp Data Protection Summit OnDemand recording, where you'll learn more about how Rubrik and NetApp are helping customers automate data protection, unify management, and deliver instant recoveries while mobilizing data and applications across hybrid cloud.
1 Loten, Angus. "Employees Are Accessing More and More Business Apps, Study Finds." Wall Street Journal. 2019. https://www.wsj.com/articles/employees-are-accessing-more-and-more-business-apps-study-finds-11549580017
2 Loten, Angus. "Employees Are Accessing More and More Business Apps, Study Finds." Wall Street Journal. 2019. https://www.wsj.com/articles/employees-are-accessing-more-and-more-business-apps-study-finds-11549580017
3 Patrizio, Andy. "IDC: Expect 175 zettabytes of data worldwide by 2025." Network World. 2018. https://www.networkworld.com/article/3325397/idc-expect-175-zettabytes-of-data-worldwide-by-2025.html