At Rubrik, we're on a mission to secure the world's data. That means securing workloads running on-prem and in the cloud. That means securing SaaS applications. That means securing businesses and organizations against cyber threats. That also means securing US Federal Government data against nation-state adversaries and threat actors, which we've accomplished so far with our Cloud Data Management product.
To further our commitment towards securing US government data, we're excited to announce Rubrik Security Cloud - Government.

This government-community version of Rubrik Security Cloud enables federal, state, and local agencies to ensure mission continuity by:
Keeping data readily accessible to withstand cyberattacks and malicious insiders

Continuously monitoring for emergent cyber threats and sensitive data exposure

Surgically and rapidly restore impacted apps, files or objects while containing threats
Rubrik Security Cloud - Government will deliver:
Dedicated instance for federal, state, and local agencies and contractors

Rigorous security monitoring and remediation

Secure processing of data within the U.S

24×7×365 support by qualified U.S. citizens located on U.S. soil
It is built to meet CJIS, FedRAMP® , StateRAMP, and Department of Defense Cloud Computing security requirements: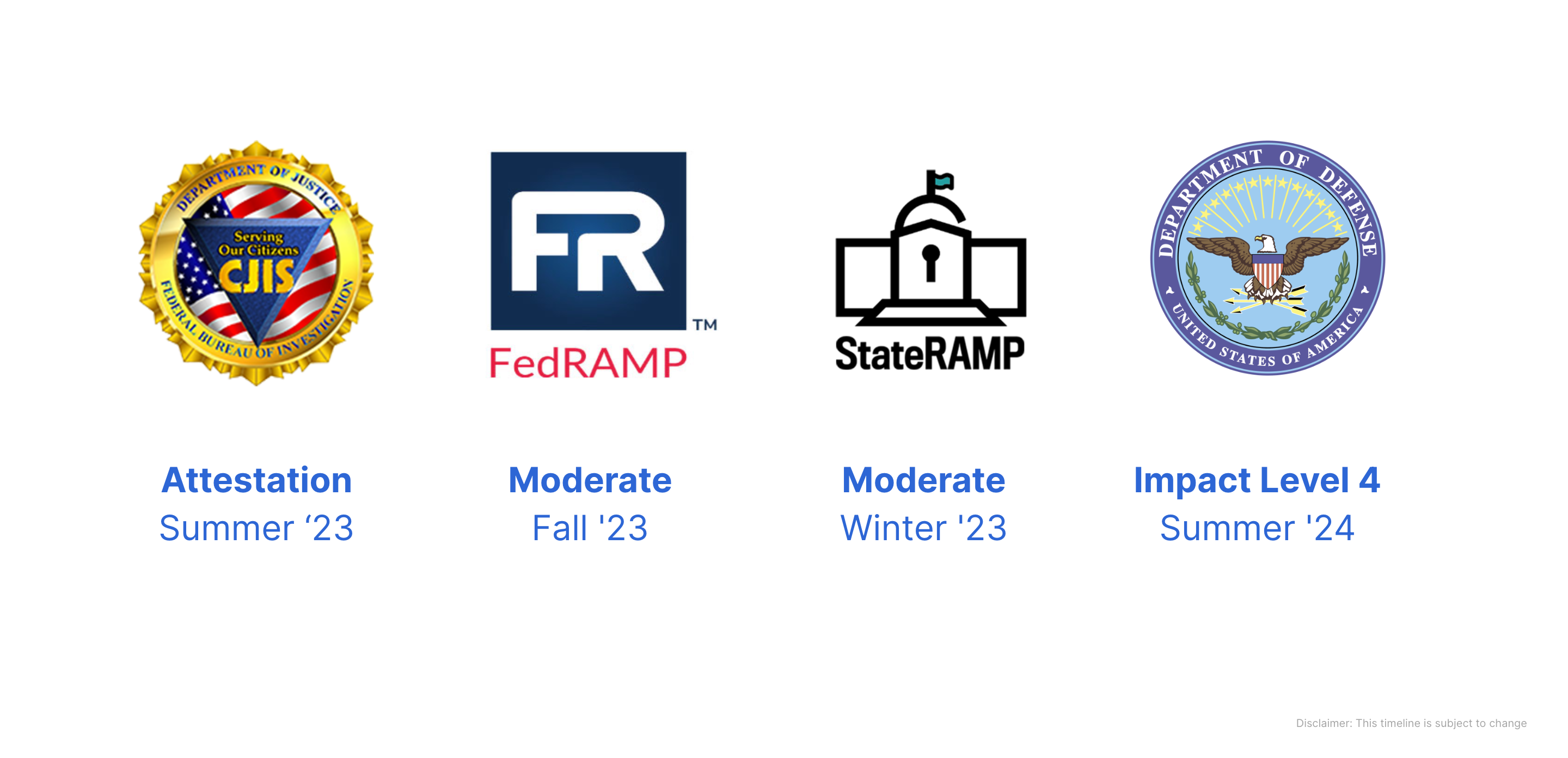 What does this mean for our US Government customers?

Our US Government customers will get access to Rubrik's zero-trust data security platform and all its services. This includes Data Protection, Anomaly Detection, Sensitive Data Discovery, and Recovery Testing. These services have successfully protected our commercial customers for years and we're excited to bring the same cyber resilience to government agencies.
This is a testament of Rubrik's commitment to securing the world's data with respect to the rigorous requirements set forth for FedRAMP Moderate, CJIS, StateRAMP and IL4.
What does it mean for everyone else?
The rigorous certification process enforces a critical and detailed review of technologies and internal processes that handle customer data. Anyone who's gone through FedRAMP certification knows that it is a significant challenge. It requires a dedicated team and comes with significant investment.
It shows Rubrik's dedication to securing the world's data.
SAFE HARBOR STATEMENT: Any unreleased services or features referenced in this document are not currently available and may not be made generally available on time or at all, as may be determined in our sole discretion. Any such referenced services or features do not represent promises to deliver, commitments, or obligations of Rubrik, Inc. and may not be incorporated into any contract. Customers should make their purchase decisions based upon services and features that are currently generally available.