It's not often that I get to present to a room full of amazingly talented colleagues gathered from all around the world. But when I do, it's typically during one of Gestalt IT's Field Day presentations. Recently, the Rubrik team sat down in front of a delegation from Tech Field Day 12 to get nerdy and deep dive into various components within the Rubrik Cloud Data Management stack. The goal was to dissect the simplicity that is baked into our enterprise-grade software offering and showcase how it works. If you missed the event, no worries! I'm going to walk you through the topics we covered and share all of the video recordings.
As a special bonus, you can view Rubrik's past appearances at Tech Field Day 10 and Virtualization Field Day 5. I also made sure to include a special slide for our friend Eric Wright over at Turbonomic because of his Tweet: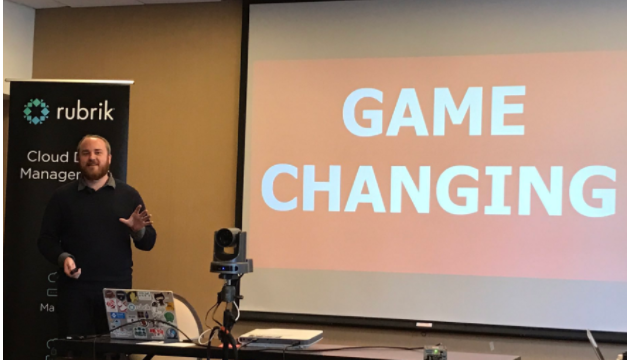 Rubrik Introduction
The first segment provided a level set for those who are new to Rubrik, but also discussed what's new with the latest and greatest Firefly release. In addition, I highlighted a number of our fantastic customers who are using Rubrik by tickling into their individual use cases and shouting out their Twitter handles: Nate B (@nathanrbach), Steve B (@stevebunchii), Delio T (@deliotrapani), Bernardo M (@BernardoMarz), and Matt D (@idiomatically). A special thanks for choosing Rubrik and sharing the love!
I feel that it's important to tell the stories of those using a solution to aptly express how things are going. It's really awesome to see folks happy with their data protection choice, especially when I see messages like this scroll by my TweetDeck!

The Atlas File System

Going deep into the technical weeds requires having some special talent on hand. For this session on Atlas, the custom-built file system that the Rubrik CDM uses, I invited the engineer responsible for its creation, Adam Gee, Founding Engineer. Joining him was a man who is no stranger to just about every backup software ever put into production, Rolland Miller, Director of Solutions Architecture. These two hand-crafted a delightful presentation on Atlas – why we built it from scratch, what makes it so unique, and how it all works. If this doesn't get your filesystem propellers twirling, nothing will!
Live Demos
The final segment featured the infamous Kenny To, Founding Engineer, who is a master at working with cutting-edge software and led the VMware Horizon View team. Both Kenny and myself presented live demonstrations using the Rubrik Firefly release to protect, manage, secure, and restore bare metal workloads running Linux and Microsoft SQL. Notice how Rubrik's policy engine is used to seamlessly protect data across virtual, physical, and database endpoints? This is truly…wait for it…game changing! 🙂
Are you imagining the possibilities? The world of Cloud Data Management is awesome! And we're only just scratching the surface here in these videos. For more thoughts on our presentation at Tech Field Day 12, check out these other posts:
If you'd like to take the journey with us to a world of awesome backups, get in touch!