As modern enterprises advance their digital transformation strategies, data is growing increasingly fragmented and difficult to manage. When combined with the rising number of privacy regulations and security threats, it's critical that IT leaders prioritize adopting cutting-edge solutions that can ensure data resiliency across multiple data sources.
Rubrik was architected to enable enterprises to protect and maximize value from data that is scattered across data centers and clouds. Today, we're thrilled to announce that Rubrik has been named a Leader in The Forrester Wave™: Data Resiliency Solutions, Q3 2019. The report evaluated 10 vendors based on 40 criteria, which were grouped into three categories: current offering, strategy, and market presence. Despite being in the market for only five years, we've been recognized as a Leader and achieved the highest possible score in the strategy category, with among the highest scores in the security and backup optimizations criteria.
Based on rigorous research and analysis, Forrester identified three capabilities that data resiliency solution customers should look for in a provider. Rubrik believes that its innovative platform aligns with these principles, empowering IT professionals to:
Drive policy-based execution. According to Forrester, "It's not practical for firms to operate the backup infrastructure using individual jobs that govern everything – so I&O leaders need a comprehensive, policy-driven framework to manage the entire infrastructure landscape."1 Rubrik's platform was built from the ground up to execute a declarative, policy-driven approach and simplify data management across environments. Instead of telling a backup job to run, users just set the desired SLAs within a single policy engine, and Rubrik takes care of the rest.
In the recent announcement of Andes 5.1, Rubrik expands its powerful policy engine to not only deliver policy-based backup, replication, cloud archival, but also continuous data protection in one unified solution. As a result, customers drastically cut time spent on data protection, enabling them to focus on higher value-add projects and significantly reduce costs.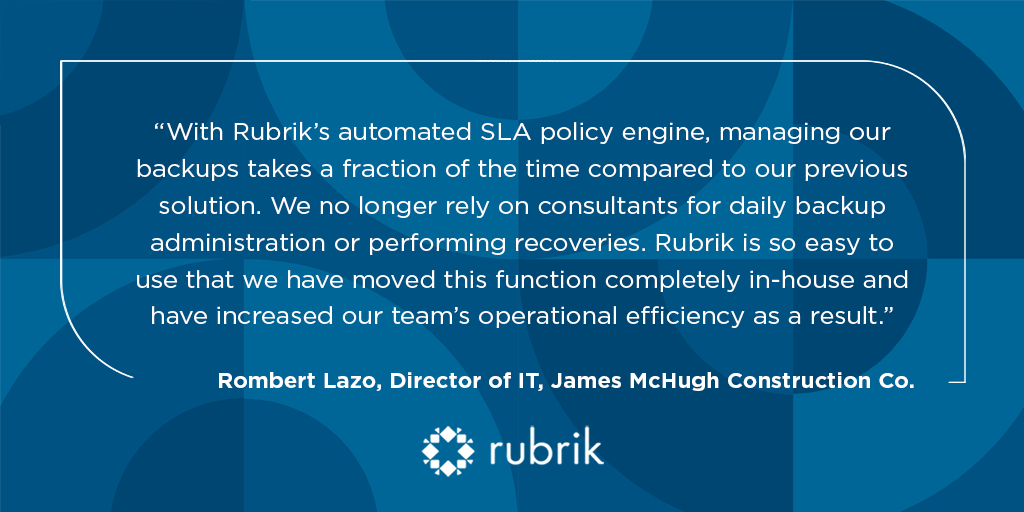 Assure recoverability. For all enterprises, data availability is imperative, as any downtime can have significant impact on revenue, reputation, and customer loyalty. Since downtime and security threats are in many ways imminent, an effective data protection strategy must include the ability to easily and reliably recover workloads–wherever they reside.
Rubrik's platform is designed to quickly recover from and minimize data loss during a disaster. Our Live Mount capability powers the ability to take point-in-time snapshots of objects stored within Rubrik and present them back to a source, delivering lower RTOs without impacting production environments. Rubrik Polaris Radar, a SaaS application, also makes it easier and faster to recover from a security attack by leveraging machine learning to detect and alert on anomalous behavior.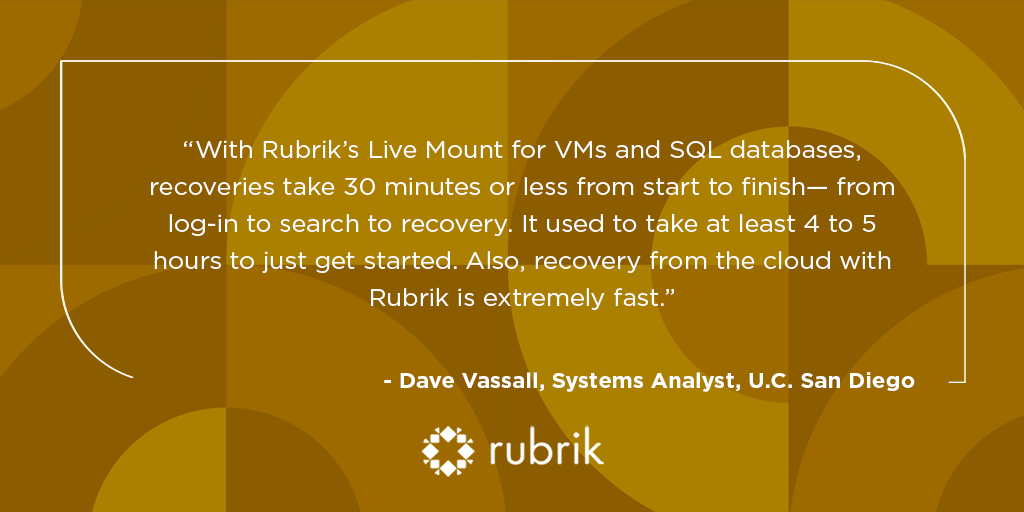 Secure backup infrastructure and data. Since day one, end-to-end security has been central to our design, and we're thrilled to receive the highest possible score in Forrester's security criterion. As Forrester states, "Ransomware aims to besiege or crash the backup infrastructure while taking control of primary applications and data, such that organizations under attack lose the ability to fall back to their last line of defense: backups."2
Rubrik combats breaches and Ransomware by enabling secure management of physical and virtualized data, across all locations— on-premises, at the edge, and in the cloud. With many customers operating in highly-regulated industries, Rubrik provides in-flight and at-rest encryption to secure data in a cost-effective manner and operates in a FIPS, FISMA, HIPAA mode.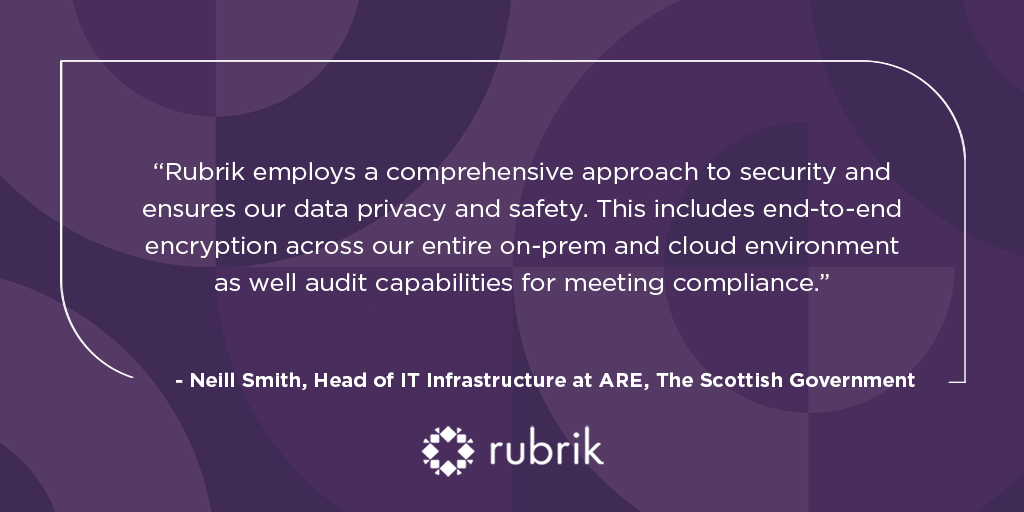 We believe that being positioned as a Leader in The Forrester Wave™: Data Resiliency Solutions, Q3 2019 is a testament to our customer-first mindset and technical leadership. The full report is available for download here, compliments of Rubrik. Click here to learn more about ransomware recovery.
1 The Forrester Wave™: Data Resiliency Solutions Q3 2019, Forrester Research, Inc., 2019
2 The Forrester Wave™: Data Resiliency Solutions Q3 2019, Forrester Research, Inc., 2019