Selecting the right bottle of wine and pairing it well with a nice dinner can make a major impact on the evening. Similarly, IT, now more than ever, is a critical ingredient to get right to set the table for a company's growth and development, and to gain a competitive advantage through the use of technology and data.
I joined Rubrik more than two years ago and was appointed to CIO & CDO (Chief Information Officer, Chief Data Officer) in February 2021. In my time at Rubrik, we have built an IT organization that enables cross-functional and critical business processes, developed robust employee experiences, established data-driven decision making, and deployed the infrastructure and security needed to support the company's aggressive growth. In my career, I've led business applications for both private startups such as Rubrik and public companies including VMware, where I drove IT transformation across people, processes, and technology to achieve digital transformation with agile delivery. I have experienced firsthand the unprecedented speed at which data is growing, its influence on business growth, and the challenge of managing a massive data proliferation in the cloud era. Today, CIOs need data reliability, availability, and a comprehensive platform to manage all of their data, no matter where it resides.
Rubrik was designed to address these challenges and has redefined the data protection industry, shifting the perception of what's possible. Our Rubrik on Rubrik showcase is a testament to that (see diagram 1 below for added context). Using Rubrik to automate, manage, and protect our own data is helping us accelerate product development through critical usage feedback and rapidly scale at the pace we need. Here's how we use our own Rubrik technology to protect and manage our internal data:
Data Protection & Recovery (Local)

Protecting Core Engineering and IT environments locally using CDM (Cloud Data Management) clusters
A backup copy is archived to AWS cloud (S3) for long term retention
Disaster Recovery with Cloud Cluster (Virtual CDM) in AWS
Implement BCP (Business Continuity Planning) with CDM replication with 2nd colo (future state)

Mobility and Self-Service

Empower end-users with RBAC (Role-Based Access Control), a best practice to lower operational costs by giving restore permissions for workloads directly to end-users
Enable CDM replication between Colo's and Cloud Providers for data mobility
Rubrik Polaris as a control plane to manage CDM clusters
No dedicated team for backup

Risk and Compliance

Recover from ransomware
Automatically classify sensitive data with data insights from Rubrik Polaris
Achieved security and compliance certifications:

ISO 27001
ISO 27017
ISO 27018
SOC 2 Type 2
SOC 3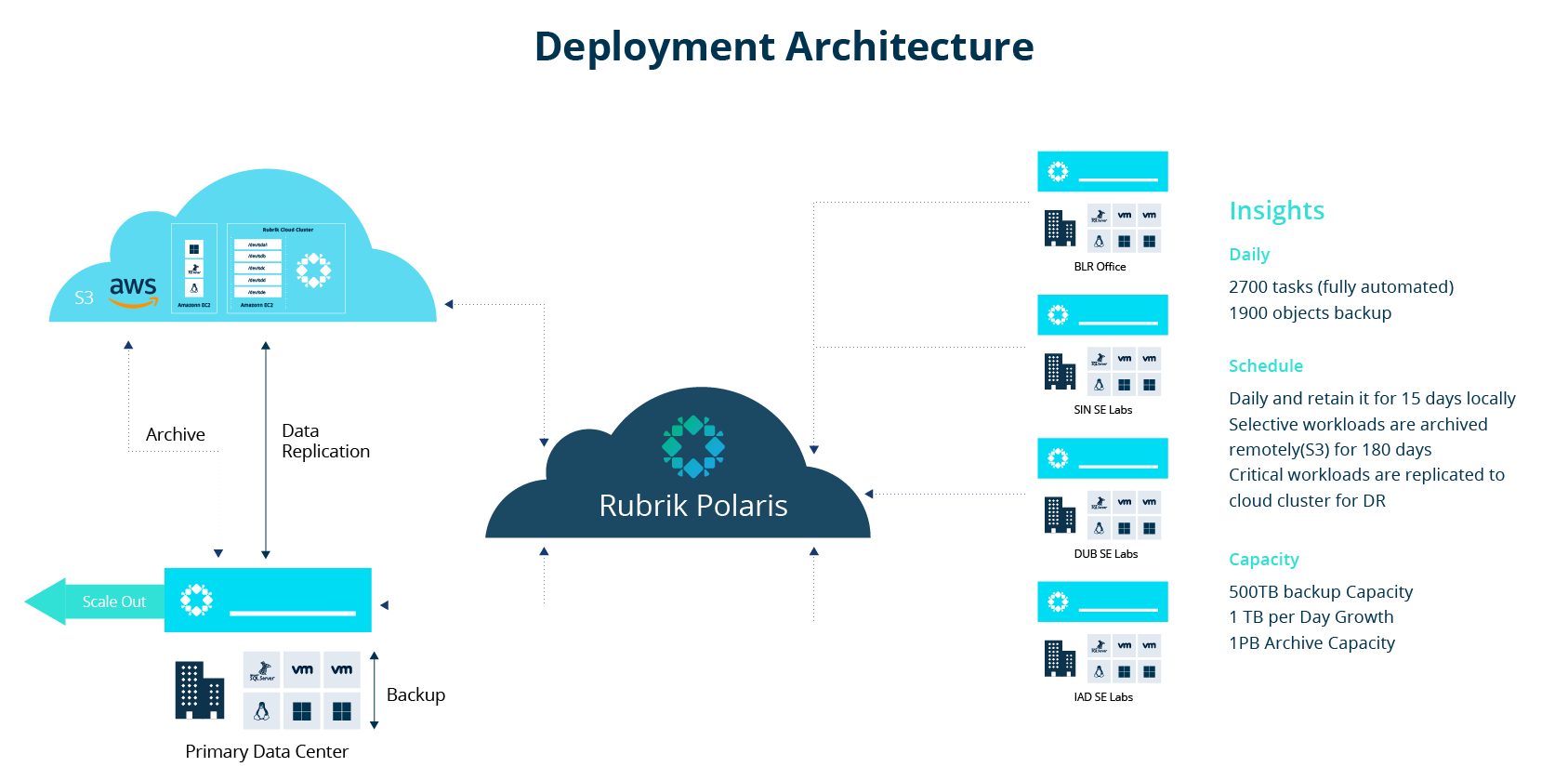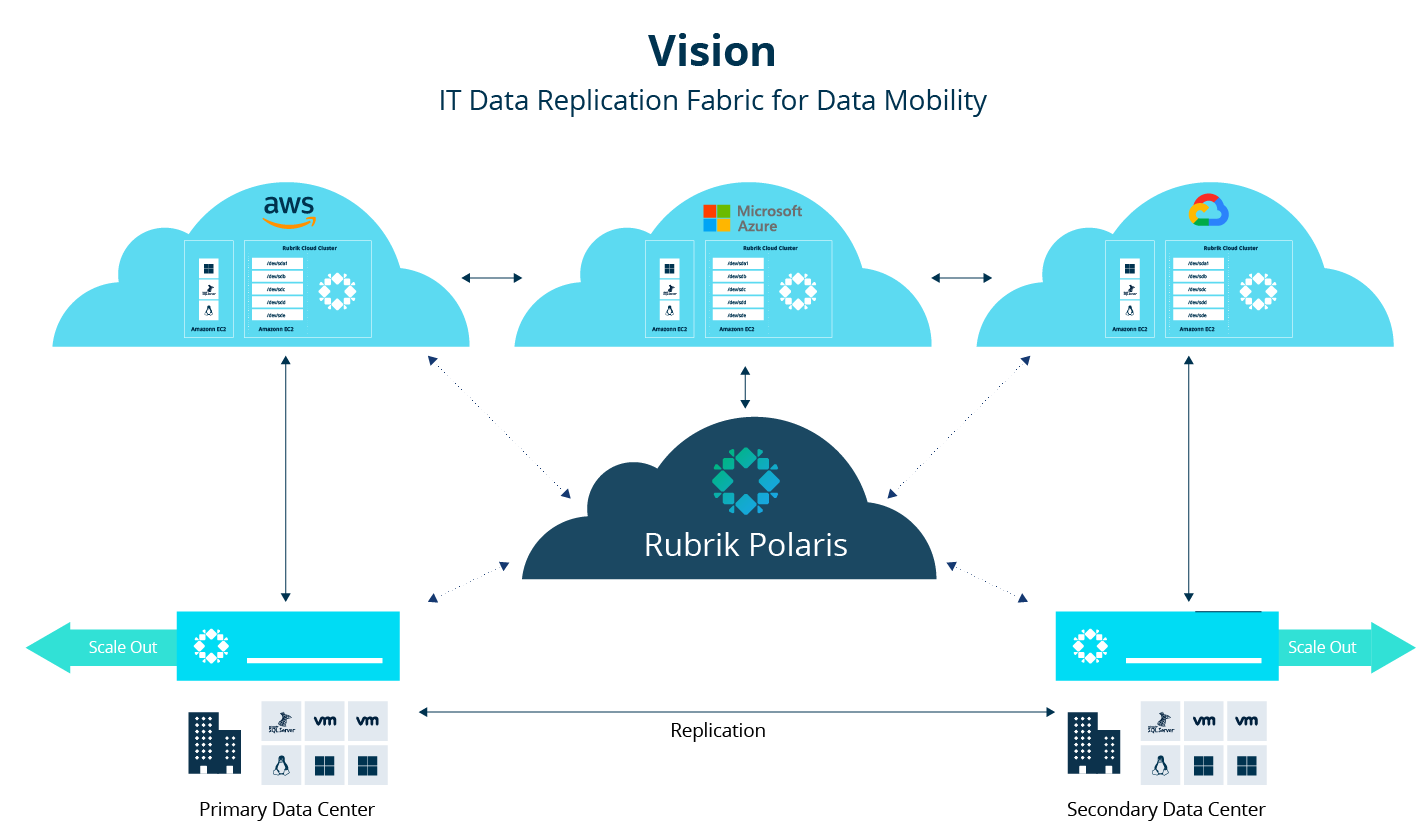 Rubrik on Rubrik has helped us increase agility and accelerate the rate of our innovation, but this is just phase one, and we have a lot more in store. Here's a sneak peek at how else we plan on using our own technology:
Automation: By leveraging our RESTful APIs to integrate with key IT management tools, we can enable self-service and further automate our workflows.

SaaS Applications: Using a combination of homegrown solutions and Rubrik to protect our business-critical SaaS applications data such as Salesforce.com.

Many more to come!
In 7 years, Rubrik has experienced rapid growth and consequently needed an infrastructure to scale as quickly as we do. We are currently supporting 2,000+ employees—including hundreds of developers—across 10+ offices globally with many users working remotely since March 2020 and using Rubrik to protect our mission-critical data and the many VMs. Velocity is our forte, and we know that we must execute on our agile development cycle to ensure rapid time to market. With Rubrik, our developers can take risks and build faster since we know that, in case of any issues, we can instantly recover across our entire environment.
Hungry for more information on data management? You can view all our keynotes and breakout sessions on-demand from FORWARD, Rubrik's annual user conference for thousands of IT leaders, architects, DevOps engineers, and business leaders looking for the very latest guidance on data security and data management.