At Rubrik, we prioritize customer engagement and focus on tailoring our roadmap to our users' specific needs. When speaking with our customers, we discovered that many are investigating or using VMware Cloud on AWS (VMC) for a variety of use cases. Most commonly, users leverage VMC as a Disaster Recovery site or a place to run production workloads. But once our customers have workloads running in VMware Cloud on AWS, they need an easy way to protect those workloads against data loss or corruption. That's why we're thrilled to announce that Rubrik has validated Cloud Cluster to protect VMware Cloud on AWS as a fully-supported solution using the Rubrik Backup Service connector within the operating system of the VM to protect files and volumes.
The validation is a testament to Rubrik's commitment to building strong joint solutions and supporting the modern enterprise ecosystem. The integration gives Rubrik users the ability to manage both on-prem and VMC workloads from a single solution. All of Rubrik's values such as data reduction, archive, and search are included.
Making It Work
To integrate Rubrik and VMware Cloud on AWS, an Elastic Network Interface (ENI) connection needs to be configured between VMC and AWS. This gives the Rubrik network access to VMware on AWS workload VMs. Fortunately, VMware and AWS have made this easy to configure right from the VMware Cloud Services console. There are no egress or ingress charges from AWS to use the ENI connection, so data transfer is included with the VMware Cloud on AWS services.

Once connectivity has been established between VMC and the AWS VPC, firewall rules need to be updated in VMC to allow traffic to flow from the Workload VMS to Rubrik. All traffic was allowed during our testing, but users can also restrict the ports to just those used by Rubrik for a more secure configuration.
Finally, Rubrik Cloud Cluster needs to be deployed in an AWS VPC that has access to the Workload VMs via the ENI connection. This is an efficient deployment method, as there are no data transfer fees when using the ENI connection to move data from VMC to the AWS VPC.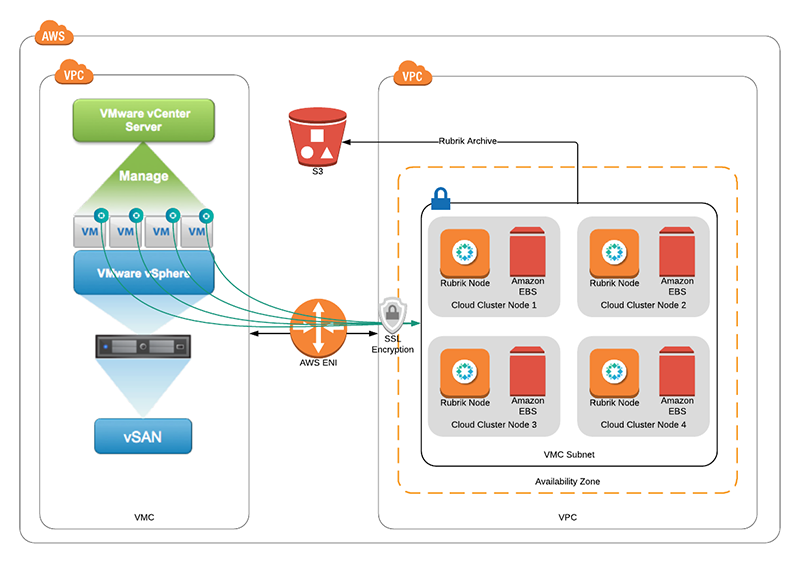 Performance and Scalability
Scalability has always been a core pillar for Rubrik, which is why our entire platform is built on a scale-out architecture. When using Rubrik with VMC on AWS, additional Cloud Cluster nodes can be added as more storage or compute is needed. We also ensure high availability with a fault-tolerant architecture and erasure coding. To increase storage efficiency and performance, users can leverage our CloudOut functionality to archive data from the Rubrik Cloud Cluster to object storage. This could be AWS S3 storage or any of the object stores that Rubrik supports.
Conclusion
Rubrik takes a unique approach to protecting workloads in VMC on AWS that combines simplicity with powerful performance and scale. This capability builds on Rubrik's deep integration across the VMware portfolio including:
Deep VMware vSphere integration
Full support for VMware Cloud Foundation
Certified Data Protection solution for vSAN
VMware vCloud Director protection
End-to-end automation of Rubrik with vRealize Automation and vRealize Orchestrator
Looking for more information? Contact Rubrik sales today.