From the outset, Rubrik has focused on being a one-stop solution for all enterprise data management needs. In a short time, we have expanded our footprint to support over 20 platforms and workloads that are business-critical for our customers. Some of the best feedback we hear is from backup admins who can sleep peacefully knowing that their data is automatically being protected and meeting SLAs.
In the past three years, we have breezed through a lap of supporting modern enterprise workloads – major virtualization systems (VMware, Hyper-V, AHV), physical hosts (Linux, Windows) and databases (Oracle, SQL Server). But when speaking with our customers, we found that many enterprise users want Rubrik-level simplicity for their legacy workloads that are still the workhorses for their mission-critical production systems.
A significant number of our government, finance, and insurance customers run UNIX systems for deploying databases and applications that form the core backbone of their computing infrastructure. These customers are forced to use legacy backup vendors who are known for their complexity. Most new-age data management solutions have chosen to ignore these legacy workloads despite their towering importance to enterprises.
Rubrik, whose DNA is rooted in its customer obsession, has decided to take the plunge and bring modern data management features to an old generation workload – UNIX. We recently added AIX support to our platform, which is the first addition to a line of UNIX variants that Rubrik plans on supporting. Rubrik will be bringing in its trademark, cutting-edge simplicity to UNIX systems by adding 21st-century features like archival to public cloud (AWS, Azure, GCP) and on-prem object storage. This means that our customers can easily move their data from UNIX to other modern workloads like Linux.
Here are the top advantages of Rubrik's approach to UNIX:
Granular and fileset-based protection:

Do you want to avoid protecting TBs of non-critical UNIX files? Rubrik provides the capability to define which filesets will be protected in a host. These filesets can be defined in terms of location, file type, and file name pattern along with the ability to exclude certain files or file types.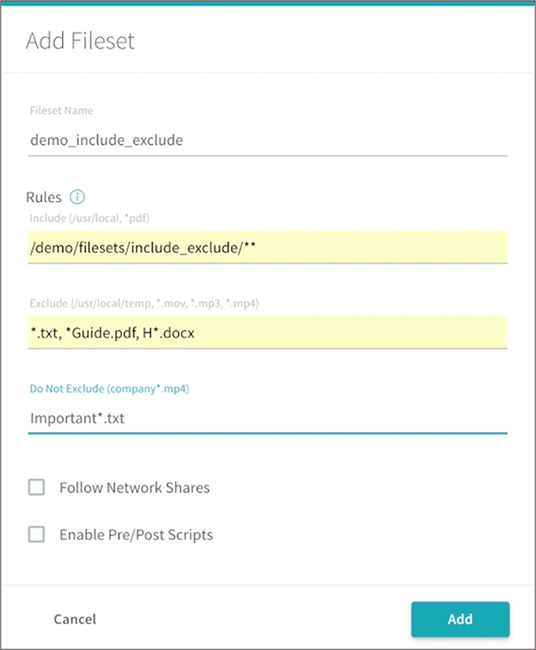 Policy-driven automation:

Rubrik's UNIX support stays true to its core goal of avoiding complicated configurations for backups and other services. All services in Rubrik are defined by a single SLA policy engine that can be applied across UNIX filesets.

Instant file search, download, and restore:

A config file got corrupted? No need to worry. Users can locate a specific file in the UNIX host with Google-like search. Rubrik also provides search suggestions so that the file can be restored/exported to the same or different locations. The file can also downloaded via the browser if needed.

Seamless movement of data across UNIX and Linux hosts:

Rubrik has always strived to be a single data management solution that frees the backup admin from dealing with different workloads individually. We remove all the painful details that the user has to handle and allow him/her to focus on building or innovating their data management infrastructure. For example, files/folders backed up in a Linux/UNIX host can be exported to a host with different OS flavor in the click of a button.

Application consistency:

Databases and applications running on UNIX hosts require application-consistent backup to avoid loss of IO writes that were not flushed to the disk before taking a snapshot. Rubrik supports Pre/Post scripts that quiesce the relevant applications before taking snapshots and restart the applications once the snapshot operation is complete. These scripts provides the users the flexibility to design quiescing.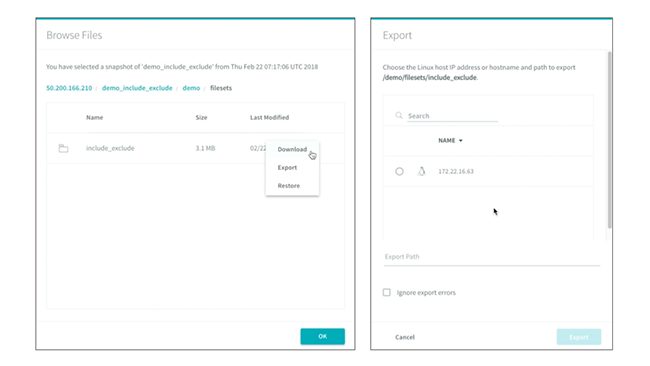 Backup efficiency:

Rubrik uses an incremental-forever approach to backup. It has the ability to identify blocks that have changed since the last snapshot and move only those blocks for snapshot. Compression is also enabled, which reduces the amount of data to be transferred. So, what does this mean to the user? These features ensure that backup is quick and will not gobble up network bandwidth of the production system.
Rubrik's new support for AIX bolsters our mission of delivering the complete enterprise data management solution. We're thrilled to bring the simplicity and performance of our platform to some of the most cumbersome mission-critical workloads of enterprise environments. Stay tuned for more exciting updates on Rubrik's UNIX offering.
In the meantime, you can learn more about Rubrik and AIX here.