In the 20+ years I've been working in tech, one of the things that stands out at Rubrik is its customer and partner-centric approach to building solutions. Here, customer feedback helps drive our roadmap, and we know our partners are critical for delivering our solutions. We're always looking for ways to expand our ecosystem, which is why we're thrilled about our new strategic alliance partner, NetApp. Today, we're kicking off our partnership with Rubrik Cloud Data Management for NetApp StorageGRID, which enables enterprises to optimize data lifecycle management on cloud-scale architectures.
NetApp StorageGRID is well-known throughout the industry, and just like Rubrik, the secret sauce is their policy engine.
NetApp StorageGRID is a software-defined object storage solution that supports industry-standard object APIs such as the Amazon Simple Storage Service (Amazon S3) API. Users can create multiple service levels with metadata-driven object lifecycle policies, optimizing durability, protection, performance, cost, and location across multiple geographies. As requirements change, users can adjust policies and realign their data landscape.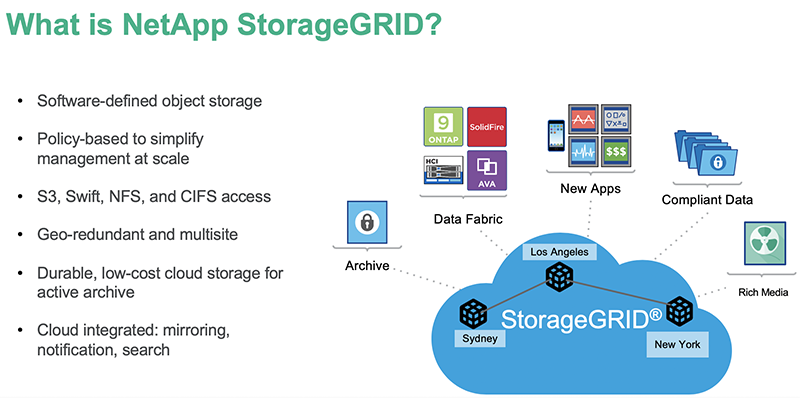 With Rubrik and NetApp StorageGRID, you can now automate data lifecycle management through Rubrik's simple control plane while using StorageGRID as a cloud-scale object-based archive target. Both Rubrik and StorageGRID index file metadata to enable global file-level searching for instant access to massive amounts of unstructured data. Users can quickly find and restore virtual machines, databases, files, and more, regardless of location—in Rubrik, in StorageGRID, and even in a public cloud. This flexibility enables long-term retention wherever makes sense for your business.

The process to configure Rubrik and StorageGRID is very simple and can be broken down into a few steps. At a high level, simply contact your local Rubrik or NetApp source for a step-by-step detailed configuration:
Create a tenant on StorageGRID

Create access and secret keys on StorageGRID

Add Archival Location on Rubrik and enter secret keys

Enter the StorageGRID host to Rubrik and specify the bucket prefix and number of buckets to be used on StorageGRID

Create an SLA policy with StorageGRID as an archive target

Walk away, you are done
Note: If you want to see the true step by step configuration, NetApp has an excellent video as well.
This is the first of many upcoming solutions between Rubrik and NetApp. If you would like to learn more, download our data sheet and join Rubrik and NetApp for an informative seminar to learn how you can simplify backup, archiving, and disaster recovery—on site or in the cloud— currently being offered in several locations across the United States. We are adding new sites daily, be sure to check back for updates.