There was a time not so long ago when adopting the public cloud was considered too big of a risk for the enterprise. Today, enterprises are seeing public cloud vendors as strategic partners and exploring new ways to leverage the innovation, agility, and scale of providers like Amazon Web Services (AWS), Microsoft Azure, and Google Cloud. Tim Carr explains how enterprises are embracing the public cloud in a phased approach in this Gestalt IT blog post.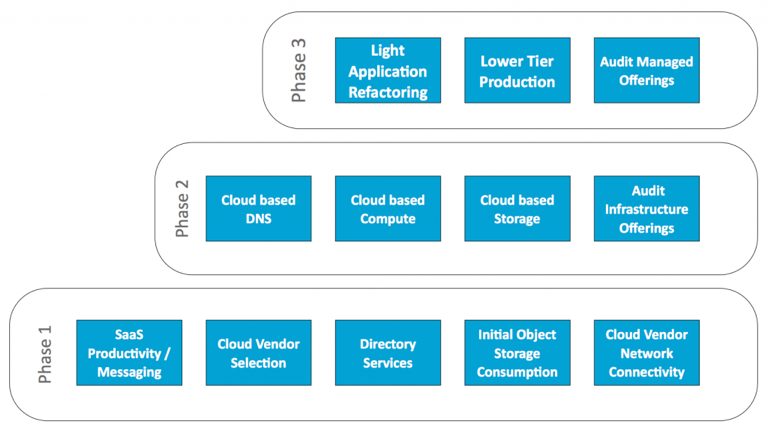 Source: Can a Backup Appliance Really Help your Enterprise Cloud Strategy? – Part 2
These cloud journey phases often look like this:
Phase 1:

Leverage basic public cloud services that require minimal changes to current workloads or processes.

Phase 2:

Build out an infrastructure using public cloud resources for new workloads or migrating existing on-premises workloads.

Phase 3:

Refactor applications to take advantage of public cloud scale and innovations, including more advanced public cloud services.
Rubrik was born in the cloud era providing a web-scale platform from day one. Our very first product natively integrated with AWS with a hybrid-cloud operating model, and we're taking that journey with you. The platform use cases expand as you move up the pyramid of phases in Tim's diagram above.

A common use case for phase 1, which Carr highlights, is archiving backup data to public cloud storage instead of to physical tape media. This is not only a low-risk entry point into the public cloud, it simplifies long-term data retention and granular retrieval and addresses perennial issues with tape storage cost, retrieval time lag, and physical media failures.
Rubrik addressed this particular use case early on with the CloudOut capability, which supports archiving backup data for on-premises workloads natively to AWS S3, Azure Blob Storage, and GCP Cloud Storage. CloudOut enables Rubrik customers to replace their tape infrastructure with massively-scalable and cost-efficient public cloud object stores. But more than just providing a target for customers to pump and dump their backup data, Rubrik has innovated to help customers optimize their usage of public cloud storage resources and provide their first use case for consuming cloud services.
We also make this extremely easy by providing automation templates to run in AWS or Azure to set things up for you, reducing your barrier to entry for cloud.
One example, which has tangible financial impact for our customers, is our approach to optimizing the transfer of data in and out of the public cloud. The biggest factors impacting the cost of S3 and Azure Blob Storage is the amount of data you store and the bandwidth incurred to restore that data from the cloud to your on-premises environment. Rubrik addresses the storage cost issue by deduplicating and compressing the backup data prior to it landing in S3 or Blob Storage, reducing the amount of storage space required. Unlike legacy solutions that extend complexity and performance issues to the cloud, Rubrik provides simple file-level recovery from the cloud. To optimize for data egress transfer costs, Rubrik is able to restore data on-premises while retrieving only the blocks that the requested data are mapped to instead of an entire disk image.
In the very first version of our product, Rubrik pioneered cloud for backup retention with our native policy-based approach to tier vSphere VMs to S3 for long-term retention. Now, Rubrik integrates with a number of storage services across public cloud providers, as well as any S3/NFS compatible storage target and tape for long term retention.
In addition, to help you balance the storage cost with recovery speeds and deliver better cloud economics, Rubrik also includes smart tiering of data. By simply configuring the SLA policies to keep data in an accessible tier for a defined period and then intelligently tier it to archive, Rubrik handles the complexity of reorganizing the data to intelligently leverage cheaper storage options for a long period of time.
As customers continue their cloud journey, we ensure that Rubrik is providing the tools to simplify it. This includes capabilities like CloudOn to enable on-demand app restores in the cloud.
CloudOn enables users to instantiate their on-premises workloads in the cloud on-demand. CloudOn leverages the data that has been archived to the cloud using CloudOut and automates the process of converting your on-premises VMs into cloud instances running your applications in the cloud.

As customers become more sophisticated in their use of public cloud resources and build out net-new cloud-native applications or refactor their existing applications to run in the cloud, Rubrik can protect the data that is created by these applications. To increase automation and unification of data management across hybrid and multi-cloud environments, many of our customers have adopted Rubrik Polaris, our SaaS data operations platform, to natively protect their IaaS, PaaS* and SaaS environments in the public cloud. By extending Rubrik into the public cloud, we can provide customers with a common solution for protecting and managing both their on-premises and cloud data.
* coming soon

Rubrik is committed to helping customers in their cloud journey and to developing more tools and capabilities that allow them to fully leverage the innovations of major public cloud platforms.
Next week, we're hosting our very first digital conference Rubrik Forward Digital Summit, and one of the sessions is on how you can Simplify Your Journey to the Cloud with Rubrik. It's hosted by our technical leaders, and they'll explore and deep dive into how Rubrik can help you take advantage of all the benefits of cloud-based infrastructure and services. They will go into various scenarios for offsite backups, fast recovery, and seamless migration and discuss the Rubrik design principles. I've already had a sneak peek at the presentation and highly recommend you register right away. If you're a reader and want to learn more, here is a quick technical guide on how Rubrik simplifies the journey to the public cloud. Happy reading.