Today, we're excited to announce that Rubrik now delivers data protection (backup and recovery, replication and DR, archival, search, and more) for applications running in AWS and Azure.
It's easy to get started. Once you're part of our Early Access program, we'll provide the AMI/VHD directly to the AWS/Azure account for you to spin up on our recommended compute instances. With Rubrik, you can:
Get up and running in minutes

by deploying Rubrik as a software instance on AWS and Azure. Protect cloud applications, deliver inter- and intra-cloud replication (Azure to AWS, across AWS regions, across Azure regions), bi-directional replication between cloud and on-prem, cloud data archival, and more.

Avoid cloud vendor lock-in

by easily migrating data from public cloud to public cloud to optimize application service quality.

Achieve unprecedented management simplicity

by using the same consumer-grade HTML5 interface to manage applications on-premises, at the edge, and in the cloud.

Start small and scale-out easily

by growing the Rubrik cluster in lock-step with cloud data growth. All data is indexed and efficiently stored in a single, scale-out repository while providing data resiliency.

Instantly locate and deliver application-consistent recoveries

for data born in the cloud, including files, folders, filesets, VM, and database instances (e.g., Windows, Linux, SQL databases).

Provide actionable insights

with rich visual reporting. Rubrik Envision allows enterprises to create, customize, and share platform analytics on consumption, compliance, and more, across a multi-cloud environment.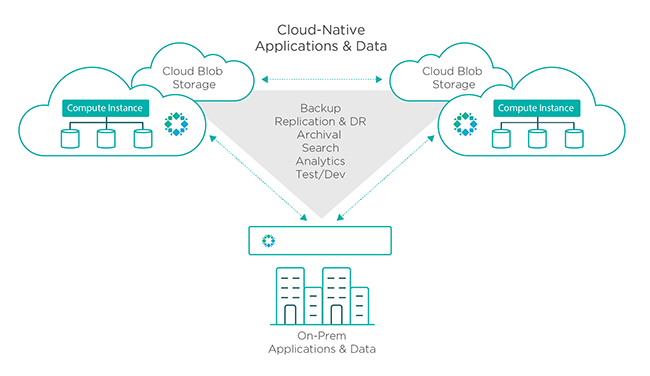 Whether you're starting up a company or you've been doing business for decades (blue-chips like Boeing and Capital One), cloud has become a question of 'when' and not 'if' in order to achieve business agility. According to IDC, 4 out of 5 IT organizations will be committed to hybrid cloud by 2017 end.
At Rubrik, we're helping our customers initiate their journey to cloud by providing a platform that delivers protection while provisioning their data for use beyond backup (developer cloud anyone?). Some of our customers are still in the early phases of cloud adoption – they've started archiving data to the cloud and forgoing tape. By using Rubrik, our customers eliminate tape management complexity, trade capex for opex, access cloud data instantly with search, etc.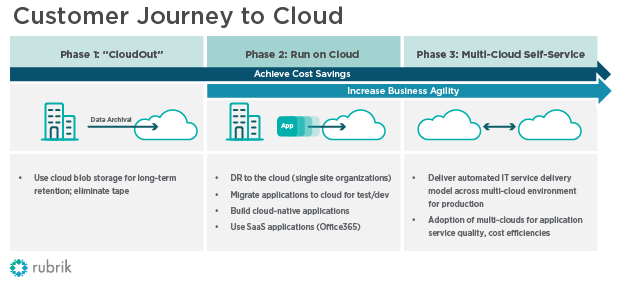 Over time, we see our customers advance in their cloud journey in pursuit of business agility. In Phase 2, we typically see enterprises migrating applications to the cloud for test and development, building cloud-native applications, and using SaaS applications like Office365 and Salesforce. Customers running test/dev applications in the cloud are looking to move production workloads as well. Finally, in Phase 3, we see enterprises delivering a self-service IT delivery model in a multi-cloud environment. Multiple clouds are utilized to deliver application service quality and cost efficiencies for different workloads.
Interested in more? Stay tuned for Part 2, a tech deep dive from our engineering and PM team.
Want to join Early Access? Drop us a line at info@rubrik.com.
[DATA SHEET] Data Protection for Cloud-Native Applications
[WHITE PAPER] How Rubrik Works on AWS and Azure
[WEBINAR] May 11th Overview Webinar