At Rubrik, we have architected our product for enterprise scale. Our typical NAS customer has at least a few hundred TBs, up to many PBs, of NAS in their environment. Backing up this large of an environment while ensuring SLA compliance is a huge challenge for them, as it requires a platform that is highly parallelized, vendor-agnostic, and policy-based. With our customers' pain points at the forefront of our minds, we have built an innovative solution to managing NAS.
A Modern Approach to Backing Up NAS
We're focused on developing a solution that delivers both simplicity and high performance, even in large-scale environments. For enterprise customers with NAS systems, our approach delivers four key benefits:
Cost-effectiveness: Just like Rubrik is disrupting the overall backup and recovery industry, we're developing a truly innovative way of protecting today's enterprise environments. We take a cloud-first approach to our NAS solution so that users can enjoy the flexibility and cost-efficiency of the cloud. Not only do we provide our customers with the ability to archive to on-prem targets such as NFS and object stores, but we also allow users to store files of both structured data (like documents or spreadsheets) and unstructured data (like PDFs and JPEGs) directly on the cloud.
Rubrik also provides quick recovery from the cloud because we hold on to the all the metadata from the first full and incremental-forever backups. As a result, companies avoid significant egress costs when recovering files from the cloud.
Scalability: One of the biggest challenges we hear from our customers is scaling their data management solution with their data growth. For NAS environments,we leverage our parallel processing capabilities during the backup phase, which allows us to load-balance the amount of work among the nodes on a Rubrik cluster. These levers are 100% tunable to adjust the level of parallelism for ingest, depending on factors such as the production workload on your NAS. This allows Rubrik to be performant even for workloads that exceed several PBs in size with billions of files. In comparison, NDMP is single-threaded only, so it cannot scale as quickly for large workloads as Rubrik's multi-threaded approach can.
Efficiency: We are an incremental-forever product, which means that as long as your files don't change, we do not back them up again after the first full. And when we do, we only backup the changes on the file – never against the full file (as NDMP requires). Combined with our ability to freeze entire volumes on Isilon and NetApp, Rubrik is truly an enterprise-first NAS solution. While other vendors may have issues backing up open files, Rubrik will handle those backups just like any other file…quickly and securely.
Vendor-agnostic: We have purposely architected our solution to use frontend protocols, such as NFS and SMB, to avoid the vendor lock-in that is forced by utilizing outdated methods like NDMP. With NDMP, the customer bears the burden of having to switch among different file formats, while we can provide users upon recovery the original format of the file.
Let's Go Under the Hood
The technology that powers Rubrik addresses many of the limitations behind traditional NDMP solutions. Here's a quick breakdown of the Rubrik advantage for backing up NAS: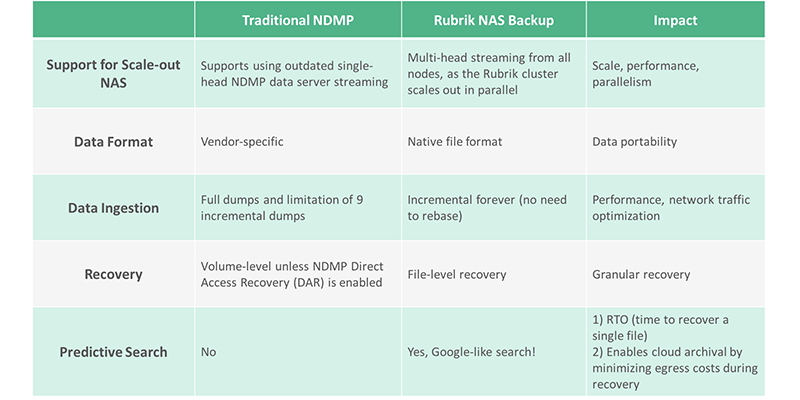 By viewing this video, you are providing your express consent that your viewing history has been captured and may be shared with our affiliates or third-party providers that may also combine with other data they collect about you, e.g. your use of their services. We and our third-party providers may use this information to present you with offers, promotions, or other marketing that we think you'll find relevant.