Now, more than ever, IT is transforming from a supportive tool or insurance policy into a strategic business imperative. As someone who has been in the industry for over 20 years, it's clear to me that we're at a tipping point at which enterprises must quickly adapt their technologies to drive competitive edge and unlock new business value.
I joined Rubrik as CIO last year to build an IT organization that enables the business processes, employee experience, and infrastructure needed to support the company's unprecedented growth–while also delivering deep business intelligence and keeping us secure. Previously, I led Business Applications at VMware, where I drove IT transformation across people, process, and technology areas to achieve nimble and agile delivery. In other words, I've experienced firsthand the unprecedented speed at which data is growing and the challenge of massive data proliferation as we enter the cloud era. Today, CIOs need infrastructure flexibility and a comprehensive platform to manage all of their data, no matter where it resides.
Rubrik was designed to address these challenges and has redefined the data protection industry, shifting the perception of what's possible. That's why we're excited to share Rubrik on Rubrik. Using Rubrik to automate, manage, and protect our own data is helping us accelerate product development and rapidly scale at the pace we need. Here are the top ways we're currently using Rubrik:
Backup and Recovery: Rubrik's policy-driven approach to data protection enables us to protect our core infrastructure, developer environments, and cloud workloads. One of the capabilities we're most excited about is SQL Live Mount, which enables us to instantly recover our largest databases as well accelerate development with easy test/dev.
Disaster Recovery and Business Continuity: We live by our commitment to 24/7/365 world-class customer support. With Rubrik, we can quickly recover from a disaster for minimal business impact, ensuring our support is never down.
Cloud-native Protection: In addition to policy-based archival to the cloud, we're using Rubrik for cloud-native backup of EC2 instances. We're excited to leverage Cloud Cluster to accelerate recovery times as we scale and support our core velocity principles.
Intelligent Threat Detection and Recovery: Rubrik Polaris Radar, an application delivered via a SaaS platform,

uses ML to quickly identify and alert on anomalies and security threats like ransomware. In the event of an attack, we know that we can easily and quickly recover for minimal business disruption.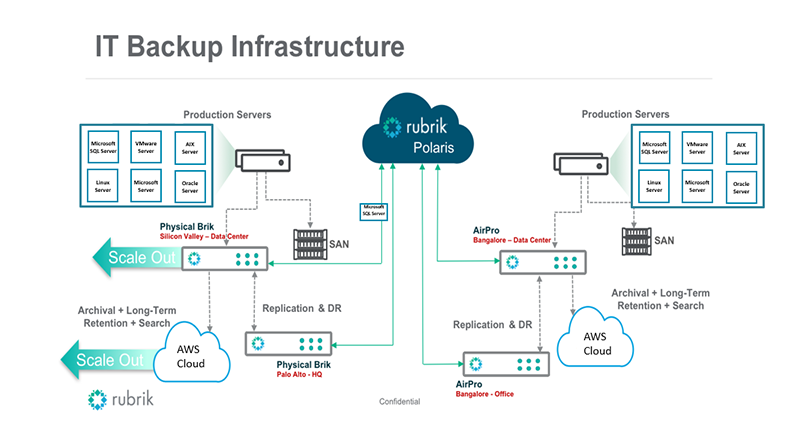 Rubrik was built for companies like us. In just 5 years, we've experienced rapid growth and need an infrastructure that can scale with us. We're currently supporting 1,400+ employees (including hundreds of developers) across 10+ campuses and are using Rubrik to protect our mission-critical data and thousands of VMs. Speed is our middle name, and we know that we must execute on our agile development cycle to ensure rapid time to market. With Rubrik, our developers can take risks and build faster since we know that, in the case of any issues, we can instantly recover across our entire environment.
Rubrik on Rubrik has helped us increase agility and accelerate the rate of our innovation. But this is just phase one, and we have a lot more in store. Here's a sneak peek at how else we plan on using Rubrik:
Automation: By leveraging our RESTful APIs to integrate with key IT management tools, we can enable self-service and further automate our workflows.
Compliance: End-to-end encryption and simpler backup and recovery will help accelerate our acquisition of ISO 27001 and SOC2 certifications.
SaaS Applications: We will use Rubrik to protect our business-critical SaaS applications.

Many more to come!
Stay tuned for more updates in the coming months! Read these customer stories to dive deeper into our top use cases and business benefits.