Today, we're thrilled to announce Rubrik Go, a new evergreen subscription purchasing program designed to help customers easily modernize their data centers. The program applies a SaaS approach and empowers customers to enjoy future innovation through one simple and predictable subscription license. With Rubrik Go, customers can easily access the latest data management technology through free evergreen refreshes, streamlined software editions, and the flexibility to migrate data to the public cloud at any time with no additional costs.
A trend we've seen among our customers is that as they try to modernize their data centers or migrate to the cloud, many are held back by the lack of flexibility with traditional licensing. This traditional on-premises model typically results in higher capital expenditures, a challenge for companies restricted by annual budgets and the inability to commit to large upfront costs. On top of that, many customers are tired of trying to access the latest technology without battling price hikes, lengthy contract negotiations, and unpredictable renewals. For example, if customers wish to migrate data to the cloud, they often have to repurchase their on-premises license.
Rubrik Go is designed to solve these challenges easily. To enable agile infrastructures, Rubrik Go offers a subscription to simplicity so that customers can scale their environment with complete transparency and confidence. Instead of overpaying for complex licenses, customers can reallocate money and resources into more strategic business initiatives that build customer loyalty.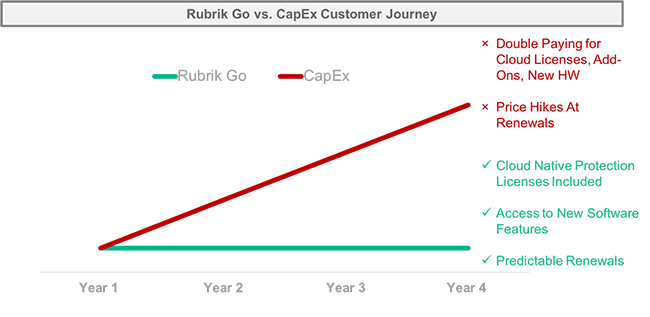 Rubrik Go provides the following key benefits to customers worldwide:
Automatic Access to New Technology:

Customers receive the latest technology updates so that they can continue to innovate and stay one step ahead of their competition.
Future-Proof for Cloud:

Go

customers can

migrate to the cloud

at any time during their subscription term. For those running cloud applications, Go provides native cloud protection at no additional cost.
Lower Upfront Costs:

Rubrik Go transforms large upfront capital expenditures into predictable subscription payments to help customers meet and exceed budget requirements.
Rubrik Go is not just a subscription to our technology, it's a subscription to simplicity. Stay tuned to learn how customers are leveraging Rubrik Go to modernize their data centers and on-ramp to the cloud.
By viewing this video, you are providing your express consent that your viewing history has been captured and may be shared with our affiliates or third-party providers that may also combine with other data they collect about you, e.g. your use of their services. We and our third-party providers may use this information to present you with offers, promotions, or other marketing that we think you'll find relevant.