Enterprises are undergoing a dizzying pace of digital transformation. For many organizations, real-time analytics and insights are critical to their transformation success, and SAP HANA is their database of choice. SAP HANA is an in-memory database platform that offers a range of analytics processing capabilities to support enterprise-grade workloads, including SAP's own 4th Gen product–S4/HANA. In our conversations with customers, it became clear that there is a fast-growing need for simple, scalable SAP HANA protection.

To address our customers' pain points, I'm pleased to share that Rubrik Andes 5.0, our fourteenth and biggest release to date, introduces SAP-certified protection for SAP HANA databases. Under the hood, Rubrik integrates with the Backint interface of SAP HANA to ensure complete protection of customer data.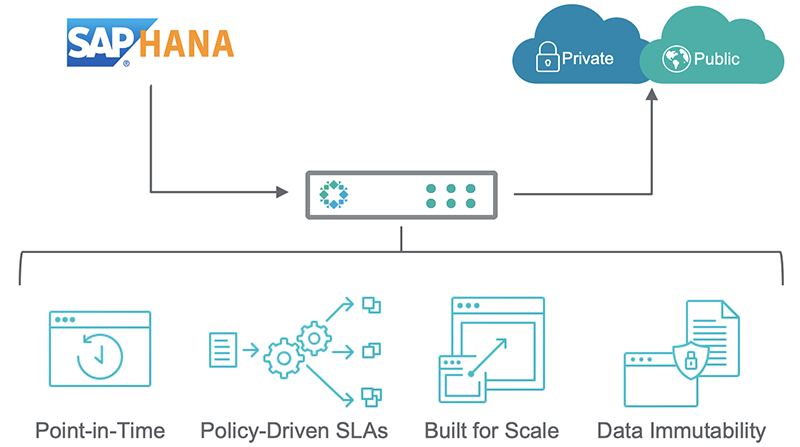 Rubrik brings flexibility and its trademark policy automation for even the largest SAP HANA databases. Here are the some of the key highlights of our integration:
Native Integrations:

Admins use SAP tools for most of their day-to-day activities, and data protection is an integral part of SAP HANA administration. Considering this, Rubrik has tightly integrated with SAP's native tools like SAP HANA Cockpit and Studio so that DBAs and backup admins can continue using their existing tools and workflows. Admins can setup backup schedules in SAP Cockpit to automate the initiation of Rubrik backups.

Cost-Effective Protection:

With rapid growth in analytics data, cost efficiency is a critical requirement for customers. Elastic App Service (EAS), introduced in the Andes 5.0 release, serves as the target for storing SAP HANA backups within the Rubrik cluster. EAS provides intelligent deduplication across backups, reducing the overall storage consumption of SAP HANA backups, and leading to a significantly lower TCO.

Hassle-Free Connector: In large scale deployments of SAP HANA, manual management of connectors is unscalable and a major pain point, delaying upgrades and consuming admins time. Rubrik Backup Service (RBS) is a self-managing connector with a lifecycle managed by the Rubrik cluster itself. For scale out SAP HANA configurations, RBS installation can be done on the node running Master Name Server while the rest of the nodes are configured automatically. These features make Rubrik a perfect fit in large enterprises looking for a scalable solution to protect SAP HANA.
Point-in-time Granularity:

Testing and development is always a work-in-progress for SAP HANA environments, and admins get frequent requests for roll back to an earlier stable version. Rubrik delivers point-in-time recovery for SAP HANA by leveraging data and log backups. By rolling forward log backups on top of data backup, Rubrik enables admins to pick from a multitude of granular points to which SAP HANA database can be restored.

Public and Private Cloud Flexibility:

Whether customers are looking to deploy SAP HANA in their own data centers or leverage the public cloud, data protection is a key requirement. Rubrik offers flexibility to customers, allowing them to protect SAP HANA, regardless of what their environment looks like.

On-Prem to Cloud Migration for SAP HANA: Rubrik also provides seamless transition for customers looking to move from on-premises SAP HANA to AWS. Rubrik snapshots taken from an on-premises setup are used to hydrate fresh SAP HANA systems running on AWS EC2 instances. This makes the whole migration or test/dev cloning workflow a low-effort task with minimal disruption to business objectives.
Rubrik's SAP HANA data management capability fills a crucial gap for enterprises looking to modernize their infrastructure. We believe that customers leveraging this feature will find it convenient as well as effective for protecting their mission-critical data.
Want to learn more about our Rubrik Andes release? Register for our upcoming webinar series.