Although now focused on service providers, vCloud Director is alive and well, as shown by the #LongLivevCD hashtag on Twitter. vCloud Director (vCD) makes it easy for cloud service providers or managed service providers (MSPs) to manage and operate virtual data centers (VDCs) for multiple consumers or tenants. The solution can automate the creation of VDCs based on consumer resource needs and assign the appropriate policies necessary to maintain a proper allocation of resources. vCD also provides a unique portal for consumers to manage various cloud services and workloads on their own. At Rubrik, we're excited to further our customers' abilities to create customized private cloud offerings tailored their environment.
Our integration simplifies protection of VMs by recognizing vCD constructs and provides granular recovery at the file-level so that users can choose whether to recover an entire vApp or a subset of VMs. With Rubrik Alta 4.2, we're pleased to offer support for vCD with the following features:
Support for vCD 8.10 and later
Autodiscovery of vCD hierarchy
SLA-based autoprotect at different levels of vCD hierarchy

vCD instance
vCD organizations
Org VDC
vApp

Recovery flows

Export and instant recovery
File restore
Network settings

Self-service multi-tenancy for Backup-as-a-Service (BaaS)
Reporting per vCD organization
Every VM managed by vCD is part of a vApp. vApps allow multi-VM configurations, such as power-on sequencing and networking configurations.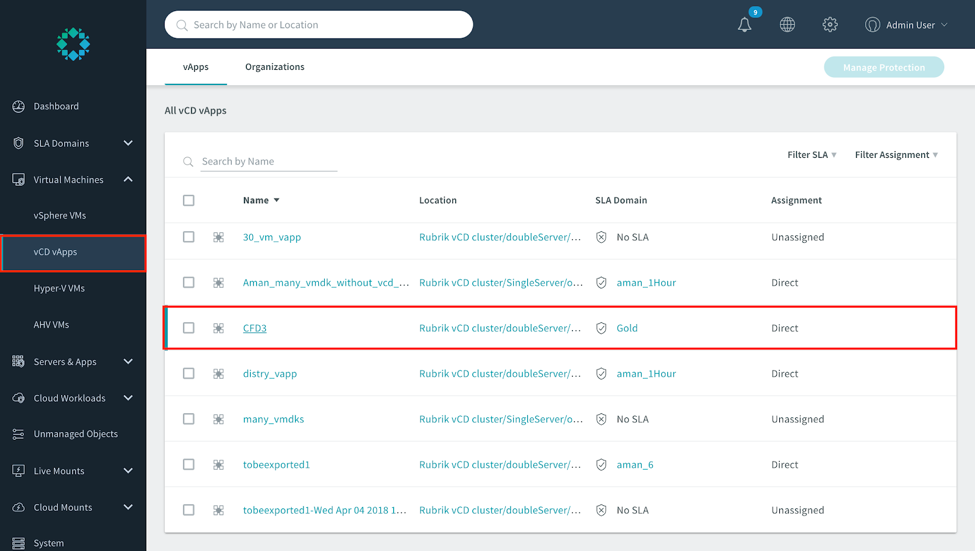 Managing vCD vApps using Rubrik is quite similar to managing vSphere VMs. Each vApp has a page providing an overview of protection characteristics and the managed VMs, as shown below.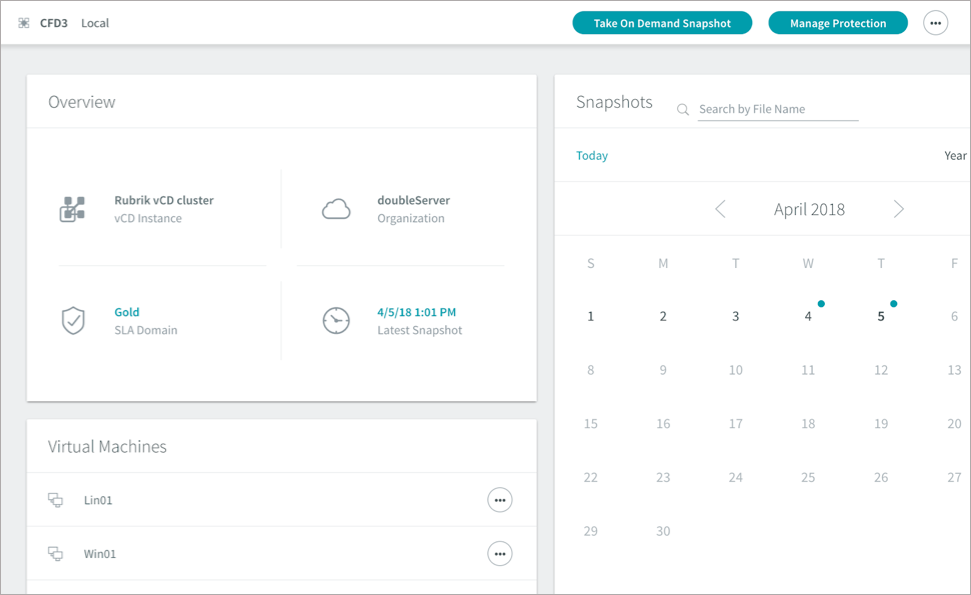 This release also provides several recovery options at the vApp and VM level using Instant Recovery and Export. Instant Recovery allows for restoring both the full vApp and partial recovery, enabling the replacement of one or more VMs inside an existing vApp. Similarly, the Export option allows for replacing the full vApp from a snapshot and a partial recovery. A new vApp may be created from one or more VMs, or VMs may be imported into an existing vApp.
vApp network settings may be restored during the recovery workflows. During an Export, Rubrik can:
Recover

Isolated vApp networks
Direct vApp networks and NAT-Routed networks if the relevant Organization network still exists

Connect VM NICs to the recovered networks
During Instant Recovery, networks cannot be restored, but the NICs of the recovered VM (at the time of snapshot) can be connected to any of the existing networks or kept detached.
Rubrik's support for vCloud Director delivers simple and flexible multi-tenant management. Our fresh approach, combined with the enhancements introduced in Alta 4.1 and Rubrik Envoy, empowers MSPs and large enterprises to enable tenant-based self-service.
Want to learn more? Watch a technical preview from Cloud Field Day 3 of our integration with vCloud Director.