Today, we're proud to announce that Rubrik has achieved AWS Storage ISV Partner Competency, which recognizes our powerful cloud technology and proven ability to support customers evaluating and using AWS. The AWS Competency Program simplifies the adoption of new solutions by providing AWS customers with quality APN Partners who have demonstrated technical proficiency and success in specialized areas.
Earning the highest level of partnership that an AWS partner can attain is a testament to Rubrik's cloud-first approach to data management. That's why I want to take a step back to talk about our integration with AWS and how companies are leveraging Rubrik when on-ramping to the cloud.
At Rubrik, our customers are on a journey to modernize their infrastructure and meet the changing demands of businesses. More often than not, this journey takes them to cloud providers such as AWS that can help them achieve cost efficiency and increase business agility. Rubrik was built to accelerate our customers' cloud adoption, whether it's by simplifying archival to Amazon S3, streamlining recovery and migration to AWS, or enabling multi-region and hybrid environments.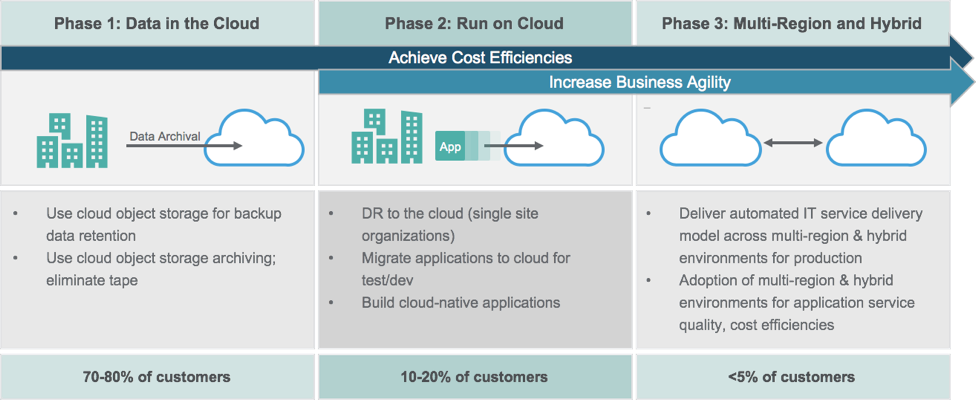 For each phase of the journey, Rubrik has built capabilities into its platform that simplify the process of moving data to AWS and allow customers to take advantage of that data once it is in the cloud. These capabilities include CloudOut, CloudOn, and Cloud Cluster.

CloudOut
Cloud storage, including Amazon S3, is fast becoming the new standard for long-term retention of user data. Not only does S3 have unlimited scale, it is proving to be more cost effective, reliable, and durable than traditional backup methods. Rubrik CloudOut enables our customers to securely and efficiently upload backups of their on-premises environment to S3.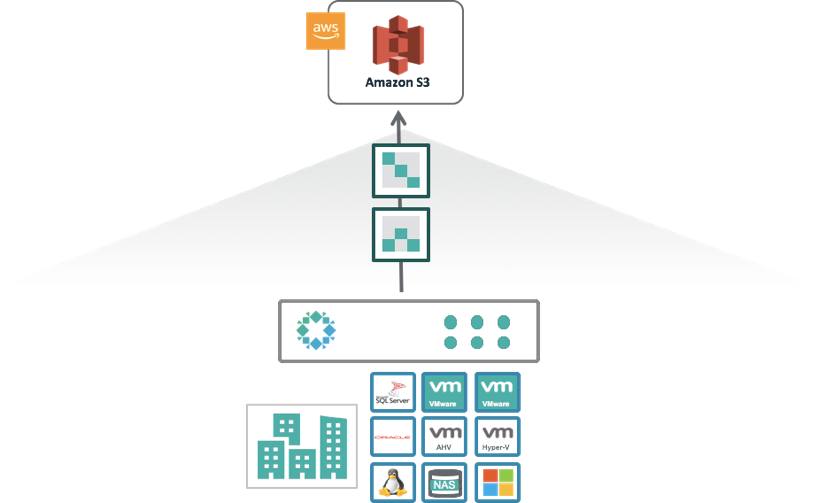 Some of the benefits of using Rubrik CloudOut include:
Data encryption both in transit and at rest
Instant search for data that needs be restored; Rubrik indexes and tracks every file that is protected by Rubrik and uploaded to S3
Efficient data restores since Rubrik only retrieves requested files (not the entire VM image) to minimize bandwidth and egress transfer costs
CloudOn
IT organizations are constantly being asked to do more with less. Rubrik's CloudOn capability enables customers to do more with the backup data they've uploaded to S3 through use cases like test/dev and disaster recovery.
By integrating with AWS services such as EC2, EBS, and AWS Import/Export, Rubrik CloudOn can orchestrate the conversion of on-premises VM images into Amazon Machine Images. Rubrik is able to then launch EC2 instances in AWS, using these converted images, to create a replica of a customer's on-premises infrastructure.
Use cases for CloudOn include:
Launching a test/dev environment in the cloud using a copy of production data
Leveraging AWS as a low-cost, on-demand disaster recovery environment to protect on-premises workloads
Migrating on-premises workloads to AWS
Cloud Cluster for AWS Native Protection
Customers who run workloads in the cloud quickly realize that those workloads need to be protected and managed in a way that is appropriate for this new cloud-native world. Rubrik Cloud Cluster runs as a virtual appliance in AWS that leverages AWS services such as EBS snapshots and Amazon Machine Images to protect cloud-native workloads running on EC2 instances.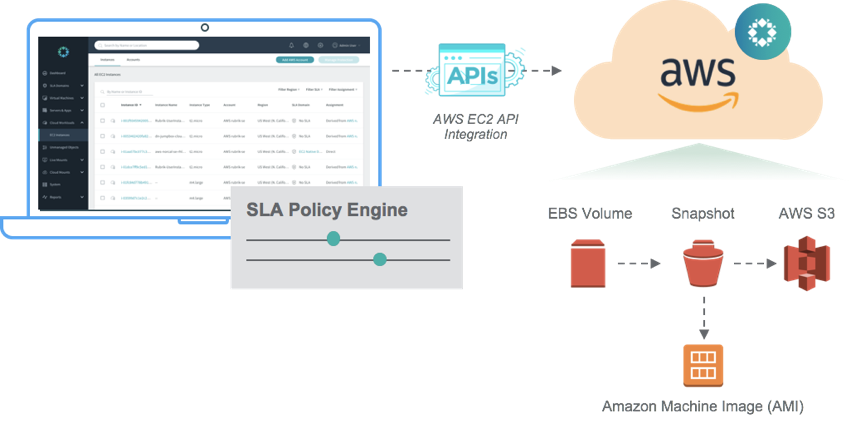 Leveraging Rubrik to protect EC2 instances provides benefits to customers that include:
Automated and policy-driven management of EBS snapshots, including scheduling and expiration of snapshots
Accelerated time to recovery by automating all the steps required to restore a volume or a file and enabling predictive search for files stored in EBS snapshots
Reduced tool sprawl by giving customers a single platform to manage both their on-premises and cloud data
As the breadth of our capabilities show, Rubrik was designed to seamlessly manage and protect data that lives in the cloud. But we're equally committed to providing our customers the choice to manage their data wherever they'd like — on-premises, in the cloud, or in hybrid environments. This powerful combination allows us to support our customers in whichever phase of the cloud journey they're in. We look forward to continuing our development for the modern enterprise.
Want to see Rubrik and AWS in action? Watch this on-demand webinar: Castilleja School Automates Data Protection and Shortens RTOs.