WHY RUBRIK IS THE BETTER COMMVAULT ALTERNATIVE
Built-in Data Security That Relieves Your Headache
Reliable data security can't be achieved through endless bolt-ons—it has to be built right into the technology. Rubrik's Zero Trust Data Security is part of our DNA, making us immutable by design. Best of all, you don't need a degree in our technology to make it work. It just does.
Air-Gapped
Rubrik's logical air gap prevents unauthorized discovery, access, mounting, or compromise of data.
Immutable
By storing data in a proprietary format and verifying it with data integrity checks​, Rubrik prevents unauthorized read, change, encryption, or deletion.
Access-Controlled
Rubrik eliminates unauthorized account compromise via granular role-based access controls and credentials, including MFA and TOTP.
We've Got Your (And Your Data's) Back
Know You Can Recover
•Avoid paying ransoms with rapid and guided recoveries from backups that are immutable the moment they are written to our append-only file system.
•Quickly identify your blast radius and what data was exposed with Ransomware Investigation and Data Classification.
Know What You Are Paying For
•Realistic sizing at initial planning.
•Predictable renewal costs.
•Cloud costs that are easy to understand.
Know You have a Reliable Partner
•High audited customer net promoter score of 84 thanks to proactive and responsive tech support.
•Code quality that delivers reliable backup and recovery.
competitive comparison
How Rubrik and Commvault Compare
Legacy solutions were built for legacy challenges. See how Rubrik and Commvault stack up.
Why Organizations Choose Rubrik Over Commvault
Commvault Metallic is Looking a Little Rusty
Commvault Metallic is not bred to be a PaaS-engineered product from the ground up! It is a lift-and-shift of Commvault to the cloud. Centrally managed, job-based, recycled legacy technology will leave you high and dry if the internet goes down. No ability to perform restores from on-prem means you better not tell your SecOps team to block your internet access—unless a hacker already did for you!
Only Rubrik Offers a Ransomware Recovery Warranty
In the event that Rubrik is unable to recover protected data during a ransomware attack, Rubrik offers customers up to a $5M ransomware recovery warranty* to cover expenses related to data recovery and restoration.

Rubrik Is Recognized as a Leader by Top Analysts
Rubrik was named a Leader in the 2022 Gartner® Magic Quadrant™ for Enterprise Backup and Recovery Software Solutions.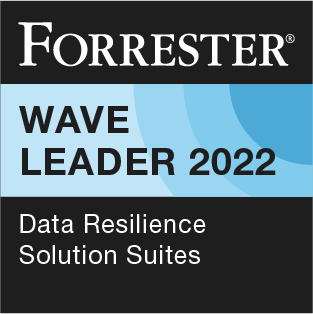 Forrester named Rubrik a Leader in The Forrester Wave™: Data Resilience Solution Suites 2022.
Ready to get started?
Get a personalized demo of the Rubrik Zero Trust Data Security platform.