Ransomware is on the rise, and it's only getting smarter. Recent research shows ransomware attacks grew more than 350% annually.* To defend against attacks, many companies typically focus on building a perimeter to prevent malware from ever entering their data center. However, as malware becomes increasingly sophisticated, it's no longer a matter of if but when an organization will be hit by an attack. While building a perimeter is essential, preventing every threat, every time, across every surface area is a near-impossible task. In fact, 71% of organizations were hit by ransomware after it successfully bypassed their detection and prevention measures.**
Once an attack breaks through your defenses, bouncing back quickly is painful. For many IT professionals, this will bring to mind long nights spent trying to detect an attack, analyze the extent of the damage, and restore quickly from backup files. Resiliency should be stronger, and recovery should be faster.
The most effective strategy for defending against ransomware is a defense in depth. This approach encompasses a holistic, multi-level ransomware response strategy that incorporates both prevention measures to keep threats out and strong resiliency to minimize downtime when an attack happens.
Meet Radar: Recover Faster. Stay Smarter.
We've been hard at work bringing exciting new innovations to the market, including our Alta 4.1 release that became generally available on March 19, 2018. Today, we're excited to announce the general availability of Radar, the latest application built on the Rubrik Polaris SaaS platform. Radar increases resiliency against ransomware by making it faster and easier to recover from an attack. It accelerates recovery by providing deep intelligence on the impact of an attack.
With simplicity at its core, Radar provides an easy-to-use software to track how your data changes over time. When an attack happens, users can quickly restore to their most recent clean state with just a few clicks. To accelerate the discovery of an attack's impact, Radar provides insights into how data changed at the time of the event.
Radar's multi-layered defense includes:
Monitoring – detect anomalies: Radar leverages machine learning to understand how users behave and data evolves to stay ahead of new threats. By actively monitoring global metadata, Radar generates alerts for anomalies and suspicious behavior, such as ransomware, to accelerate detection.
Analysis – quickly diagnose threat impact: Radar continuously analyzes the entire environment to track change activity over time. Users can quickly identify which applications and files were impacted and where they are located to help visualize the attack's impact on the system.
Recovery– minimize business disruption and data loss: Radar replaces manual recovery processes with just a few clicks. Simply tell us what you want to recover and where you want to recover to, and then click a button. Rubrik puts all the clean versions of your data back into the right spot, so you can get back to business like nothing ever happened.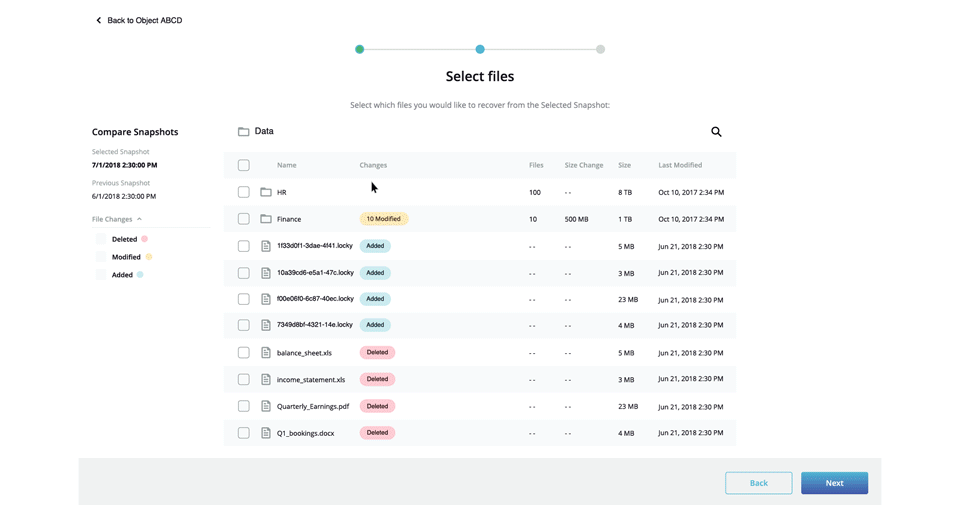 When talking to our customers, we realized there's a huge need to make ransomware recovery faster and simpler. A few years ago, our customer Matthew Day, CIO of Langs Building Supplies, used Rubrik to recover from ransomware in under an hour without any data loss. He is excited to leverage Radar to make the hardest part of the recovery, such as the analysis of the attack's impact, even faster and simpler. We build for stories like this and are thrilled to help our customers increase their resiliency against cyber attacks.
Interested in learning more? Register for our webinar: How Radar Defends Companies Against Ransomware
* Source: NTT Security. "NTT Security 2018 Global Intelligence Report." May 2018.
**Source: Barkly Inc. "Must-Know Ransomware Statistics 2017." Jonathan Crowe, June 2017.