We're excited to announce that Rubrik Mosaic™, formerly known as Rubrik Datos IO, is now available on the Microsoft Azure Marketplace. Customers running their NoSQL workloads on Azure Cloud can now enjoy the leading data management solution for their Apache Cassandra, DataStax Enterprise, or MongoDB NoSQL databases with a seamless deployment experience from their trusted cloud vendor.
Launching Rubrik Mosaic into the Microsoft Azure Marketplace continues our evolution as a cloud-native software solution – making Mosaic the ideal data management solution for organizations building highly-distributed apps that are deployed on distributed NoSQL databases and born in the cloud. As a cloud data management company, we continue to make it easier to control, manage, and protect data across private and public clouds.
Entering the Microsoft Azure Marketplace is important to us because it means our customers can have an even better experience deploying our platform. As Jeana Jorgensen, Microsoft's General Manager of Cloud and AI says, "We're excited to welcome Rubrik to the Azure Marketplace. Rubrik gives our joint customers building NoSQL applications an automated provisioning experience for the Mosaic solution on Azure infrastructure. Deploying the Mosaic solution through Azure Marketplace allows customers to immediately realize the value of data protection by decreasing costly setup and implementation time."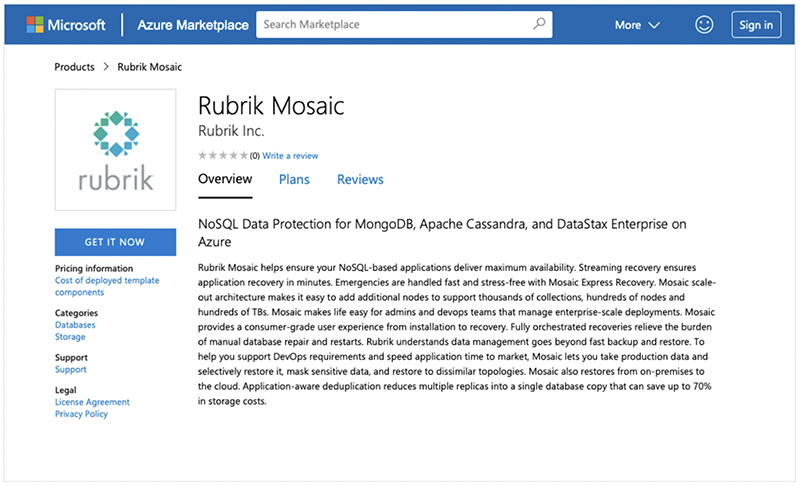 Rubrik Mosaic software has always been available as a distributable software binary that can be installed on physical or virtual environments across private or public clouds. Rubrik Mosaic software images have also been available in native cloud formats for easier installation (i.e. Amazon Machine Image (AMI) for the AWS cloud and Virtual Hard Disk (VHD) for the Azure cloud). In September 2018, we also announced the support for Docker containers to address the needs of our most advanced customers running a microservices-based architecture.
However, we live in a consumer world that makes it extremely easy for everyone to find, procure, and experience products with just a few clicks. This is true whether we are looking for that new gaming app for our phone or a new plugin for our favorite web browser. There is no reason for enterprise IT applications to not follow this same model.
One of the main reasons why customers love Rubrik products is because of the simplicity and ease-of-use we offer. The launch of Rubrik Mosaic on the Microsoft Azure Marketplace continues to build upon the same core principle, as it makes the access and installation of the software extremely easy. Unlike traditional backup and recovery products, DBAs can now simply click a few buttons on the Microsoft Azure website and start protecting their business critical NoSQL databases with Rubrik Mosaic within minutes.
In addition to marketplace availability, the latest version of Rubrik Mosaic also added support for the most recent releases of DataStax Enterprise 6.0 and MongoDB 4.0, new and powerful data protection for DataStax Search indexes, DevOps integrations with Ansible and ServiceNow, monitoring integrations with Splunk and DataDog, significant performance improvements, and much more. For further details on the new features and enhancements read our Rubrik Mosaic 3.1 announcement blog.