Today, we're excited to announce Rubrik Mosaic™ 3.1, formerly Rubrik Datos IO, with enhancements to help organizations protect and manage their Apache Cassandra, DataStax Enterprise, and MongoDB NoSQL databases. This new release includes a host of new features, including support for Microsoft Azure Marketplace availability, the latest database versions and features, new productivity tools integration, and improved performance. Mosaic sets the standard for NoSQL database protection in the cloud, on-premises, and hybrid cloud.
Here's a quick rundown of what's new:
Support for DataStax Enterprise 6.0 and DSE Search
Mosaic now supports DSE 6.0 and 6.7 transparently. With version 6, DataStax implemented a new index format for SSTables that improves performance. Thanks to our partnership with DataStax, Rubrik Mosaic utilizes a new utility purpose-built by DataStax to offer support for DSE 6. If you're considering an upgrade to DataStax Enterprise, you'll want Mosaic 3.1.
DataStax Enterprise Search is a popular feature, particularly for customers implementing catalogs, document repositories, ad-hoc reporting engines, and other applications that rely heavily on indexing. DataStax uses Apache Solr in the backend to enable search operations on any existing DSE table by creating a Solr index in DSE. With Mosaic 3.1, customers no longer need to rebuild indexes in case of data loss and can reduce recovery time by choosing to backup and restore DSE Search indexes along with their data.
Faster Restores and Support for MongoDB 4.0 and Transactions
Application availability is all about restore performance, so we've boosted MongoDB restore performance by 3x with Mosaic 3.1. In addition to improved performance, we now support MongoDB 4.0 with full support for multi-document ACID transactions. For MongoDB applications that require atomicity of reads and writes across multiple documents, Mosaic continues to offer fast, repair-free recoveries.
Microsoft Azure Marketplace Availability for Cloud-Native Deployments
Cloud offers speed and agility among other benefits. Launching Rubrik Mosaic into the Microsoft Azure Marketplace continues our evolution as a cloud-native software solution – making Mosaic the ideal data management solution for organizations building highly-distributed apps that are born in the Microsoft Azure cloud.
Using the BYOL model (bring your own license), Mosaic customers can go to Azure Marketplace, find Rubrik Mosaic, and install the package directly after providing a valid license key. Within minutes after that, they're up and running with Mosaic protection.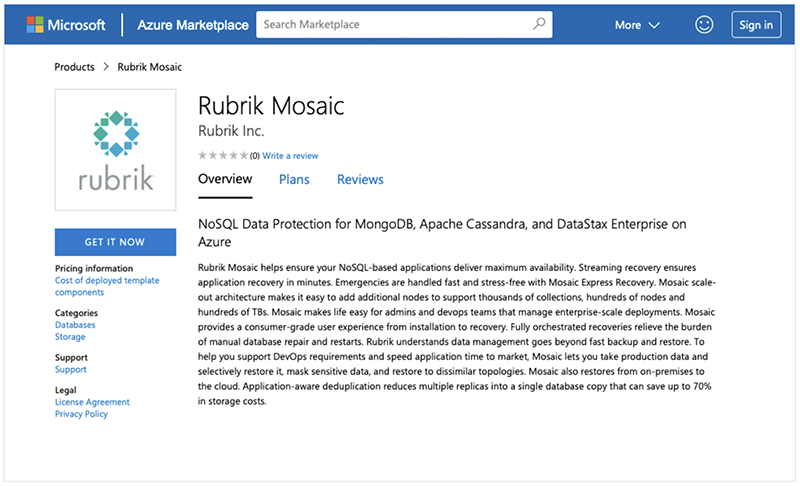 Simplify Installation with Ansible
For Mosaic 3.1, we've built an automation script using Ansible to automate the setup and installation of Mosaic on-premises or in the cloud. The script is open source and available on Rubrik GitHub. Customers can simply download the Mosaic installation script from GitHub and execute it for automatic node configuration and Mosaic installation. IT admins and DevOps engineers who use Ansible for infrastructure automation in their environment will like this new "one-command installation" development.
Monitor Operations with Datadog, ServiceNow, and Splunk
Our integration with Datadog and Splunk brings comprehensive monitoring of Mosaic usage, health, and performance for Cassandra and MongoDB backups. New open source APIs for Datadog and a plugin for Splunk publish relevant metrics from the Mosaic clusters for operational and performance monitoring. Key metrics reported are number of protected objects (collections and column family), size under protection, backup storage consumed, and number of backups created.
ServiceNow customers can now automate the management of restores with an app available from the ServiceNow store. The app gives ServiceNow customers the ability to add a Mosaic cluster and offer a self-service application that can restore a table from a fixed point-in-time backup. The object can be restored to the same table or an alternative table within the same cluster.
Since joining the Rubrik family over a year ago, we're excited to see how Mosaic is being adopted to solve the unique data protection challenges of NoSQL databases in some of the world's largest organizations. Customers are choosing Rubrik Mosaic because it delivers the speed, scale, and management flexibility that are required for large-scale NoSQL deployments on-premise or in the cloud. Join our upcoming webcast to learn more about Mosaic or contact us for a trial.