Atlassian Jira is everywhere. No matter the size, stage, or industry, organizations continue to rely upon Jira to handle their mission-critical projects, tasks, and initiatives. With nearly 83% of Fortune 500 companies using Atlassian products, and over 65,000 organizations that use Jira, there is a real concern about data risks due to accidental deletions or cyber threats.
Also, while Atlassian has a mix of server, cloud, and hybrid Jira customers, Atlassian will be ending support for server–the on-premises deployment of Jira–in 2024. As a result, all current customers will move to Jira Cloud next year. With this shift to Jira Cloud, it is prudent for IT to not only consider the technical aspects of data migration between platforms, but also data security and protection. At Rubrik Forward 2023, we announced Rubrik SaaS Data Protection for Jira Cloud. Included in the announcement are key capabilities to protect and secure Jira Cloud data, as well as powerful features to help ensure accurate and flexible recoveries.
In this blog post, we will dive into key highlights and features of Jira Cloud Data Protection.
Unified Data Protection and Security for Jira Cloud
Rubrik Security Cloud (RSC) is a unified platform that secures data across Enterprise, Cloud, and SaaS workloads. With RSC as a centralized control plane, customers will be able to protect their Jira Cloud workloads alongside all of their other protected data assets in Rubrik. From an administrator perspective, this means that protecting Jira Cloud data is as intuitive and simple to manage, as other workloads in the Rubrik portfolio. Furthermore, IT will no longer need to worry about managing and maintaining the backup solution, since it is Rubrik-managed and delivered as-a-service.
Rubrik is rooted in simplicity and automation. At the foundation, lies the SLA Domain Policy, which removes the complexity and operational overhead of legacy data protection. After applying an SLA policy to a Jira Cloud environment, Rubrik will automate the frequency and retention of data protection jobs–reducing the complex logic required to meet business data requirements. Once backup tasks are executed by Rubrik, copies of data are stored in a secure storage environment that is 100% Rubrik-managed. For customers, this results in a seamless operational experience that they have come to expect from Rubrik.
To onboard, customers simply log into RSC and create a secure connection to their Jira Cloud account. Once the onboarding is complete, an SLA policy is applied at the site level.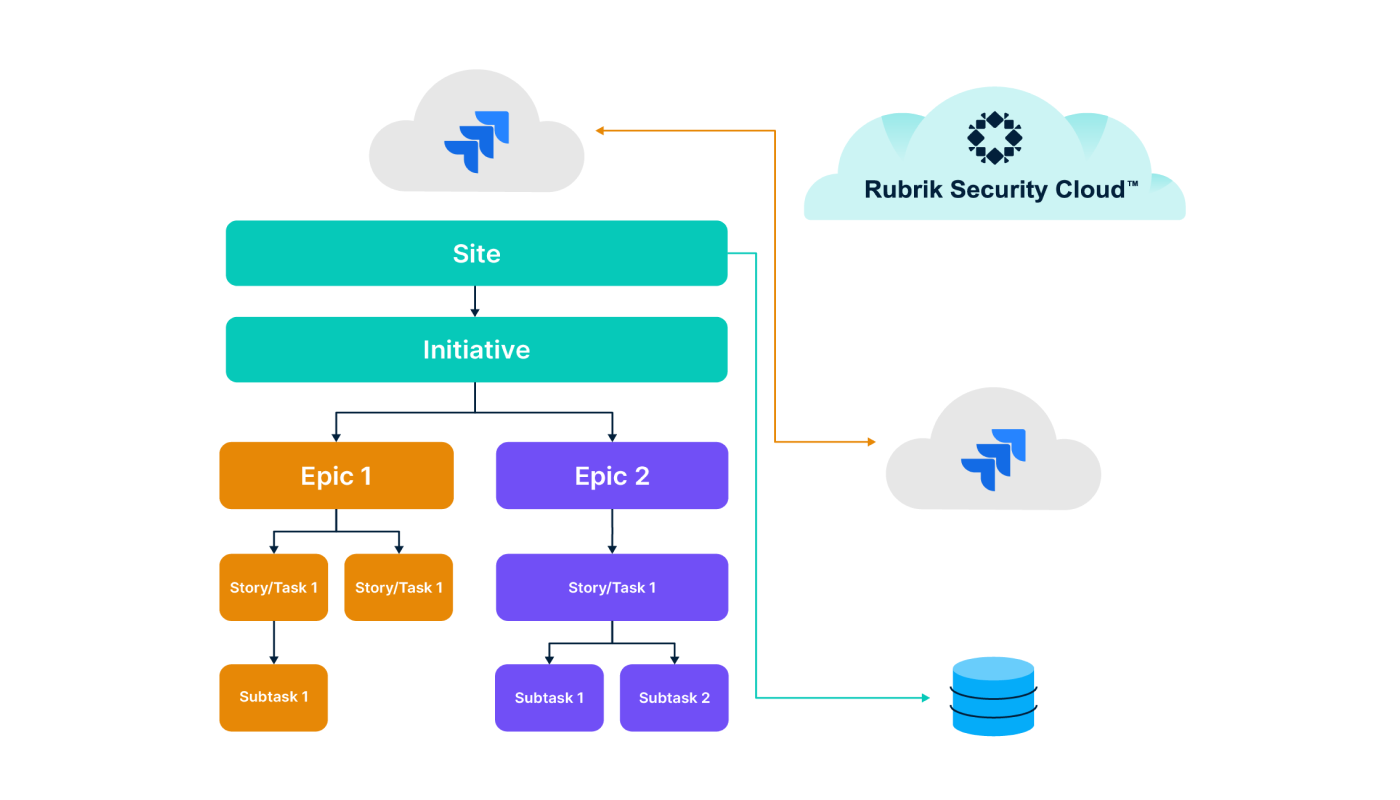 Once an SLA policy has been applied and a snapshot has been created, Rubrik securely transfers the snapshot data to an isolated, Rubrik-managed storage environment on Microsoft Azure. During data ingest, Rubrik will automatically maintain awareness of the dependencies and relationships that are useful during recovery.
Flexible Recovery Features
Operational outages caused by human error or security incidents, such as data deletion or encryption, are stressful events for any organization. By having simplified recovery workflows, and flexible recovery options, IT can effectively mitigate the impact of such events. For complex systems such as Jira Cloud, this means the ability to effectively leverage metadata is a key attribute of a data protection solution.
Granular recovery
With Rubrik Data Protection for Jira Cloud, metadata is captured within the backup process so that the solution can provide granular and relationship-aware recoveries. For example, if an item or object such as a task, sub-task, or screen is deleted from the Jira site, it can be restored without having to recover the entire site to a sandbox environment where items can be manually identified for recovery. On top of this, the metadata is also used to understand the relationships of said objects or tasks, meaning that data can not only be restored at a granular level but it can also be recovered without having to re-establish its relationship to other items or objects.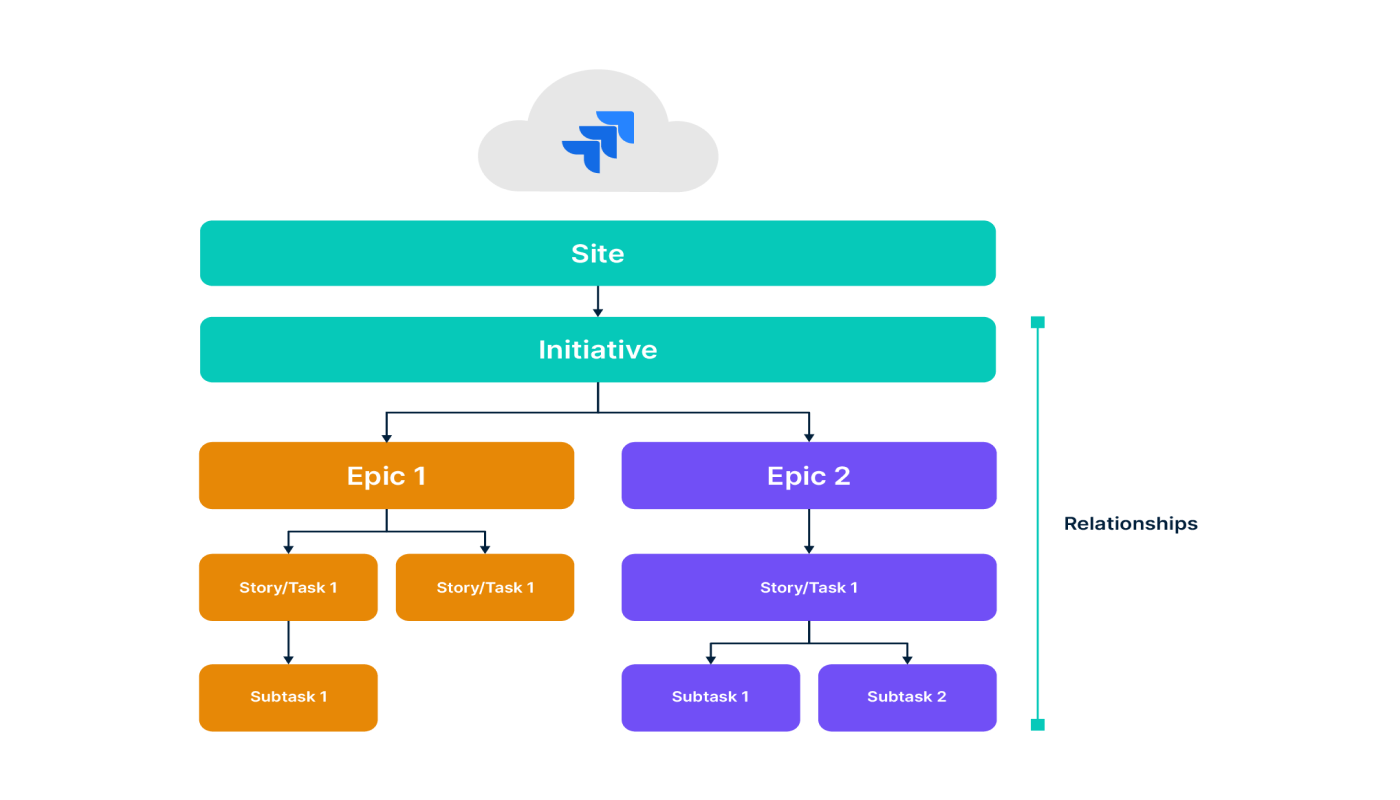 Bulk Recovery
Jira is organized in a parent-child hierarchy, meaning that an initiative can contain thousands of issues that have at least a single dependency. For example, a subtask can be dependent upon another subtask in addition to its parent task. Now, imagine the operational effort required to recover when a mix of issue types are deleted and have to be recovered from a particular point in time. With Rubrik, administrators can select individual issues for recovery that the solution will aggregate in a bulk recovery. During this process, the solution will identify recovery conflicts so that the administrator can resolve them prior to executing the recovery. During the bulk recovery operation, issues still maintain their original dependencies to mitigate any potential post-recovery cleanup.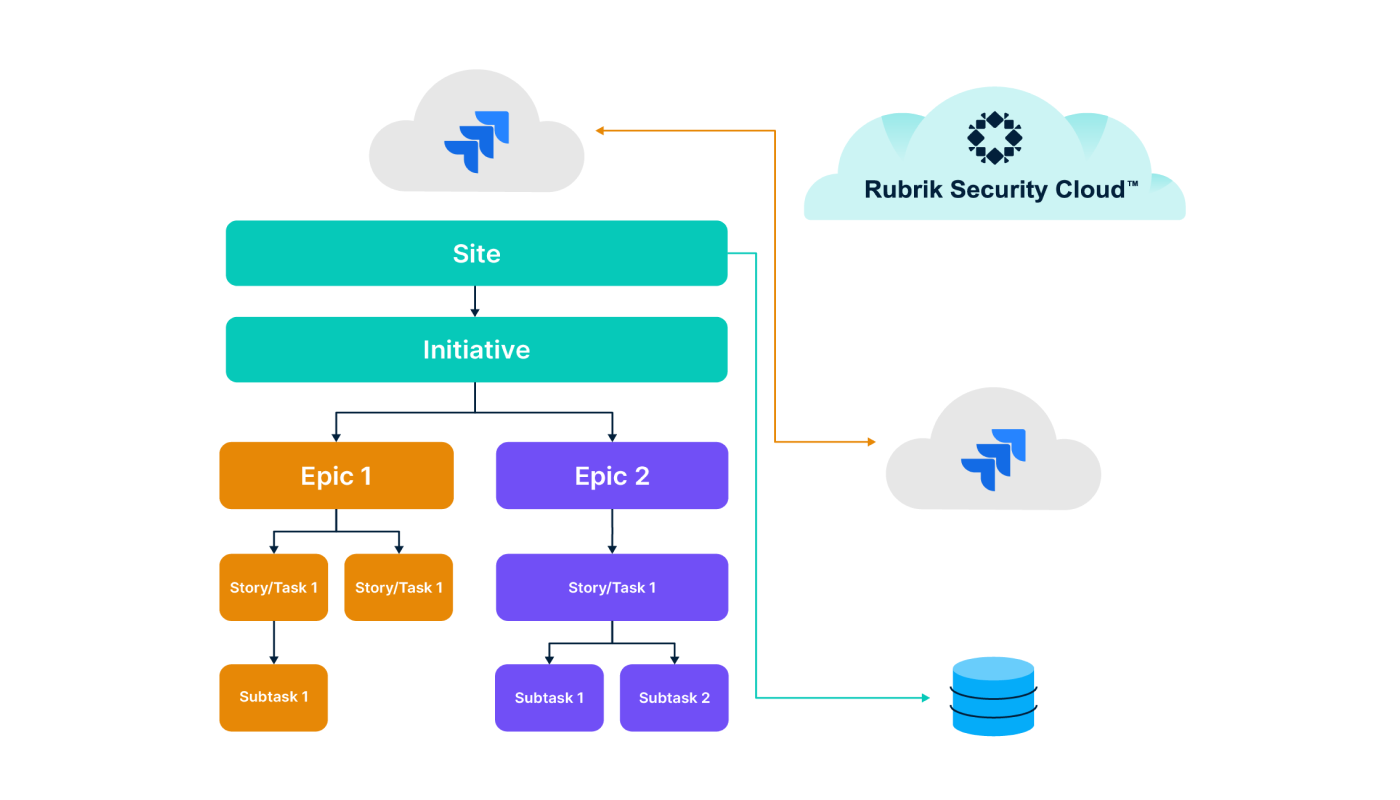 Conclusion
Many organizations today rely upon Jira Cloud as a driving force behind their business operations. With reach beyond the typical siloed application, in many cases, it truly becomes an enterprise application. In the age of cyberattacks and malicious behavior such as ransomware, protecting and securing the underlying data is a critical aspect whether an organization has already adopted, or is looking to adopt Jira Cloud.
With this exciting announcement at Rubrik Forward 2023, customers can now look forward to the simplicity, elegance, and power of SaaS Data Protection for their Jira Cloud deployments.
To learn more about securing the data in your critical SaaS applications, check out Rubrik SaaS Data Protection.
Safe Harbor
Any unreleased services or features referenced in this document are not currently available and may not be made generally available on time or at all, as may be determined at our sole discretion. Any such referenced services or features do not represent promises to deliver, commitments, or obligations of Rubrik, Inc. and may not be incorporated into any contract. Customers should make their purchase decisions based upon services and features that are currently generally available.