Search Anything. Recover Instantly. Convert VM to Cloud.
Protect and manage any virtual environment with consumer-grade simplicity and policy-driven SLA compliance. Drive your RPOs down to minutes by eliminating VM stun effects for mission-critical apps. Instantly search for VMs and files with global real-time search, on-prem to cloud. Unlock fast, actionable insights across a multi-hypervisor, multi-cloud environment.
Instant Recovery
Deliver near-zero RTOs by mounting directly onto Rubrik. No rehydration required. Instantly provision clones for test/dev too.
Policy-Driven Intelligence
One policy engine to create and automate SLA policy compliance with just a few clicks. No more manual-intensive backup jobs.
Freedom of Choice
Multi-hypervisor support for vSphere (ESXi), Hyper-V, and AHV. Migrate VMs to the cloud for test/dev and DR.
eguide
The Buyer's Guide to Backup & Recovery
A comprehensive, vendor-neutral backup & recovery buyer's guide to help you think through the strengths and weaknesses of backup & recovery solutions available today.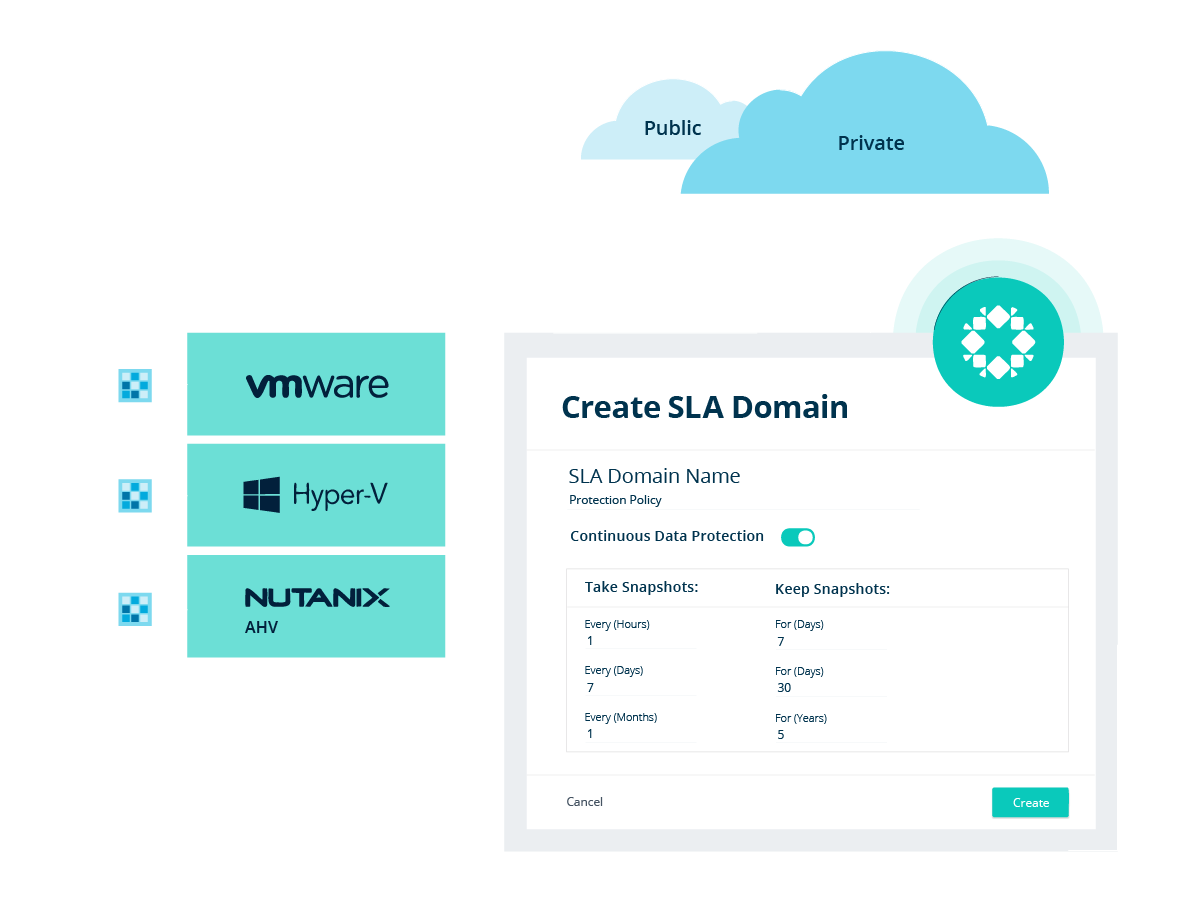 Auto-discover your virtualized environments.
Flash-optimized, parallel ingest accelerates snapshots and eliminates stun. Content-aware dedupe across one global namespace.
Automate SLA policy compliance for backup, replication, and archival. Policy-driven intelligence = effortless management.
Mount your VMs directly on Rubrik for near-zero RTOs. Provision clones on-demand for test/dev.
Instantly search all your VMs and files.
Use the cloud for long-term retention (while retaining instant access), test/dev, and DR.
Trusted by the World's Leading Companies
Ready to get started?
Get a personalized demo of the Rubrik Zero Trust Data Security platform from one of our technical solution experts.